4 Ways To Manage Risk In Your Portfolio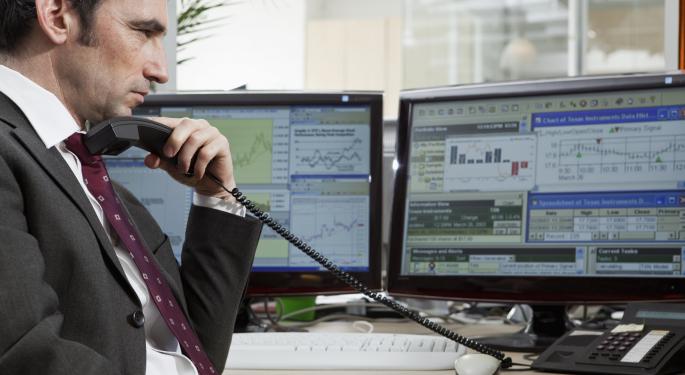 With the S&P 500 making new all-time highs on a weekly basis, many investors are starting to get nervous about stock prices. While no portfolio is entirely risk-free, there are several ways that every investor can keep risk in check.
Here are four common ways to manage the risk in your portfolio.
1. Diversification
The simplest, most effective way to reduce risk in a portfolio is to own many different types of investments. In this case, the old adage "don't put all your eggs in one basket" holds true. Apple Inc. (NASDAQ: AAPL) stock is up 2,700 percent over the past decade. However, due to bad timing and lack of diversification, Andy Zaky somehow managed to lose millions of dollars because of his risky options bets on Apple.
Related Link: How Diversification Helps You Save Money
As any shareholder of BP plc (ADR) (NYSE: BP) back in 2010 after the oil spill might know, disaster can strike the best of companies. Even diversifying within a given sector, such as owning a basket of ExxonMobil Corporation, Chevron Corporation, ConocoPhillips, Royal Dutch Shell Plc (ADR) and BP, can be better than owning a single stock. However, by owning stocks in several different sectors and by diversifying outside of the stock market all together (bonds, gold, real estate, etc.), the risk of any single mistake completely wiping out your account is minimized.
2. Avoid Leverage And Margin
As tempting as it is to trade with borrowed money, trading on margin exposes investors to unnecessary risk. By levering investments, it's not just potential gains that get multiplied. Levered losses can add up quickly.
One common way that many investors add too much leverage to their portfolio is by irresponsibly trading options. While options trading can be lucrative when done well, a key to any good options-trading strategy is keeping risk under control.
3. Investing In Blue Chips
It sounds simple enough: if you want your portfolio to be stable and reliable, fill it with stable, reliable companies. Rather than investing in smaller, newer companies with potential to be the "next big thing," look for companies that have a proven track record of success. While you might miss out on an exciting new company like Tesla Motors Inc (NASDAQ: TSLA), but for every Tesla that makes investors huge returns, there are dozens of flops.
Related Link: How To Determine Risk/Reward Like The Pros
Rather than buying stocks with huge growth potential in the future, look for stocks that have a history of reliable growth in the past. Many of these stocks also pay out solid dividends that provide a steady source of returns even during market downturns.
A good way to gauge how a stock might perform during the next recession is to find stocks that performed well during the last recession. For example, from January 1, 2008, to January 1, 2010, the S&P 500 was down more than 22 percent, but shares of Wal-Mart Stores, Inc. (NYSE: WMT) were up nearly 14 percent during that time.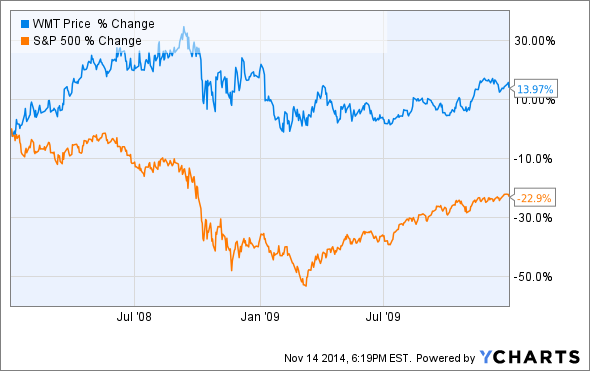 Wal-Mart's 4.9 percent projected annual growth rate might not be exciting, but the stock has a solid 2.3 percent dividend. Since 1980, Wal-Mart shares are up more than 62,000 percent.
4. Avoid Companies With Debt
During times of economic prosperity, stocks that carry large debt loads can do just fine. However, when times get hard, lenders often get tight with money. In these times, certain companies get hit harder than others.
The gaming industry had an especially hard time during the last recession.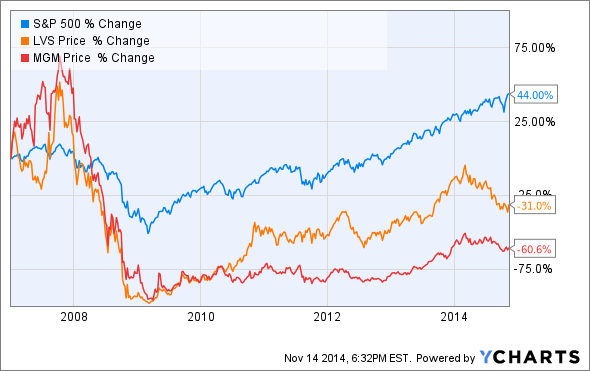 The cost of building new casino mega-resorts is extremely high, and most of the gaming companies have large debt loads from recent expansion. When the credit market froze during the financial crisis, gaming companies suffered. Many companies were forced to abandon projects and/or sell properties to stay solvent.
While the S&P 500 has more than recovered its losses during the recession, shares of Las Vegas Sands Corp. (NYSE: LVS) and MGM Resorts International (NYSE: MGM) are still well below pre-crisis levels.
Every investment has a certain amount of risk, but by analyzing the risk/reward balance and contents of your portfolio on a regular basis, much of the unnecessary risk can be eliminated.
Posted-In: riskLong Ideas Education Dividends Options Markets Personal Finance Trading Ideas Best of Benzinga
View Comments and Join the Discussion!