#PreMarket Prep Guest List For The Week Of October 27, 2014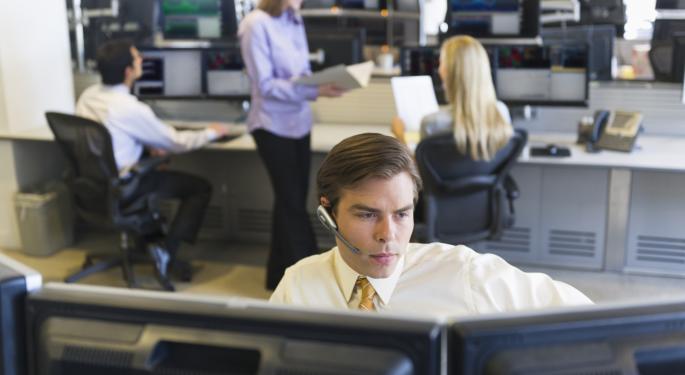 This week's guest list features high frequency traders, economists and portfolio managers on Benzinga's #PreMarket Prep broadcast, sponsored by Charles Schwab.
Be sure to tune in at 8:00 a.m. EST Monday-Friday here to tune in to the exciting show.
Monday, October 27, 8:35 a.m.
Ezra Rapoport (@HFBondsTrader), Trader and Head of Automated Strategy & Development for Flammarion Capital
Ezra Rapoport is a high-frequency trader in futures and U.S. Treasuries markets. He has traded for some of world's largest sell-side institutions in addition to several well-respected hedge funds. Rapoport is an active proponent of increased automation in markets and promoting the availability of automation to all market participants large, small and retail.
9 a.m.
Frank Lortscher (@wealthofinfo), President and CEO of Array Analytics
Frank Lortscher has more than 20 years' experience using systems and analysis to find new approaches to old problems, including a decade at Capital One leveraging data to drive business strategy, marketing research and operational diagnostics.
9:20 a.m.
Karl Setzer (@ksetzergrains), Grain Market Analyst at MaxYield Grain
Karl Setzer's insights are featured in his daily commentary/market analysis, which is published and heard throughout the Midwest and internationally, including Europe, Ukraine, Pakistan, Singapore and Dubai. Setzer spends much of his day hedging MaxYield's grain position and coaching our Grain Solutions Team in client risk management.
Tuesday, October 28, 8:35 a.m.
Nic Chahine (@racernic), Create Income With Options Spreads
Nic Chahine joins the show every Tuesday to discuss the week's options outlook. His product on Marketfy is called Create Income With Options Spreads.
9 a.m.
Otavio Dalarossa (@dalarossa), Founder and CEO of Nvestly
Otavio Dalarossa is a financial expert, specializing in investments and the stock market. Before starting his own investing platform Dalarossa worked for Wilshire Private Markets screening Venture Capital projects as well as advising investors on which funds would make the best investments.
9:20 a.m.
Kenny Glick (@HitTheBidRadio), Owner and Creator of HittheBid.com
Kenny Glick's career began a few years before the dot-com bubble, but he actually had more success during the crash. More than anything, though, he strives to bring comic relief to trading.
Wednesday, October 29, 8:35 a.m.
Fari Hamzei (@HamzeiAnalytics), Founder of Hamzei Analytics
Fari Hamzei joins the show every Wednesday, bringing his wealth of knowledge on aggressive equity options and index futures trends.
9 a.m.
Rachel Shasha (@Sassy_SPY), Trader and Blogger at Sassy Options
A graduate from both UCLA and USC, Rachel Shasha researched the psychology of the markets for more than five years. She is currently a full-time trader and regular contributor to The Street. Her main strategy involves trading both short- and long-term options using technical analysis, open interest and sentiment/psychology.
9:20 a.m.
Sheldon McIntyre (@hertcapital), Founder of 360° Virtual Advisor
Sheldon McIntyre founded 360° Virtual Advisor in 2010. He has more than 14 years of experience in the investment industry.
Thursday, October 30, 8:35 a.m.
Harlan Pyan (@AllAboutTrends), Co-Founder of All About Trends
All About Trends is a subscription-based newsletter service focused on helping individuals secure consistent profits in the market by trading what they see, not what they think, hear or fear.
9 a.m.
Howard Lindzon (@howardlindzon), Co-Founder and CEO of StockTwits
Howard Lindzon is also an author, financial analyst and technical analyst. Lindzon has managed a hedge fund since 1998 and makes early stage investments through Social Leverage.
9:20 a.m.
Sean Udall (@UdallTechStrat), Tech Stock Strategist
Sean Udall has years of experience working for some of the biggest firms in the country (Morgan Stanley, Salomon Smith Barney), managing more than $350 million in client assets and writing prolific content on the tech sector.
Friday, October 31, 8:35 a.m.
Anne-Marie Baiynd (@AnneMarieTrades), Author and Financial Analyst
Anne-Marie Baiynd is a trader, author and financial analyst best known for her book, "The Trading Book Course: A Practical Guide to Profiting with Technical Analysis."
9 a.m.
Doug Kass (@DougKass), Founder & President of Seabreeze Partners Management
Doug Kass has also served as a senior portfolio manager at Omega Advisors and executive senior vice president and director of institutionals equities of First Albany Corporation and JW Charles/CSG. He is a frequent guest on CNBC.
9:20 a.m.
Dr. Mikhail Melnik, Economics Professor at Southern Polytechnic State University
Mikhail Melnik's economics research in online commerce and taxation is recognized internationally. His research has been cited by policy makers and prominent think tanks. He has more than a decade of economic forecasting experience. In November of 2013, he correctly predicted the interest rate dynamics through the summer of 2014.
View Comments and Join the Discussion!
Posted-In: Benzinga #PreMarket Prep broadcast Premarket premarket data PreMarket InfoEducation Pre-Market Outlook General Best of Benzinga