#PreMarket Prep Guest List For The Week Of September 29, 2014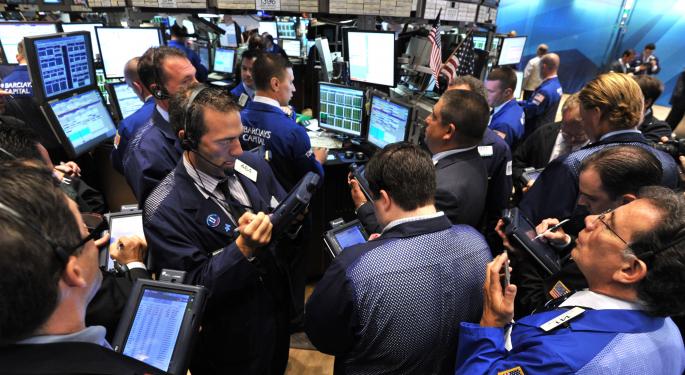 There will be a wide variety of topics this week on Benzinga's #PreMarket Prep broadcast, sponsored by Charles Schwab, including mutual bonds, real estate investment trusts and municipal bonds.
Be sure to tune in at 8:00 a.m. EST Monday-Friday here to tune in to the exciting show.
Monday, September 29, 8:35 a.m.
Kate Stalter (@KateStalter), Investment Advisor at Portfolio Wealth Advisors and Columnist for Forbes and Benzinga
Kate Stalter has showed people how to trade stocks using technical analysis for years. These days, as an investment advisor with Portfolio, she helps people, especially Baby Boomer women and Generation X women, make better money decisions.
9 a.m.
Brad Thomas, REIT Expert and Editor at ReitInvestor.com
Brad Thomas researches and writes on a variety of real estate based fixed-income alternatives including both publicly-traded and non-traded REITs.
9:20 a.m.
Vlad Karpel (@tradespoon), Founder of Tradespoon
Vlad Karpel is a veteran investor and former OptionsXpress EVP.
Tuesday, September 30, 8:35 a.m.
Nic Chahine (@racernic), Creating Income with Options Spreads
Nic Chahine joins the show every Tuesday to discuss the week's options outlook.
9 a.m.
Sarah Potter (@shecantrade), Options and Futures Trader
Sarah Potter is the owner of Shecantrade.com and the author of "How to Trade Like a Pro."
9:30 a.m.
Dan Neiman, Portfolio Manager of the Neiman Large Cap Value Fund
Dan Neiman is also a partner of Neiman Funds Management LLC, an SEC registered investment advisor.
Wednesday, October 1, 8:35 a.m.
Fari Hamzei (@HamzeiAnalytics), Founder of Hamzei Analytics
Fari Hamzei joins the show every Wednesday, bringing his wealth of knowledge on aggressive equity options and index futures trends.
9 a.m.
Sean Udall (@UdallTechStrat), the Tech Stock Strategist
Sean Udall has more than 20 years of experience working for some of the biggest firms in the country, including Morgan Stanley and Salomon Smith Barney, managing more than $350 million in client assets and writing prolific content on the tech sector.
9:20 a.m.
Dan Cook (@Nadex_US), Director of Business Development at Nadex
As director of business development for Nadex, Dan Cook is tasked with introducing Nadex to the broader trading community and providing educational opportunities for traders to learn about the unique, limited risk contracts offered on Nadex.
Thursday, October 2, 8:35 a.m.
Harlan Pyan (@AllAboutTrends), Co-Founder of All About Trends
All About Trends is a subscription-based newsletter service focused on helping individuals secure consistent profits in the market by trading what they see, not what they think, hear or fear.
9 a.m.
Adam Sarhan (@adamsarhan), Founder and CEO of Sarhan Capital
Sarhan Capital, a boutique investment and advisory firm, strives to provide intelligent ideas that generate strong returns for its clients in all market environments.
9:20 a.m.
Cate Long (@cate_long), Founder of Puerto Rico Clearinghouse
Cate Long writes about the fixed income markets including municipal bonds. She has worked for a number of years with industry standards organizations, regulators and Congress to help craft a more transparent and fair framework for investors to participate in the fixed income markets.
Friday, October 3, 8:35 a.m.
Christian Tharp (@cmtstockcoach), Marketfy Maven and Author of "Five-Star Stock Watch"
Christian Tharp is a certified market technician. He has helped more than 2,500 beginner and advanced traders and investors around the world take control of their own financial futures.
9 a.m.
Jim Tassoni, Founder and Chief Investment Office of Durand Capital Partners
Prior to founding Durand Capital Partners in 2012, Jim Tassoni had more than nine years of investment experience that included positions as an analyst, consultant and portfolio manager with WCM Investment Management, Morgan Stanley and UBS Financial Services, Inc.
9:20 a.m.
Todd Schoenberger (@TMSchoenberger), President of J. Streicher Asset Management LLC
Todd M. Schoenberger is the founder and Managing Partner of LandColt Capital LP, which is now affiliated with J. Streighcer Asset Management LLC. Prior to establishing the firm, he served as the executive director of brokerage for USAA Brokerage in Texas, a position for which he was credited with having returned the division to profitability.
View Comments and Join the Discussion!
Posted-In: #PreMarket Prep Benzinga #PreMarket PrepEducation Pre-Market Outlook General Best of Benzinga