Consumers Still Demanding Bacon, Despite Record-High Pork Prices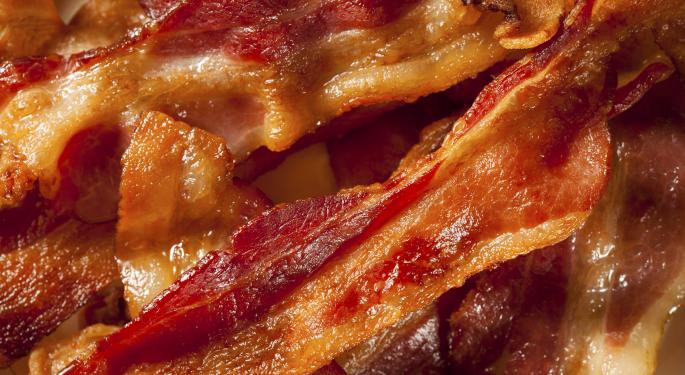 It's been a roller-coaster year for the nation's pork industry.
Rising demand, the higher cost of imported pork, the ongoing drought in some major agricultural regions and the porcine epidemic diarrhea virus (PEDv) that has killed millions of piglets, have all reportedly combined to push retail pork prices up nearly 11 percent during the first seven months of the year.
While food prices in general, and meats in particular, have been rising because of the drought, "pork is worse because there is a virus and it's killing a lot of the herds of pork," John Azar, president of sales at Azar & Co. Wholesale Meats in Jacksonville, Florida, told WJXT-TV. "It's making bacon in the stores $8 or $9 a pound. It's driving up the price of all the pork."
Related Link: 3 Pharma Companies Investing In Cannabis-Related Treatments
Good Times For

Wholesalers And Producers
Smithfield Foods, the largest pork producer and processor in the United States, last month reported record second quarter and first half results.
"Fundamentals were very supportive, particularly in our hog production segment," company president and CEO C. Larry Pope said in a press statement, "with tight supplies due to PEDv and strong demand both domestically and internationally, which pushed hog production margins to record levels."
Data from the Bureau of Labor Statistics, meanwhile, said a pound of bacon cost shoppers, on average, $5.58 in July. This is up from $5.23 in July of last year and $3.45 in July of 2008.
John Green, marketing director at the National Pork Board, said the current national pork supply has shrunk by nearly 12 percent since last year.
"Our supply is static since it takes nine months to make a pig," Green told the Los Angeles Times. "That's troublesome since the real drive in bacon right now is consumer demand."
Consumers Want Their Bacon
While consumers may be feeling the pinch in pork prices, the demand hasn't waned, according to last week's USDA Weekly Retail report on pork sales.
Over the Labor Day holiday, national grocery retailers ran 172,000 features on pork in their circulars.
"A volume of features that hasn't been seen since the Easter holiday week in mid-April," the report noted. "Great weather combined with easing wholesale prices has allowed retailers to push pork back into the center page of weekly ads."
Pork prices are expected to stay high for at least the rest of the year.
"More relief from record-high retail pork prices can be expected in the second half of 2015 as pork supplies build," Purdue University agricultural economist Chris Hurt said in an interview with the Agri-View agricultural newspaper.
Posted-In: agriculture food grocery chainsCommodities Restaurants Economics Markets General Best of Benzinga
View Comments and Join the Discussion!