#PreMarket Prep Guest List For The Week Of September 1, 2014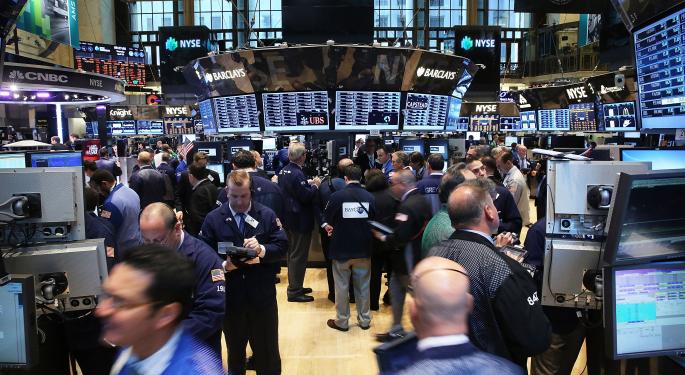 It's a shortened week here on Benzinga's #PreMarket Prep broadcast, sponsored by OptionsHouse. But that doesn't mean there's any less market news and analysis coming out of the show!
Be sure to tune in at 8:00 a.m. EST Monday-Friday here to get your daily dose of premarket information.
Tuesday, September 2, 8:35 a.m.
Nic Chahine (@racernic), Creating Income with Options Spreads
Nic Chahine will join the show every Tuesday to discuss the week's options outlook.
9 a.m.
Chris Temple (@NatInvestor), Editor and Publisher of "The National Investor"
Chris Temple analyzes and makes understandable for his readers macro events and markets the world over, ultimately coming up with a specific investment game plan which uses asset allocation, ETFs, individual stocks and the like.
9:20 a.m.
Todd Schoenberger (@TMSchoenberger), President of J. Streicher Asset Management LLC
Todd Schoenberger is the founder and managing partner of LandColt Capital LP, which is now affiliated with J. Streicher Asset Management LLC. Prior to establishing the firm, he served as the executive director of brokerage for USAA Brokerage in San Antonio, Texas, a position for which he was credited with having returned the division to profitability.
Wednesday, September 3, 8:35 a.m.
Nigam Arora (@TheAroraReport), Editor-in-Chief at The Arora Report
Nigam Arora is an engineer and nuclear physicist. He has founded two Inc. 500 fastest-growing companies and been involved in more than 50 entrepreneurial ventures. He now edits four investment newsletters at The Arora Report. Arora says the credit for his enviable performance record goes to his highly analytical method designed to predict change before Wall Street.
9 a.m.
Harlan Pyan (@AllAboutTrends), Co-Founder of All About Trends
All About Trends is a subscription-based newsletter service focused on helping individuals secure consistent profits in the market by trading what they see, not what they think, hear or fear.
9:20 a.m.
Jason Sen (@daytradeideas), Technical Analyst and Director of Daytradeideas.com
Jason Sen began his trading career in the options pits on the trading floor of the London International Financial Futures and Options Exchange in 1987 at the age of 19, making markets on his own account. When the trading floor closed in 2001, he successfully made the transition to day trading on computer screens. Trading financial markets is all he has ever done, every day, for more than 25 years.
Thursday, September 4, 8:35 a.m.
Fari Hamzei (@HamzeiAnalytics), Founder of Hamzei Analytics
Fari Hamzei joins the show every Thursday, bringing his wealth of knowledge on aggressive equity options and index futures trends.
9 a.m.
Ethan Premock (@HamzeiAnalytics), Hamzei Analytics
Ethan Premock has developed a unique trading style, in which he uses a very disciplined technical analysis structure of several components to ensure human emotions will not interfere with the potential for high absolute returns along with consistently applying clear rules for trade entries and exits, continual trend analysis through volume profile, and risk management for both long-term and short-term trading success.
Friday, September 5, 8:35 a.m.
Mark Melin (@MarkMelin), Author at ValueWalk and Alternative Investment Practitioner
Mark Melin was an adjunct instructor in managed futures at Northwestern University, Chicago, and has written or edited three books, including High Performance Managed Futures and The Chicago Board of Trade's Handbook of Futures and Options. He writes about hedge funds, alternative investing and covers Wall Street's political power from a behind-the-scenes perspective.
9 a.m.
Tim Anderson (@TJAnderson1), Managing Director at TJM investments
Tim Anderson has 30 years of experience in equity capital markets and trading that includes senior positions at major investment banks as well as buy side equity hedge funds. He is located on the New York Stock Exchange, and is a relationship manager for institutional broker dealer accounts and buy side institutions.
9:20 a.m.
Malte Kaub (@SE1_Trading), Managing Director at the Traders' Leadership Council in London
Since 2004, Malte Kaub has advised capital market oriented corporations, and leverages his expert knowledge and network to help compress the learning curve for traders of all experience levels. The Traders' Leadership Council offers actionable webinars and seminars to help people achieve sustainable success in trading with a focus on psychology and automated trading.
Posted-In: Education Pre-Market Outlook General Best of Benzinga
View Comments and Join the Discussion!