5 Bankrupt Companies You Can Still Trade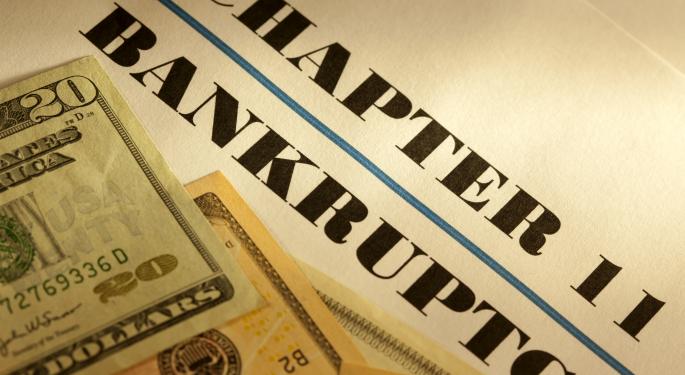 When a company files for Chapter 11 bankruptcy, its life as a publicly traded company has not necessarily come to an end. Shares often trade over-the-counter (OTC) while the company undergoes the bankruptcy process.
Although the stock trades, holders will mostly likely end the bankruptcy process with nothing in their pocket.
As the company reorganizes, its first priority is to pay back debt holders. One way these funds are procured is via asset sales. In the case that funds are leftover after debt holders are repaid, shareholders may see some upside.
Related Link: 30 Stocks Delisted So Far In 2014
Many holders think that if the companies emerge from bankruptcy (as was the case with General Motors, among others), the value of their shares will shoot higher. This is not necessarily the case. Proceeds from a second IPO are often used to pay down debt and the outstanding shares are cancelled, sending the value to zero. There are some cases, however, where a limited amount of new shares are distributed to holders of the old stock.
Below is the path to bankruptcy for five of the most recognized bankrupt stocks in 2014 that still trade.
Bankrupt Companies Still Trading
Cupcake producer, Crumbs (OTC: CRMBQ), recently declared bankruptcy after falling into an unpayable debt resulting from rapid expansion. Investor Marcus Lemonis has been noted to be interested in purchasing Crumb assets after the filing. Rumors of this sent the stock soaring from $0.03 to as high as $0.75.
Because of low charter rates, Genco Shipping (OTC: GNKOQ) declared bankruptcy after not being able to pay back its creditors. The company was noted to say that it would cut $1.2 billion in debt, but that it should not affect company operations or hinder shipments.
James River Coal (OTC: JRCCQ) fell victim to changes facing the coal industry: tighter regulations and cheaper alternatives. The company did have revenue that exceeded costs in June, but bankruptcy financing caused James River Coal to lose around $60 million.
A big part of Kid Brands (OTC: KIDB) reorganization is sale of its brands. The company hired help for its assets sales at the end of June and has already sold its Kildsline and CoCaLo brands.
After years of financial losses, Tandy Brands (OTC: TBACQ) declared bankruptcy and planned to sell off assets to cover its $29 million debt. As noted in the filing, the company was not able to continue operations because it could not secure proper financing under Chapter 11 bankruptcy.
Other Companies
Ambient
Beverly Hills Bancorp
Capital Group
Cereplast
Eagle Bulk Shipping
GeneLink
Idaho Bancorp
Mile Market
Money Centers of America
Vertical Health Solutions
VHGI
ZCO Liquidating
View Comments and Join the Discussion!
Posted-In: bankruptcy Chapter 11 BankruptcyEducation Trading Ideas General Best of Benzinga