ITT Educational Services Investors Get Schooled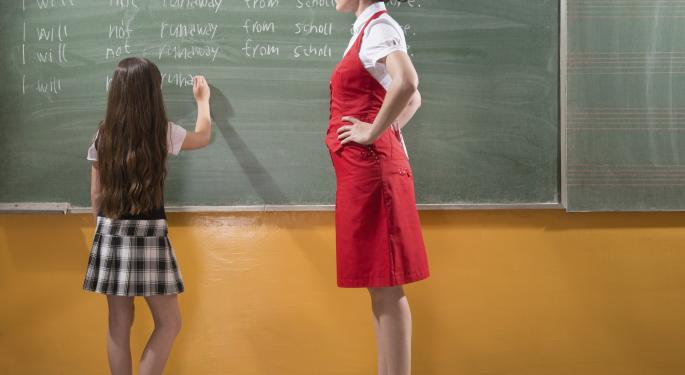 After the closing bell on Friday, ITT Educational Services (NYSE: ESI) disclosed that a $119 million sale leaseback deal fell through and its lenders boosted a line of credit, so that it would be able to meet pending restrictions on federal funding.
That news comes on the heels of a pending lawsuit with the Consumer Financial Protection Bureau over the company's student loan practices.
Despite having no reaction in after-hours and premarket trading, the issue was pummeled in Monday's session. After ending Friday at $14.31, ITT Educational Services opened a modestly lower around $14.00 and quickly lost four points in the first half-hour of trading.
Related: General Electric: Can It Bring A Rally To Life?
A Corporate Roller Coaster
The negative news became the catalyst for a steep decline. On many occasions, when issues are destroyed after breaking news, the impact is immediate and may or not continue into the regular session. Perhaps this was the last straw for many shareholders -- those who have been holding on to one of the worst-performing stocks since the market bottomed in 2009.
The company has been on a roller coaster since reaching $131.82 in November 2007. After reaching that elevated level, it swooned to $42.24 in March 2008 before rebounding to make a new all-time high ($133.75) in February 2009. Interestingly, this was just before market put in a major bottom only one month later.
This year alone, ITT Educational Services has surrendered 36 points since reaching $45.80 on January 21. That type of move is usually relegated to pharmaceutical or biotech companies after disappointing news on the development front.
A Sector-Wide Issue?
While the market has recovered to make new highs, ITT Educational Services has worked its way lower and lower. It is now trading well below its 2013 low ($11.69) and is at levels not seen since late 2000, when it bottomed at the $9.00 level.
Keep in mind, the educational sector as a whole has exhibited a similar performance, but Monday's news appears specific to the company, and has had a minimal impact on other issues in the sector. Except for Strayer Education (NASDAQ: STRA), which has rallied from $33.78 to $57.20 this year, other issues in the sector are up modestly from their yearly lows. A nice bounce for Strayer, but after coming down from its May 2010 high ($254.37), there are still many shareholders deeply under water in the issue.
The Next Steps
Without knowing the true ramifications of the terminated leaseback deal, it is hard to fathom ITT Educational Services mounting a sudden rebound, especially after passive investors view Monday's performance later on and decide to part with with position on Tuesday's open. This wave of selling, coupled with all the daring day traders who attempted to pick a bottom during Monday's session, could easily send the issue its late December 2000 low ($9.13).
Of course, the company could always release an announcement to defend itself or to calm investors' nerves, initiating a short-covering rally.
However, as of Monday afternoon, the company has not issued a response to the devastating news. Most likely, any rally will have a hard time getting over the $14.00-$15.00 level, as the issue consolidated in that area for the last week of July before tanking.
Those attempting to pick a bottom in and around $14.00 area and who did not react quickly are sitting on some huge losses as the issues cascades lower.
Investors not already in the issue and who are looking for a bargain may want until the dust settles for a few days and see how the issue reacts at the $9.00 support level.
Obviously, considering the wave of selling that hit the issue on Monday, many investors may be pondering how long the company may be able maintain itself.
Posted-In: education sector educational servicesEducation Technicals Movers & Shakers Intraday Update Trading Ideas General Best of Benzinga
View Comments and Join the Discussion!