The Art Of Hedged Swing Trades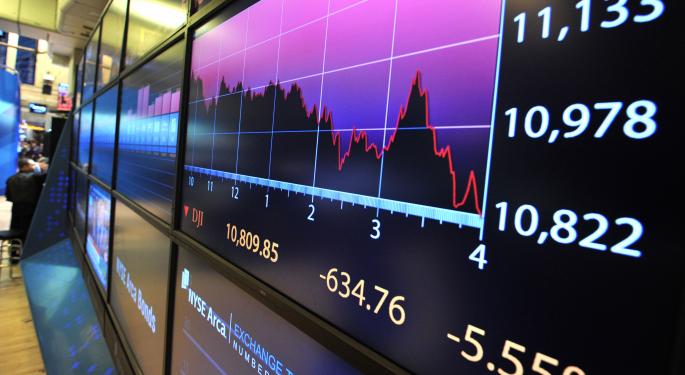 One of the hardest parts of trading is building a strategy that will succeed in multiple market conditions.
In an exclusive interview with Benzinga, Rob Friesen, president of proprietary trading firm Bright Trading, revealed how hedged swing trades have been widely successful for traders he works with.
Longer Time Horizons
"We have to be realistic in that we can't compete with the machines that are doing hundreds, if not thousands, of orders in a second," Friesen began.
"I am not arguing against the need for some speed and for some efficiency, but when you get time frames that are longer than 30 minutes, you are well away from the noise area of the market."
Related: 4 Things Every Beginning Trader Should Know
Traders at Bright Trading have had success trading standalone positions with a 30-minute to three-hour time horizon, but Friesen said that he really suggests hedging -- specifically, hedged swing trades, which range from intraday to multi-day.
Hedging
"If you decided that you want to buy Tesla today and you get a nice swing up, that's great. But, let's say market condition really deteriorated and there is a lot of risk in the market. The stock may get pulled down with the market," Friesen said. Although nothing happened to the stock, the strategy was foiled by market conditions.
With hedged trades, market direction is less likely to dictate success. A hedge typically consists of a combination of long and short positions. For example, if the market pulls back, the short could fall further than the long in a good trade, making the position profitable.
One method is by combining long and short positions for two stocks in the same industry. This is called a pair trade. A broader strategy Friesen suggested is using ETFs to hedge industry, sector or market risk as a whole.
Friesen explained that with a hedged trade, there is a higher chance of "minimal loss, breaking even and making money even though the pick was directionally wrong."
A hedged trade separates good stock picking from relying on beta or luck.
View Comments and Join the Discussion!
Posted-In: Bright Trading hedging pair trading Rob FriesenEducation Trading Ideas Interview General Best of Benzinga