5 Companies That Are Empowering Women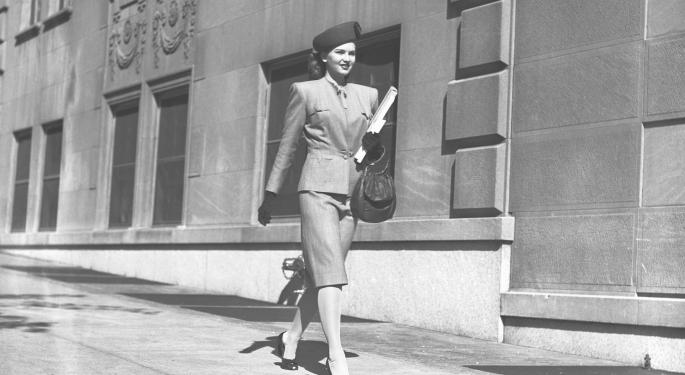 During an interview with The Atlantic, last week, PepsiCo (NYSE: PEP) CEO Indra Nooyi told a crowd at the Aspen Ideas Festival that women "can't have it all," meaning that you can't always succeed at both your home life and work life.
"We pretend we can have it all," she said. "My husband and I have been married for 34 years. And we have two daughters. And every day you have to make a decision about whether you are going to be a wife or a mother, in fact many times during the day you have to make those decisions."
Related: 5 Publicly-Traded Companies That Support Marriage Equality
Her statement has thrust a variety of women's issues into the spotlight -- and inspired a wide array of responses from working women around the world (even the Kardashians had something to say.)
While this brouhaha over Nooyi's comments continues to make headlines, a number of companies are taking initiatives to empower women and girls. Here are a few of the best campaigns:
Always: "Let's make #likeagirl mean amazing things."
Procter & Gamble (NYSE: PG) maker of feminine products, Always, released an advertisement that shows award-winning documentary filmmaker Lauren Greenfield asking young adults what it means to do things like run, throw and fight "like a girl." They respond by performing the actions in a silly, weak and immature manner.
But when Greenfield asks young girls to perform the same actions "like a girl," they act them out with all of their seriousness and strength. The commercial shows that somewhere in our developmental stages, the phrase takes on a negative connotation, and "like a girl" becomes an insult. Always wants to change that.
Dove: "You are more beautiful than you think."
Owned by Unilever (NYSE: UN), Dove says the goal of its "Real Beauty Sketches" campaign is to promote beauty as a source of confidence for women, instead of anxiety.
The maker of personal care products performed a social experiment -- that asked women to describe themselves to a sketch artist, who then draws a photo portrait based on the description (without seeing the person).
Then another person describes that same women to the sketch artist, and he draws a second picture.
When the women are shown the two drawings, they are astonished to find that another person's description of them is much more beautiful than how they described themselves.

Verizon: "Inspire her mind."
Verizon (NYSE: VZ) advertisement is aimed at brains over beauty, and wants to encourage girls to get involved in STEM.
It shows a young girl at different ages being told how pretty she is, but she's also discouraged from things that aren't traditionally feminine, like getting her dress dirty, from playing in a river or making a mess in her room because of a science project. She's even told to let her brother handle using a power tool when the two are making something together.
The spot ends with the adolescent girl looking at a poster for the school science fair, but turning away and putting lip gloss on instead. The commercial then cites a statistic that although 66 percent of 4th grade girls say they like math and science, only 18 percent of all college engineering majors are female. A voiceover suggest telling girls they're "pretty brilliant."

Pantene: "Shine strong."
Pantene, also Procter & Gamble company, has a new commercial that asks why women apologize so frequently. The first half shows women in various different situations at work and at home saying "sorry" for things that don't really need apologizing for, like asking a question in a meeting or needed a little more blanket coverage in bed.
But the second half presents women being assertive, and doing all of those same activities without apologizing beforehand. It even uses the trendy, pop culture colloquialism "Sorry, not sorry," and motivates women to be bold.

Covergirl: "Girls can."
Covergirl's empowering advertisement has celebrities listing off a myriad of things girls are told they can't do, like be funny, own their own business or rock. But the Procter & Gambles cosmetic maker's commercial stops mid-way to say that girls, in fact, "can."
That's followed by different celebrities showing the way girls can succeed, even after being told they "can't." Ellen Degeneres says that girls can be funny, Queen Latifah says that girls can own their own business and P!nk says that girls can rock. It even manages to throw in the company's slogan by telling people to make the world a little more "easy, breezy and beautiful."
View Comments and Join the Discussion!
Posted-In: Always CosmeticsEducation Psychology Topics Movers Media General Best of Benzinga