Obama Goes Full-Court Press With Plans To Reduce Student Debt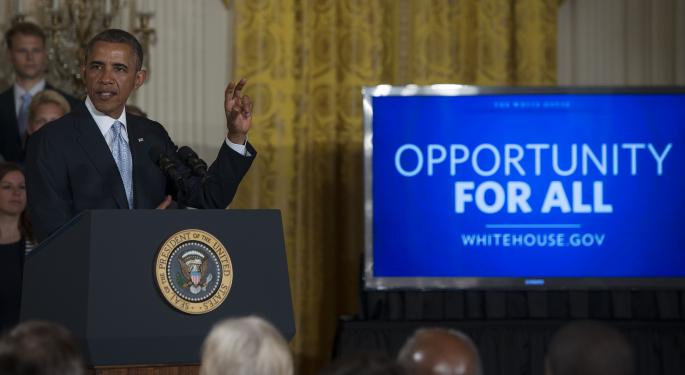 The Obama Administration is devoting much of this week to making student loans more affordable and less of a crushing financial burden for both students and their families.
President Barack Obama on Monday signed an executive order that will allow millions of college and university graduates to cap their student loan payments at 10 percent of their annual income.
President Obama on Tuesday reached out to students via social media – using Tumblr to answer questions about education, college affordability and reducing student loan debt.
Related Link: 6 Companies That Stand To Benefit From Fracking
Those moves follow a proposed measure, introduced last month by Senate Democrats, that would allow the millions of Americans with student loans to refinance that debt at lower interest rates. A vote on the bill could occur later this week.
The cost of higher education has reached crisis proportions for many Americans. According to a White House blog, 71 percent of students graduating with a bachelor's degree will leave campus with an average of nearly $30,000 in debt. And while many can repay their loans eventually, "many feel burdened by debt," the blog continued, "especially as they seek to start a family, buy a home, launch a business, or save for retirement."
In fact, Sen. Mark Warner (D-VA) called student debt the next looming financial crisis for the nation in a recent re-election campaign speech.
"Right now, America has $1.1 trillion of student debt," he said. "That's more than credit card debt."
However, the administration has reportedly not offered cost estimates for its plan to cut student debt. As is to be expected, the plan came under fire from Republican lawmakers.
Sen. Lamar Alexander (R-TN), a former U.S. Education Secretary and currently the most senior Republican in the Senate Education Committee, ridiculed the Senate Democrats' proposal as a "partisan, political stunt."
In a statement on Monday, Lamar said the proposal would raise individual income taxes by $72 billion, "and could add up to $420 billion in new federal debt to offer a $1-a-day subsidy for some old student loans."
View Comments and Join the Discussion!
Posted-In: Lamar Alexander Mark Warner President Barack Obama student loan debt student loansPolitics Economics General Best of Benzinga