John Melloy Of StockTwits Talks About The StockTwits Community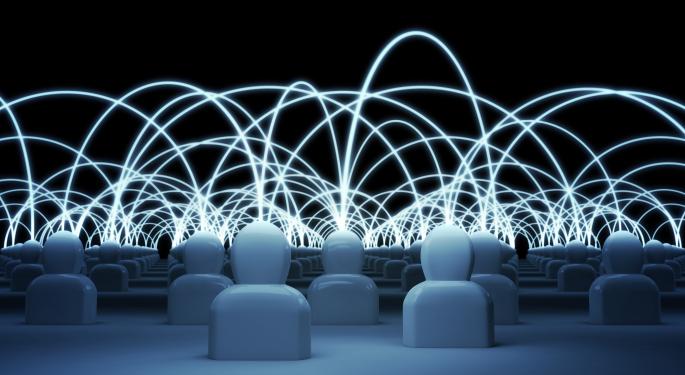 John Melloy is the CEO of StockTwits and a former executive producer of CNBC's "Fast Money" segment. Melloy is also credited with creating CNBC's "Halftime Report."
Melloy was a special guest on Benzinga's #PreMarket Primer on May 28 to talk about why his platform is a superior source of information for traders.
StockTwits is a valuable tool for investors to retrieve market moving information while it is fresh and relevant. According to Melloy, this is the case due to the site's large membership base, which includes professional traders and individuals who simply want to contribute positively to the site.
StockTwits' monthly users are upwards of 100,000. This figure reflects members who contribute to the site at least five times a month. Members who post spam or don't contribute to positively to the site at large are either warned or kicked off.
Related Link: Exclusive: Whitney Tilson On Why Samsung Is A Better Investment Than Apple
This is where StockTwits has a tremendous advantage over Twitter (NYSE: TWTR). StockTwits has less noise pollution and more pertinent information such as price targets, commentary, opinion pieces and news headlines.
StockTwits recently rolled out an advanced verification program for new users to sort out the "who's who" of the community.
"We give you a list of people to follow that we deem to be legitimate, and we give you a nice stream right away," Melloy explained how his site is beneficial to investors. "We want the community, just like Twitter, finding the people that were right on certain stocks and following those."
Users can track the performance of individuals they follow as each post is time-stamped.
Melloy explained how the sentiment function works on StockTwits. "The trend is always your friend," Melloy said while pointing out that users can track a stock's overall sentiment to gauge how the market participants view a stock's prospect.
"We aren't selling a magic box. We are giving you another data point," Melloy said, claiming that StockTwits is a representation of the high-end retail audience and a little-bit of the institution audience.
With many major indices trading at all-time highs and the Volatility Index (VIX) near historical lows, Melloy was asked his views on the overall market.
For starters, with multiple ETFs tracking the Volatility Index as well as rising activity in the options market, the Volatility Index is no longer an appropriate gauge of the market, according to Melloy.
"If you look at the SPY for example on StockTwits, you are seeing bullishness increase, but [it] is only slightly over 50 percent," Melloy said. "Half the users are bullish the S&P 500, that shouldn't compute in to a VIX below 12."
Bottom line, "I think we are a better indicator," Melloy claimed given the "cautiously optimistic" general sentiment of StockTwit users.
"I don't think the complacency being shown by the VIX is an accurate reading at all."
Catch the full interview with John Melloy in the video below:
Posted-In: John Melloy stocktwits twitter volatility indexEducation Tech Interview General Best of Benzinga
View Comments and Join the Discussion!