Rahul Saraogi Of Atyant Capital Advisors Talks About Investment Opportunities In India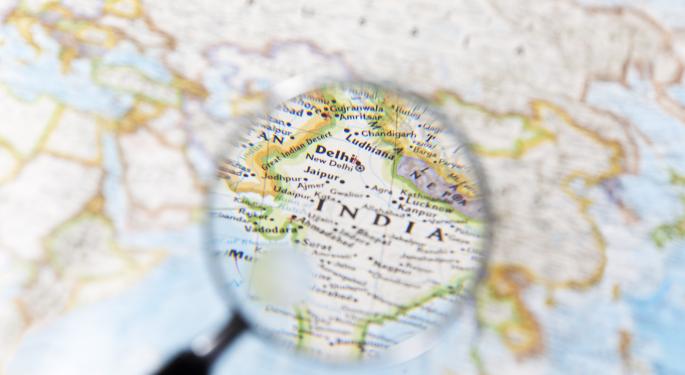 Rahul Saraogi is the founder and managing director of Atyant Capital Advisors.
Saraogi focuses on the Indian market and is tasked with identifying the top 10 to 15 investment ideas among the thousands of publicly-traded Indian corporations. Saraogi is the author of Investing in India: A Value Investor's Guide to the Biggest Untapped Opportunity in the World.
Saraogi splits his time between Miami and Chennai, India and was a special guest on Benzinga's #PreMarket Prep on May 28 to talk about the Indian market.
"India is a very misunderstood market," Saraogi said to start off the conversation while adding that the outlook for the market is "really positive."
Saraogi explained India is a country of 1.2 billion and that 50 percent of the population is under the age of 25. Unfortunately, within the last 10 years, India has been "sidelined" in favor of China.
However, given recent government changes, India is now positioned for sustained economic growth.
According to Saraogi, since India's independence nearly 60 years ago, the country's ruling governments were typically left leaning with socialist tendencies. Since India opened up its economy to the international community, the country has not benefited from a right leaning government for a period of more than five years.
Related Link: 3 India Stocks That Have Rallied Since The Elections
According to Saraogi, investors with exposure to India could characterize their experiences over the past 10 years as being "not terrific" or even "poor."
Not anymore.
"What's unique about the new government that's coming in now, is that it is coming in with a decisive, majority party and it is a right leaning government, pro-business, business friendly, investor friendly, development friendly," Saraogi said before adding a bold statement that India's recent election is "as momentous as the fall of the Berlin Wall."
Saraogi referred to the recent election of Narendra Modi, leader of the Baratiya Janata Party. Modi was sworn in as India's fifteenth Prime Minister on May 26.
Investors worldwide, welcome to the start of India's economic liberalization.
After slowing down severely since the 2009 worldwide economic crisis, the Indian stock market will now benefit from low multiples, growing earnings coupled with external factors like an improving GDP and stable government leadership.
"The biggest money in markets are made when you have expansion of multiples combined with growth in earnings," Saraogi said. "In my views we are just at the start of that in India."
Saraogi advised listeners to focus on investing in Indian ETFs, rather than individual equities.
"What's important is that every investor should have a small piece of their portfolio invested in India," Saraogi said confidently before adding that the Indian market is gearing up a secular bull-run.
Related Link: Catching Up With The BRIC ETFs
There are opportunities in every sector, Saraogi said. As the population continues to grow and income improves, the consumption sector is one that Saraogi singled out. Also, India has 200 million people that will join the work force over the coming decade, implying the country is due for improvements in its infrastructure.
Saraogi explained that 2013 was a mixed year for global equities. China's performance was average, India's performance was terrible, while the U.S. and to a Europe performed very well.
In 2014, China is slowing down but India is accelerating, Saraogi predicted. GDP is expected to rise from to about 7.5 percent to eight percent growth. Earnings are expected to double, if not triple over the coming years.
Over the next six to nine months, the Indian market will become significantly more expensive in the short term, according to Saraogi. The market will head higher and earnings will certainly play catch up over time.
Check out the video below for a full recap of Rahul Saraogi's interview:
View Comments and Join the Discussion!
Posted-In: #PreMarket Prep India Investing In India Narendra ModiEducation Trading Ideas Interview General Best of Benzinga