Is $1 Million Enough For Your Retirement?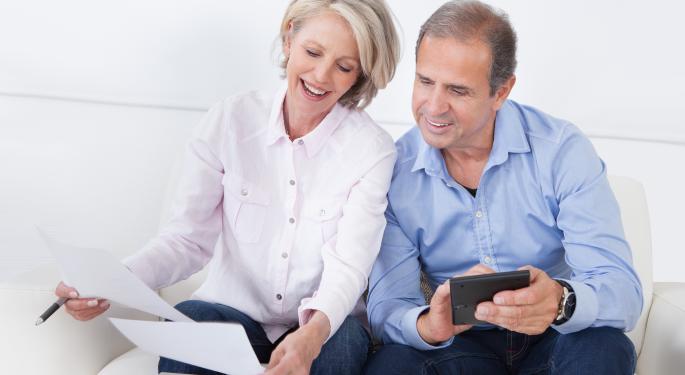 Can you successfully retire on $1 million? That question has been picked up by the blogosphere recently, following a recent USA Today report that suggests $1 million still may not be enough to see most retirees through their "golden years."
The report by Rodney Brooks points to several factors that mean $1 million might not serve a retiree as well as it once did. Americans are living longer, and retirement can last 20 or 30 years, or even longer – which means savings have to go further.
Lower interest rates also mean $1 million doesn't generate as much retirement revenue to live on as it once did. Contrary to popular belief, people also tend to spend more in their retirement, not less.
Related: Survey: Americans Still Feel Vulnerable About Healthcare Insurance Under Obamacare
Experts say people preparing to retire need to determine what kind of lifestyle they expect to have once they stop working.
"For example, if $40,000 of income is what you need to have, then $1 million will suffice," Bruce Allen, President of Bruce G. Allen Investments in Denver, told KUSA-TV. "If you need to live on $80,000 a year, then $2 million is what you need to have set aside."
And, of course, everyone is different, especially when it comes to their expectations about life after work. Experts say there are some generalities, however, that you can apply to your retirement future.
"Knowing how much you need to retire still boils down to projecting your future expenses until the day you die," says Miami-based Investor Solutions. "Ideally, that yearly figure will add up to less than four percent of your nest egg."
On its retirement planning website, Wells Fargo (NYSE: WFC) also agrees about withdrawing about four percent of your savings yearly while in retirement, although many pre-retirees say they expect that figure to be closer to 10 percent.
It also points to two other assumptions people should have about their retirement years.
1. You Might Live Longer Than You Expect
Wells Fargo quotes data from the National Center for Health Statistics, which says that half of the current 65-year-olds will live past age 85 – and that today's 85-year-olds have another 6.5 years of life expectancy. That means setting economics goals now, so you don't outlive your finances.
2. Your Investments Will, On Average, Earn Under 10 Percent Annually
"During your retirement, your anticipated rate should be lower, because you'll probably want to have most of your money invested in more predictable investments, such as bonds," the website adds. "A conservative (read: realistic) expected average annual return for your savings in retirement might be closer to 5 percent."
Meanwhile, if you want to play with those numbers on your own, there are a wide variety of websites that have retirement savings calculators available online.
Posted-In: Bruce G. AllenNews Education Events Top Stories Media Personal Finance General Best of Benzinga
View Comments and Join the Discussion!