'Talented Blonde' Kristin Bentz Talks Nike's Puppeteer, The Retail Apocalypse & Experiential Luxury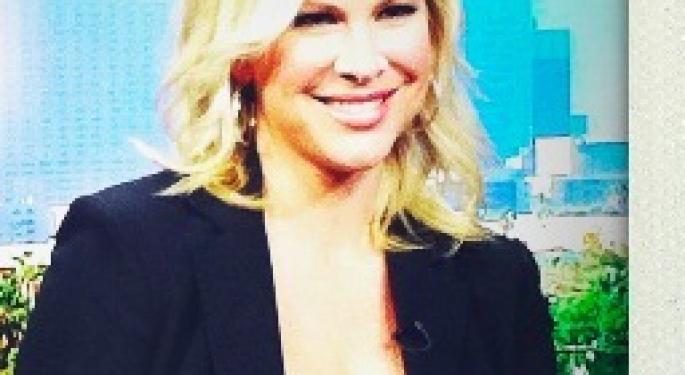 Benzinga's #PreMarket Prep broadcast on Friday featured Kristin Bentz, the Executive Director of PMG Venture Group and President of Talented Blonde LLC, who discussed her take on the retail sector.
Is Apple the Puppeteer for Nike Pulling the Plug on FuelBand?
The interview began on the future for wearable technology and the recent development of Nike (NYSE: NKE) pulling the plug on its wearable watch, FuelBand. Bentz emphasized that wearable technology has become a new fashion statement and is taking money out of the apparel space, especially in the teen sector. She commented that Nike was the best leader, but with an interesting developing story.
Bentz summarized that Nike was on top of their game when they fired approximately 70 people from their hardware division. She said they are not giving up, but are not going to grow in that capacity with Apple's (NASDAQ: AAPL) Tim Cook on Nike's Board.
Apple hired the FuelBand designer, the "top designer from Nike," and will likely come out to make something better, according to Bentz.
"Apple makes things sexy," said Bentz, "they are more of a luxury good company." She added that iPhone 5S already has the capacity to do motion monitoring.
The Talented Blonde concluded that "wearables aren't dead. It comes down to who can best execute on that idea."
Related: Belus Capital's Brian Sozzi: Nike Should Take Hints From Under Armour
Teen Retail and the Retail Apocalypse
Bentz spoke on one of her areas of expertise, teen retail. She noted that usually nothing happens during the summer months, or clearance months. Despite the expectations of a slow summer, she remarked that 'Back to School' is starting sooner as retailers are "desperate" and public schools are getting a longer school year.
"We are in the middle of a retail apocalypse in this country," said Bentz. "Retailers aren't doing anything or innovating. They are not going out and trying to get that millennial dollar."
She added that millennials love tech and style, highlighting that their apparel is more about them and not the brand. "They are not buying buying cookie cutter Abercrombie outfits."
Kristin favors fast fashion that is "devoid of any sort of personality." She emphasized that H&M, Forever 21 and Zara fit this mold as companies that can make huge units at very low prices.
"If millennials are in charge of their income, fast fashion companies will benefit."
With fast fashion excelling, she noted that Abercrombie & Fitch (NYSE: ANF), American Eagle Outfitters (NYSE: AEO) and American Apparel (NYSE: APP) are suffering.
In a recent survey on brand identity and brand integrity, Bentz noted that the companies with the most positive feedback by parents include Wal-Mart Stores (NYSE: WMT), Target (NYSE: TGT) and Forever 21. The Talented Blonde asked listeners, "does low price mean better quality? Does low price mean better for teens?"
Bentz noted that Wal-Mart does not know how to merchandise a private label brand. She commented that they are "great at selling widgets and pushing them through the channels at a low price but cannot handle managing or understanding a brand. There is nothing cool for kids at Walmart, especially in the teen space."
How to Make Money Off the Top Two Percent
With housing data results reporting a wilting spring selling season, Bentz recommended advice for short- and long-term investors to benefit. Bentz and the show's hosts pulled up the chart on Home Depot (NYSE: HD) and remarked on spending habits by millennial's parents.
"Everyone is trying to make what they have a little bit better," said Bentz. "Go long with that logic."
For the short-term, Bentz advises investors to not buy ETF in the luxury sector, rather do your homework. She likes Michael Kors (NYSE: KORS) and the stability the stock has provided. She is also confident on the luxury hotel space, including Starwood Hotels & Resorts Worldwide (NYSE: HOT) and Four Seasons Hotels.
She added that travel and memories of travel are competing with Tiffany & Co. (NYSE: TIF). The "experiential luxury" is taking the market share.
Check out the video below for a recap of Kristin Bentz's interview:
Posted-In: Kristin Bentz PMG Ventue Group Talented BlondeEducation Pre-Market Outlook Interview General Best of Benzinga
View Comments and Join the Discussion!