S4 NetQuest Looks To Advance eLearning Further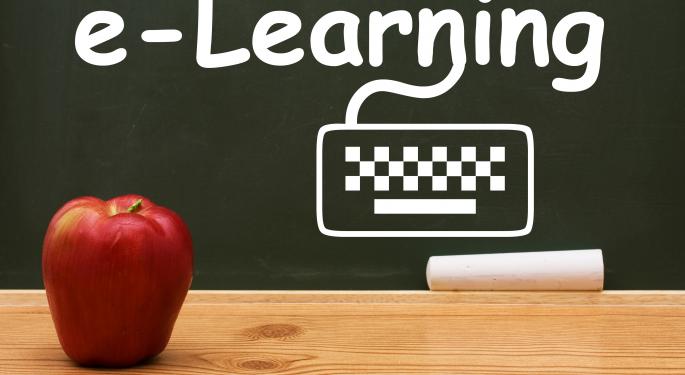 President and Co-Founder of S4 NetQuest Dr. Jim Guilkey knows the pros and cons of employee training, as well as the issues found in various methods of mass employee training in a world that's becoming more and more technologically reliant.
"We see eLearning as the next competitive advantage for large organizations. And I think this year is really going to prove out, because we've got some major projects at play that are really join to change the competitive nature of those organizations in their particular industry," said Guilkey.
S4 NetQuest develops the tools for staff training with an emphasis on eLearning that takes classroom-based programs and transforms them into a package that melds together various learning styles. Its clientele includes Honda (NYSE: HMC), Nationwide Insurance, and GE Healthcare, the General Electric (NYSE: GE) subsidiary.
"The corporate mission, the culture — all that has to be reflected in whatever learning you do," said Guilkey.
Related: March Madness' Top Corporate Seeds
Guilkey noted that most major corporations still use traditional methods of instruction, with a subject-matter expert in front of a room with a PowerPoint presentation. Often times, when they transfer their training course to an online medium, they used the same slideshow with the same expert's voice narrated over it.
"Not effective," said Guilkey.
Now, many corporations are looking for more effective ways to train, sometimes through eLearning. When combined with other methods, eLearning offers a more sophisticated blend of training that incorporates online with onsite experience.
Guilkey highlighted that staff training has been done in the same fashion for many years. There's now a shift in culture and philosophy, especially within the millennial generation, he said.
"They can't tolerate it. They can't learn that way," said Guilkey.
Guilkey said that S4 NetQuest is currently involved in four proposals to majorly transform traditional training within their clients' companies, mostly because of the trends that they see in millennial learning styles.
"Another trend, and we're doing a lot of this this year, is the use of the mobile devices and just-in-time learning," said Guilkey, going on to say that it could guide, for instance, learning nurses trying their hand at procedures like inserting a catheter for the first time.
According to Guilkey, the proof of superior instructional design is found in measurable business results.
"It really takes state-of-the art instructional design to be effective. When it's done effectively, that's when you're going to see these measurable results, whether it's for a corporation or a third-world country," said Guilkey.
He offered an example of those in the medical industry, where they have a major stake. Guilkey set up a scene featuring an incoming anatomy class where around a third or more of the professionals, such as nurses or chiropractors, already have expert knowledge of the subject matter and still have to sit through material that they already know.
"One of the great uses of eLearning is pre-classroom foundational, anatomy being a great example of that. It's a good topic to be taught online. There's a lot that you can do with it digitally," said Guilkey.
"There's a lot of interaction that can occur there. So now what happens is, all those people don't travel, and can view anatomy…online at their own pace. If they already know that sense of anatomy they can test out of that and not waste their time.
"Now when a facilitator stands up in front of a class, he or she realizes that that class is up to a certain level of knowledge, foundation of knowledge, related to what they're about to talk about, and that people have tested to that level."
Jason Cunningham had no position with the mentioned entities while writing this article. Visit Jason on Twitter at @JasonCunningham and @Benzinga.
Posted-In: Jim Guilkey MOOCs S4 NetQuestEducation Tech Interview General Best of Benzinga
View Comments and Join the Discussion!