University of Phoenix vs. Strayer University: Which is the Better Bet?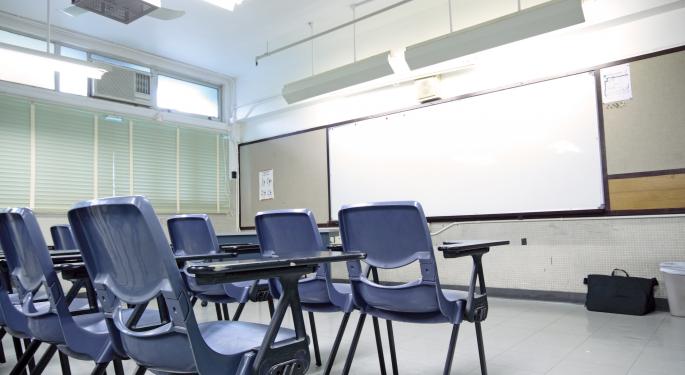 There's been a lot of debate lately, about the value of a university degree.
While those who have graduated from college certainly outearn those who have not, the actual kind of college degree earned makes a big difference in eventual salary expectations. But in general, the traditional perspective, that going to college is a way to a better future, remains true.
Over the past couple of decades companies such as the University of Phoenix (NASDAQ: APOL) and Strayer University (NASDAQ: STRA) have entered the education market, adopting a for-profit model and applying it to university level education. Their advances have literally created an industry and revolutionized education. Let's take a look at how these two companies' stocks have fared over the past year or so.
Related: H&R Block or TurboTax (Intuit): Which is the Better Bet?
The three-year chart for Strayer shows the company was in the process of losing a lot of ground going into 2013. Even on the first day of trading in 2013 the stock continued to show significant volatility, with a low of $56.5 and a high of $59.01 for the day. Strayer's stock achieved its yearly high of $64.70 in mid-February, not a good sign in a year that the broader markets would close at yearly highs. Though Strayer's stock did fight to gain upward momentum, the effort was mostly futile. The stock closed at just $34.47. This represented a nearly 40 percent loss for the stock over the year. Though the stock did pop up over $40 in January 2014, it was quickly sold off and brought back under $36.
For-profit universities face many difficulties to their business models. For starters, many people believe education should not be treated as a business. Also, as many of the universities in the sector are relatively new, their brands are still undergoing development. Additionally, in recent years the industry has faced crippling criticism and regulations from the federal and many state governments, which has served to stifle the once-growing industry.
View Comments and Join the Discussion!
Posted-In: college Education for-profit colleges tuitionEducation Economics Markets General Best of Benzinga