Filing Taxes? Have Student Loan Debt? Uncle Sam Has A Message For You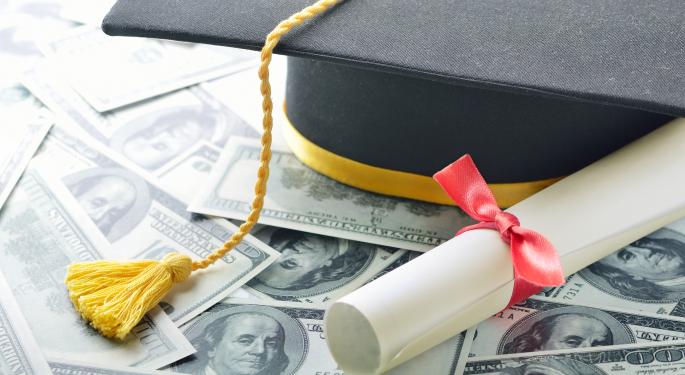 If you or someone you know has student loan debt, it is probably not an insignificant amount of money. According to CNN, the average student loan debt for the class of 2012 was $29,400.
That much debt is not good for you – or for the economy. As a result, the U.S. Department of Education and the U.S. Treasury want to make sure you know about all options you might have for reducing or eliminating that debt.
To that end, as reported by Michigan-based mlive Media Group and a host of other outlets, if you use Intuit's (NASDAQ: INTU) Turbo Tax Online tax preparation software to file your taxes this year, you will have an opportunity to explore those options – even as you calculate the amount you owe to the Internal Revenue Service.
Intuit said it would insert ad banners in the online version of TurboTax that link to the U.S. Department of Education's repayment calculator where those with student loan debt can determine their eligibility for one of several repayment options.
Related: Manage or Eliminate Student Loan Debt with IBR
In a statement from the U.S. Department of Education announcing the partnership, U.S. Secretary of Education, Arne Duncan said, "As student loan borrowers file their taxes this year, I'm pleased that many of them will have an opportunity to determine if they can lower their monthly student loan payments through an income-driven repayment plan."
If all goes as it has in the past, as many as 18 million taxpayers will end up using the Turbo Tax online service. A significant number of those would likely be among the 38 million citizens who have student loan debt.
In addition to the Turbo Tax effort, the Treasury Department will include a message on the back of tax refund check envelopes for those who elect to receive their tax refund that way. The federal government said approximately 25 million envelopes would be sent this filing season.
As for government-backed repayment options available to those with student loan debt, there are several. Each of these options allows borrowers to repay on a sliding scale based on income, family size, and other factors.
The links provided under this partnership send taxpayers to specialized areas of Ed.gov where they can explore their options.
Intuit president and CEO, Brad Smith, in a statement said, "We are excited to be collaborating with the Department of Treasury and the Department of Education on such an important issue, student loan repayment. At Intuit, our purpose is to improve an individual's financial life so profoundly that they don't go back to the old way of doing things. This collaboration fits right in with the purpose and is aimed to help all individuals, especially Intuit customers, become aware of and become empowered to take control of their student loans."
At the time of this writing, Jim Probasco had no position in any mentioned securities.
View Comments and Join the Discussion!
Posted-In: Arne DuncanNews Education Topics Events Media Personal Finance General Best of Benzinga