H&R Block or TurboTax (Intuit): Which is the Better Bet?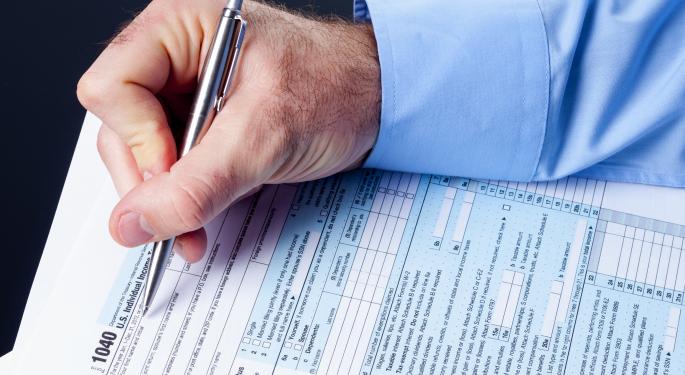 2014 is here, and with it comes the annual tax filing scramble.
The U.S. tax code is so big, archaic and hard to understand that literally hundreds of millions of dollars are spent every year by consumers -- who'd prefer to let a professional handle it for them. There are a number of companies which handle individual taxes, with H&R Block (NYSE: HRB) being among the largest. Their chief rival, Jackson Hewitt, is no longer a publicly traded company. So let's compare H&R Block with do-it-yourself tax software maker Intuit (NASDAQ: INTU) –- producers of TurboTax, the country's most popular self-file program.
Tax companies live for the beginning of the year. Between late January and mid-April is when they see the majority of their yearly revenue.
Personal and small business tax giant H&R Block began January 2013 trading at $19.00. The company's stock price did seem to track decidedly higher as tax season 2013 wore on, trading in the $28.00 range as of April 15th – the deadline for tax filing. But the stock was not done there. It continued its winning ways, hitting a high of nearly $32.00 on August 1st. Though the stock never ventured higher than this early August peak, it closed the year strong at $29.00, amounting to a 53 percent increase for the year.
Related: We're Not Playing: These Gaming Stocks are Worth a Look
TurboTax producer Intuit began 2013 trading at $60.00. After jumping to an early high of $68.00 in early March, the stock sold off dramatically, falling to a low of $55.54 on April 25th. Investors rode out the volatility, and would have been happy that they had stayed in the stock past its April fall. Intuit stock would use the summer to regain its footing, before shooting up in the fall and winter.
Closing the year at $76.00, Intuit gained 26 % for 2013. This put the stock right in line with the Dow, and slightly behind the S&P for the year.
H&R Block and Intuit compete in the personal and small business tax markets. 2013 saw H&R Block stock completely dominate the market averages, while Intuit had a respectable showing which was right in line with major market returns. The 2014 and 2015 revenue prospects for both companies seem to be encouraging. With the advent of Obamacare, Americans are more likely to need professional help in filing their taxes in the near future. This seems to bode well for H&R Block – more so than TurboTax, considering the tax implications of the law are new to the tax code.
Filers may be hesitant to trust themselves, or even well-built software, to help them navigate the new waters.
Posted-In: April 15 income tax income tax filingEducation Psychology Markets Tech General Best of Benzinga
View Comments and Join the Discussion!