Trade Review Of The Day: Why You Should Have Been Long Moody's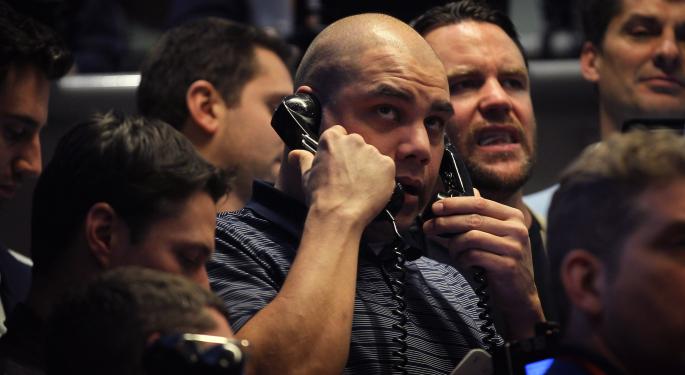 Stocks haven't been great in 2014 thus far, and an exclamation point session on Monday saw major indices drop over one percent following a Goldman Sachs valuation call (insert eye-roll here).
Despite the mostly negative action this year, stocks are on the mend Tuesday morning, and there are a lot of good pull-back opportunities in some of the stronger charts to take advantage of this week.
Controversial ratings agency Moody's Corp (NYSE: MCO) is an absolutely fantastic chart. Since a volatile August month, the stock has been trending higher in the intermediate-term like clockwork, hitting new all-time highs on the final trading day of 2013.
While Moody's looks similar to Financials (see: XLF), that is not necessarily a bad thing, as Financials have been on a tear since the beginning of last year. It's not quite the rocket ships that McGraw-Hill Financial or NASDAQ OMX Group are, yet it is significantly stronger than CME Group and MarketAxess Holdings have been in recent months.
Moody's has a favorable entry point after a standard-looking pull-back of 4.32 percent from recent all-time highs. The stock is still sitting comfortably above its 50-day moving average and held its $75 short-term support on a closing basis Monday, bouncing higher this morning.
Looking at the recent trajectory of Moody's, the stock appears poised for a run back to test all-time highs. On a weekly chart, the stock has maintained a very linear, consistent up-trending channel since its late-April gap higher to $60. All technical signs point to Moody's continuing this trend higher.
From current prices to a target of $79 would be a gain of 3.94 percent. Using the 50-day moving average as a stop seems appropriate, as we're looking for Moody's to trend higher without a lot of leeway below the $75 short-term support. The potential downside risk of this trade would be 1.73 percent with this stop, making the reward to risk ratio greater than 2 : 1.
Stocks aren't having a great year so far, but we can view the general weakness as an opportunity to get into some of the more attractive stocks at decent prices. Moody's fits the bill, and looks poised to continue its consistent run higher after a nice pullback to start the year. Buying here for a move back to $79 or higher seems like a good bet.
When to Consider Entering the Trade:
At the current price (~$76.00).
When to Consider Exiting the Trade:
At a close below $74.68 (Below 50-day Moving Average) / An intraday price of $79.00 or above (Profit-Taking)
Disclosure: At the time of publication the editor and affiliated companies own the following positions: MCO
Note: Positions may be bought or sold while this publication is in circulation without notice.
Moody's Corp - Last 30 Days

Moody's Corp - Last 3 Months

Moody's Corp - Last 6 Months

Posted in: Long Ideas Education Trading Ideas General Best of Benzinga