Smaller Could Be Bigger In Bank Stocks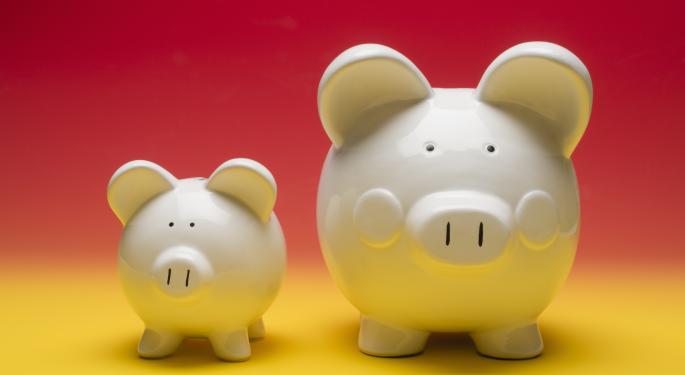 Small bank stocks are starting to attract big attention.
Now that the worst of the credit and real estate problems seem to be behind the banking industry these stocks are catching the attention of Wall Street.
In a recent survey by consulting firm KMPG small bankers reported that they expect industry conditions to continue to improve. Eighty-five percent of the bank executives interviewed expects business to improve in 2014. An incredible 65 percent of small banks executives expect their institutions to be involved in a transaction in the next year.
The impending regulatory reforms and lack of organic growth opportunities in a slow economy are forcing banks to look for merger partners and it looks like 2014 will be the year deals start getting done in the small community and regional bank sectors.
Historically bank mergers have been done a multiple of book value that starts at around 1.25 times book value.
As the merger trend escalates the multiple will expand and the last big M&A wave in the 1990s topped out at around 2.5 times book value. This creates a real opportunity for patient value conscious investors as many of these banks can still be purchased at a substantial discount to book value. Wall Street is becoming aware of this opportunity and articles have run recently in the Wall Street Journal and Investors Business Daily highlighting the potential for an M&A wave in the industry.
See also: The Market Noise is Just That - Noise
A good example of the type of type of small bank investors want to look for is HopFed Bancorp (NASDAQ: HFBC) of Hopkinsville, Kentucky. HopFed is the holding company for Heritage Bank which has 18 branches in Middle Tennessee and Western Kentucky and has about $928 million of assets. The bank is in pretty good shape with an equity to assets ratio 10.90 which is in line with the industry average. Non performing assets are just 1.46 percent which is well below the industry average of 1.81 percent of total assets.
Earlier this year the board of HopFed decided to buy another bank in the regions and offered $10.04 for shares of Sumner Bank, a smaller rival in the region. They were paying a premium to Sumners book value this enraged activist investor Joseph Stilwell who saw no reason for a management that was earning low returns on equity was paying a premium for another bank when they could buy their own shares back at a discounted valuation.
In a 13d filing, Mr. Stilwell said that "In our view, the Company's decision to buy another bank at a premium to tangible book value instead of repurchasing their own shares at a substantial discount to tangible book value was foolish, misguided and shows that the board was not focused on maximizing shareholder value." He sought and own representation on the board and was able to convince management to cancel the deal.
They immediately doubled the dividend and authorized a repurchase of the banks own shares in the open market.
The stock has performed well this year and is up 30 percent but the shares are still very cheap. Right now the stock trades at just 86 percent of book value. Mr. Stilwell owns more than nine percent of the shares and two other activist firms, Banc Funds LLC and PL Capital own an additional six percent of the outstanding shares. If management does not continue to perform and get the stock price closer to what these investors think is fair value for their shares the board will be pressured to sell the bank. Given the strong condition of the balance sheet a transaction could occur as high as 1.5 percent times book value which would represent a substantial profit from the current level.
See also: What's the Hardest Part About Learning How to Invest?
Small banks will be under pressure to improve their stock price or sell to a larger competitor to spread the increased regulatory costs over a larger asset base. In addition in the still weak economy larger regional banks will find it difficult to grow organically and will seek to buy smaller banks to increase assets and earnings. Investing in the smaller well capitalized banks while they trade at a discount to book value should be a very profitable choice for patient long term investors
Tags: banks activists Joseph Stillwell
Posted in: Long Ideas News Education M&A Trading Ideas General Best of Benzinga