Thursday's Long Trade Idea Of The Day: Avon Products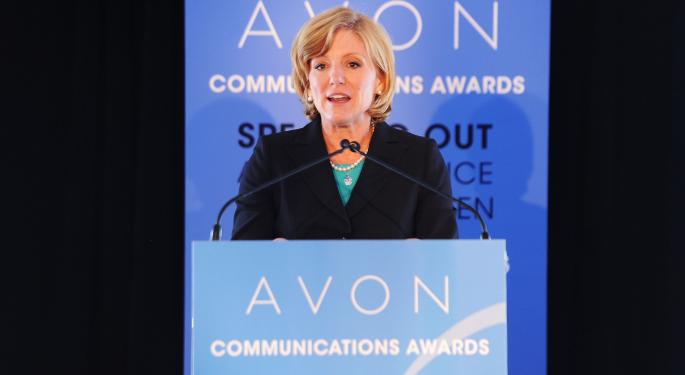 ---
With the market on the verge of a short-term breakdown, today's Trade of the Day is another short swing-trade. Avon Products (NYSE: AVP) has had a rough ride through he second half of 2013, and looks poised to continue falling through the end of the year.
Avon Products looked to be headed in the right direction towards the end of October after some range-bound action summer months. However, a dismal Q3 earnings report on October 31 crushed the Staples stock, taking its price from $22.40 down to $17.50 in the final two trading days of October.
The metrics on the report were not good, as Avon Products reported EPS below expectations, light revenues, and had this to say regarding the quarter: "Q3 was tough. Our quarterly performance was negatively impacted by macroeconomic headwinds and continued weakness in some parts of our business, particularly North America... However, overall, Avon is headed in the right direction, [and] parts of our business are stabilizing." Ouch.
See also: Five Star Stock Watch - Priceline.com
Analysts' ratings have been mixed, but the general consensus was that the price target for Avon Products would remain in the teens. RBC Capital assigned Avon Products a $16 target, while BMO Capital thought it was good for $18 (down from $26), and Credit Suisse initiated the stock "neutral" with a target of $19. While analyst targets aren't usually very accurate, it does show that optimism surrounding the stock following the earnings report has waned considerably.
Following the earnings announcement and analyst reactions, Avon Products consolidated through November and appeared to form a nice solid base at $17, which was flirted with on multiple occasions, but never breached.
However, yesterday's sell-off brought Avon Products from $17.82 down to $17.03 at the close, with an intraday low of $16.85. The support did hold, but the wild action made Avon Products a likely short candidate should any additional downside action occur.
Today, morning weakness has caused Avon Products to do just that, and now the stock is poised for a flush lower. Avon Products' set-up screams "breakdown," as major support has been violated on an already fundamentally and technically weak stock.
Should the stock gain some downside further downside momentum, it could be at $16 or lower in a hurry. $16 is the subjective target, though below $17 is really technical no-man's-land for the stock. The only real support zone near, but below this level dates back to summer of last year.
It is worth noting here that if Avon Products were to close above $17, that would change the prospects of this trade. Today's session would be viewed as buyers stepping in and holding critical support in a dire situation, rather than what appears to be technical armageddon at this juncture. The stock is currently at $16.80ish, so while the move lower looks to be legit, some caution is warranted. It may be best to wait until a little later in the session before putting the short on, just to make sure Avon Products doesn't rally back into the afternoon.
With that little warning out of the way, let's recap. Avon Products is a something of a mess as it stands. The stock is a technical disaster on the verge of yet another major breakdown, and its most recent earnings report was not encouraging, to put it nicely.
Shorting Avon Products here for a flush down to $16 has short-term potential of 5.1 percent, while a covering of the short at recommended levels only yields downside risk of 1.35 percent, which makes the reward to risk ratio of this trade roughly 3.75 : 1.
When to Consider Entering the Trade:
At current prices (~$16.77) or below.
When to Consider Exiting the Trade:
At a close above $17.03 (Cover) / A close at or below $16 (Profit-Taking)
Disclosure: At the time of publication the editor and affiliated companies own the following positions: None
Note: Positions may be bought or sold while this publication is in circulation without notice.
Avon Products Inc - Last 30 Days

Avon Products Inc - Last 3 Months

Avon Products Inc - Last 6 Months

Posted in: Education Short Ideas Trading Ideas General Best of Benzinga