10 Interesting Thanksgiving Statistics for 2013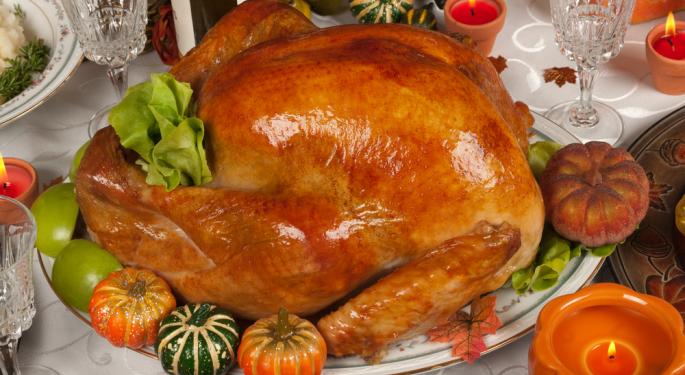 In honor of turkey day, we put together a few interesting statistics.
According to The History Channel, Thanksgiving was a three-day holiday first celebrated in 1621 in Plymouth. 53 colonists and 90 Wampanoag (native Americans) attended the feast.
This year, 43 million Americans will travel at least 50 miles from home including 3.14 million who are flying, according to AAA.
Related: Winter Storm Could Cripple Holiday Travel
Although reports of turkey shortages have made news, Americans are still expected to consume 46 million turkeys on Thanksgiving Day compared to 22 million at Christmas and 19 million at Easter. And while you might have that friend who says they don't eat turkey, there's a better than average chance that they're lying. 88 percent of Americans will eat turkey this year.
But Thanksgiving isn't just about the feast. Another Thanksgiving tradition is the  (NYSE: M) Thanksgiving parade. 3.5 million spectators will head to New York to watch the parade in person while 50 million will watch on TV. The 15 largest balloons will use 300,000 cubic feet of helium—about the volume of 3.4 Olympic-sized swimming pools.
The other huge Thanksgiving tradition? Shopping! Expect 307 million people to hit brick-and-mortar stores if 2012 is any guide and 14 percent of shoppers will shop on their mobile devices on Cyber Monday. Consumers spent $59 billion last year between Black Friday and Cyber Monday.
In 2012, 57 percent of shoppers purchased clothing, 40 percent bought CDs, books, and video games, and 38 percent purchased electronics.
But how many actually enjoy the whole Black Friday ritual of getting up in the middle of the night and joining the mad rush for deals? 57 percent reported enjoying the experience while 43 percent said, no thanks.
How about the markets? Remember that the market will be open until 1:00 Friday. Don't expect much volume but rejoice in this Reuters article that says investors are finally warming up to the idea that the market will likely end 2013 higher than current levels. But you know what Warren Buffett says to do when the market gets greedy, right? Don't let your guard down.
Happy Thanksgiving from all of us at Benzinga!
Disclosure: At the time of this writing, Tim Parker liked Turkey—kind of.
Posted-In: Macys ThanksgivingEducation Travel General Best of Benzinga
View Comments and Join the Discussion!