Why PAREXEL Was The Short Trade Of The Day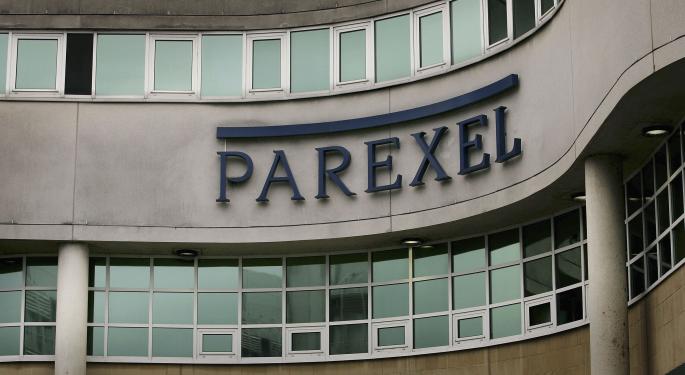 ---
PAREXEL International (NASDAQ: PRXL) has had a rough week.
After being a leader in the Life Sciences Tools & Service space for the majority of the year, PAREXEL had a dismal Q1 earnings announcement on October 29, missing revenues estimates across the board.
The stock fell 15.16 percent on October 30, and would continue to drop through the end of last week, effectively breaking any semblance of a positive technical set-up.
PAREXEL was also downgraded on October 30 at William Blair, citing weak bookings and valuation, which didn't help PAREXEL's potential recovery efforts.
It's also worth noting that on ranking market sectors by momentum, Health Care has fallen from first to fifth in three weeks time. While the waning momentum is mostly attributed to weakness in Biotech, sector correlations are still a prevalent concern.
While the big short move may have already been made following the earnings announcement ($55 to $45), there is still a good chance that PAREXEL has more potential downside in the short-term. Currently, the stock is teetering on the brink of its initial base after the big drop, which is starting to form right at $45.
This level is not significant from a historical perspective, though this large round number has been the price where buyers have stepped in on three separate occasions in the past week. A clear break below this $45 base would spell disaster for PAREXEL, as there is no discernible long-term support until the $40 area.
As Health Care falls out of favor, PAREXEL whiffed on its Q1 earnings announcement, was subsequently downgraded, and is now poised to take a cliff-dive down to $40 as the technical picture disintegrates below micro-term support at $45.
Short PAREXEL at current prices would be a nice play, looking for a flush down towards $40. Should the stock be able to hold $45 and make a modest bounce higher (our stop is close above $45.71, which is last Thursday's close), it would be wise to cover.
When to Consider Entering the Trade:
Short at current prices (~$45.27) or below.
When to Consider Exiting the Trade:
At a close above $45.71 (Cover) / A close below $41.15 (Profit-Taking)
Disclosure: At the time of publication the editor and affiliated companies own the following positions: None
Note: Positions may be bought or sold while this publication is in circulation without notice.
PAREXEL Intl Corp - Last 30 Days

PAREXEL Intl Corp - Last 3 Months

PAREXEL Intl Corp - Last 6 Months

Tags: William Blair
Posted in: Education Short Ideas Trading Ideas General Best of Benzinga