Short Tyson Foods? Today Was Your Day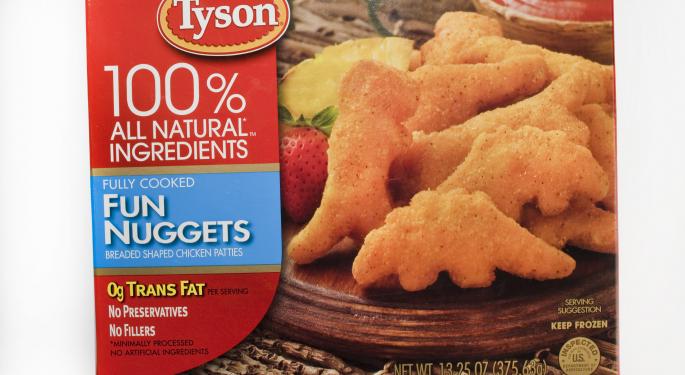 Tyson Foods (NYSE: TSN) has had an interesting second half of 2013.
After a stellar Q3 earnings report that saw the stock soar from $27 to $32 in roughly two weeks, there hasn't been much good to talk about since.
An August 26th downgrade from Bank of America Merrill Lynch caused a big sell-off through the end of August. Through September, the stock had a brief period of buying, but ultimately ended up crashing back down to the $28 area. This month, a salmonella outbreak and subsequent drop in chicken prices caused related food producers to struggle, and TSN took another big hit (see the Oct 18 drop).
TSN has been hanging on just above its $28 support for a couple of weeks, until today, that is. The stock is currently plunging below support, confirming an intermediate downtrend and turning its technical picture sour. The next support level for the stock is down at $27.
So, shorting TSN at current prices seems like a fairly obvious play. The stock is technically breaking down, the price action in the intermediate-term has been dismal, the news surrounding the stock has been negative, and there is a decent amount of room until the next support level.
Should TSN close above $28 this afternoon, that would be a major victory for the bull camp, but it is looking less and less likely as TSN continues to dive. So, a short with a cautious cover stop at a close above $28 would be advisable, but ultimately play for a move back down just below $27.
When to Consider Entering the Trade:
Short at current prices (~$27.70) or below.
When to Consider Exiting the Trade:
At a close above $28.00 (Cover) / A close below $27.00 (Profit-Taking)
Disclosure: At the time of publication the editor and affiliated companies own the following positions: None
Note: Positions may be bought or sold while this publication is in circulation without notice.
Tyson Foods Inc - Last 30 Days

Tyson Foods Inc - Last 3 Months

Tyson Foods Inc - Last 6 Months

Posted in: Education Short Ideas Trading Ideas General Best of Benzinga