Browsing Minds Looking More Closely At These Computer Stocks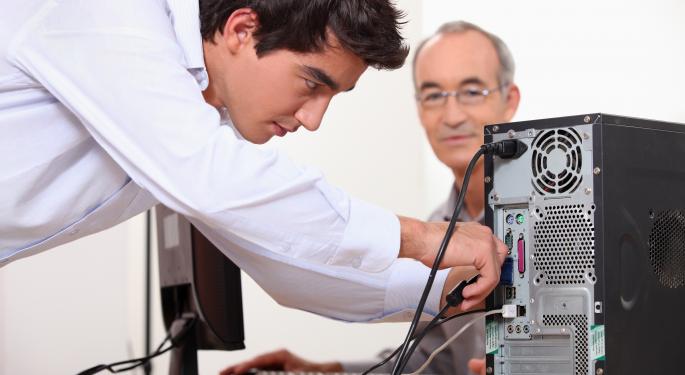 There is a large list of promising computer-related stocks on the stock market possibly worth investigating, but the collective accumulation of the top computer related stocks of today is relatively short.
Narrowing it down to five, here are a few overheating computer stocks that are urging for a closer look.
CA Inc. (NASDAQ: CA)
CA has been making movement inside and outside of the company last month. On September 19, CA technologies access management solutions were sought out by SEC Servizi. SEC Servizi decided to implement CA solutions in search for maximum protection for the banks and individual consumers against multiple security threats.
Another big event was Chief Executive Officer Mike Gregoire's decision to join the Board of Directors of NPower. CA Inc. has a risk-adjusted return of 3.20 percent, 3-year total return is at 78.19 percent, and the 3-year volatility is at 24.42 percent. On September 26, shares remained near the 52-week high of $31.43 with $30.33. Smart to keep an eye on what CA will do next with this progressing power.
Yahoo (NASDAQ: YHOO)
Recently, Yahoo reached $30 a share for the first time in five and a half years. Shares closed Tuesday at $34.21 but not before shares rose 4.5 percent and hit the 52-week high of $33. Yahoo is on fire and its 3-year total return is above the average 66.2 percent at an acceptable 98.11 percent.
Western Digital (NASDAQ: WDC)
Western Digital is doing well, and recently introduced two external desktop drives: My Book and My Book for Mac. In recent news, the company embraced Virident Systems Inc. for $685 million and on Tuesday, shares closed at $64.01, which is not too distant from the 52-week high.
Symantec Corporation (NASDAQ: SYMC)
Symantec Corporation is as secure as the services it provides, with a 3-year total return far above the average of 66.2 percent with 113.21 percent. Shares closed Tuesday at $24.55 with. Symantec Corporations performance has got Growing Stock Report to add the stock to the NASDAQ Gainers Watch List.
VeriSign Inc. (NASDAQ: VRSN)
VeriSign Inc. battled to beat its 52-week high of 52.13, and closed Tuesday at 51.23. Its latest price puts shares with a market capitalization of $7.43 billion. The stats aren't bad and the progression has been steady. The risk-adjusted return is at 3.24 percent, with a 3-year total return and volatility of 97.22 percent and 29.96 percent.
Posted-In: irident Systems Inc. Mike Gregoire NPowerEducation Commodities Psychology Markets General Best of Benzinga
View Comments and Join the Discussion!