Five Competitive Music Industry Stocks For Your Portfolio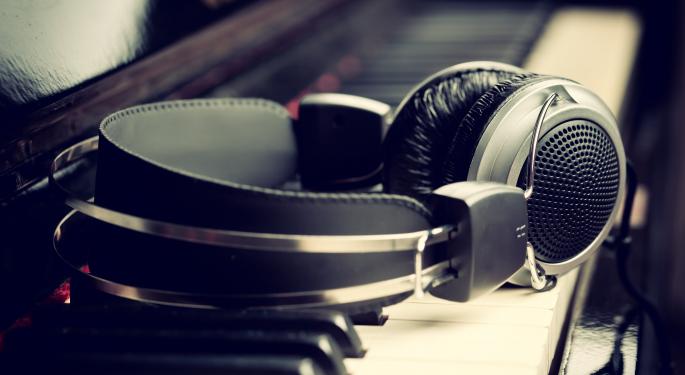 Music value is understood and appreciated by music enthusiasts, and more importantly enthusiastic investors.
Music has merit, so it's no surprise that these five music stocks are in high demand and doing well in terms of popularity and stock progression. Over these few past months these stocks have been very busy and competitive.
Vivendi (OTC: VIVHY) Vivendi is a multimedia service and digital product provider internationally, and in the US. Vivendi Soci has a dividend yield of 5.80 percent, and the stock hasn't strayed too far away from its 52-week high of 23.05. On September 11, it opened at 22.09. The stock reached its high in the beginning of the 2013 year, and is expecting to rise before the year end.
Pandora (NYSE: P) Pandora is a very popular, dominating company providing streaming digital radio. Pandora can be accessed via tablet, computer, and smartphone and in new innovative car systems. Pandora opened at 21, and has impressively and continuously shown progression since the beginning of 2013. Pandora also had an increase of 16 percent listener hours during the month of August 2013. The variation leaped from 1.16 billion to 1.35 billion, showing that Pandora is prevalent and satisfying their fans.
Virgin Media (NASDAQ: VMED) Virgin Media, Inc. is a multimedia company that has a market capitalization of $13.19 billion and they recently hit their 52-week high at 51.89. After an alliance with Netflix (NASDAQ: NFLX), making one of the top video streaming companies available to their customers, growth is highly expected. This is the first time that a major pay-TV operator includes streaming services standard on the programming menu.
Sirius XM Radio (NASDAQ: SIRI) Sirius XM Radio Inc. provides satellite radio services in North America and Canada. Sirius's market capitalization is $23.91 billion, and 6.21 billion shares outstanding. They recently reached their 52-week high of $3.85 trading with a volume of 29.82 million shares, gaining 1.32 percent. Price variants during the last trading session reached a low price at $3.81, whereas the 52-week low price is at $2.33, resulting in a 52.17 percent gain for the stock.
Best Buy (NYSE: BBY) Best Buy is an electronic superstore that sells music, accessories and devices to listen to music. Since the start of 2013 Best Buy has been on the up rise. The 52-week range is 37.34 to 38.00. The stocks market cap is at 12.74 billion and 340.40 million shares outstanding.
View Comments and Join the Discussion!
Posted-In: MusicLong Ideas Education Short Ideas Psychology Trading Ideas General Best of Benzinga