Is Amazon.com Ready for a Pullback? (AMZN)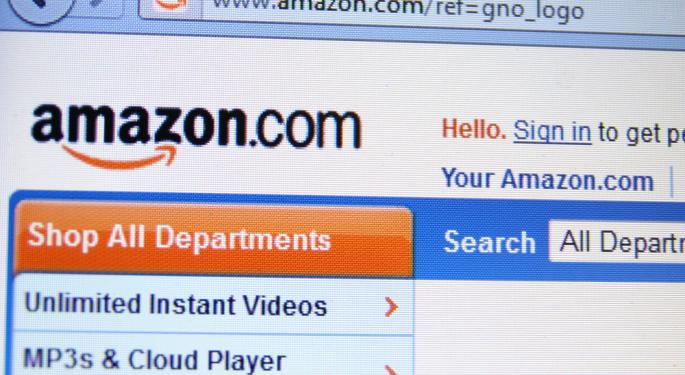 Amazon.com (NASDAQ: AMZN) has been on a huge run, up eight of the last nine days.  This run has been so quick that it has now pushed Amazon.com outside of its upper bollinger bands.
Bollinger bands use the 20-day moving average and measure two standard deviations on either side.  Two standard deviations will hold 95 percent of all the stock's movement.  Only five percent of the time will the stock trade above or below the two standard deviations.  That five percent is where the focus should lie in these setups.  
This phenomenon is usually caused by non-stop buying over several days.  When this happens, it will push the stock out of the upper bollinger band which allows the trader to know that this stock is overbought and overextended.  When the stock finally pushes through the bollinger band, it is a good indication that this run could be coming to an end.
And so, it appears that the run in Amazon.com could be coming to an end. One thing to note is that the company reports earnings on July 25, 2013.  Traders might want to reconsider avoiding holding positions over the earnings announcement.  
Since earnings are coming up, that means volatility will be climbing, which may be a good reason consider buying options instead of selling options.  
The volatility chart shows implied volatility has a long way to go to reach the spikes created for earnings.
Focus should fall on the July weeklies expiring in 18 days (on July 26, 2013).  The rise in volatility of these options should keep the time decay (theta) at bay.  A rise in volatility will outweigh the effects of time decay.

To consider a trade, look at the 280 Puts trading at 6.50/6.65.  These puts are out of the money, but 280 makes for a good target on this pullback.  
Tags: Call options
Posted in: Education Short Ideas Technicals Options Markets Trading Ideas General Best of Benzinga