10 People In Finance You'll Find In Detroit This Week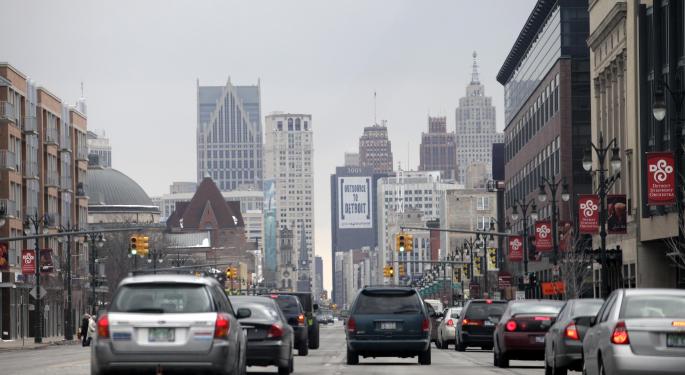 Want to learn more about the Engage conference? Follow the event on Twitter: @engage_iies.
America's Motor City will be flooded with financial expertise later this week for the Engage International Investment Education Symposium at Detroit's Cobo Center.
In addition to panel discussions on markets and the global economy, CNBC's Fast Money Halftime report will be broadcast live from the conference and students can participate in a stock picking competition.
Learn more about the conference here, but also check out the list of finance industry powerhouses who will touch down in Detroit later this week:
David Kudla, CEO of Mainstay Capital Management (@David_Kudla)
Since David Kudla founded Mainstay Capital Management, the firm has increased its presence to 47 states and 12 countries. Kudla is the executive director for the Engage conference.
Indexers beware. Opportunities in 2015 are beyond the S&P 500. And, danger is ahead for an index that has not corrected 10% in 43 months.

— David Kudla (@David_Kudla) March 22, 2015
Jeffrey Kleintop, Chief Global Investment Strategist at Charles Schwab (@JeffreyKleintop)
Before Charles Schwab, Jeffrey Kleintop served at LPL Financial and PNC Wealth Management. He is also the author of "Market Evolution: How to Profit in Today's Changing Financial Markets." He will speak on a panel about the global economy.
Dollar having worst daily % decline since the 3rd quarter of 2013. International stocks making the most of it. #Fed

— Jeffrey Kleintop (@JeffreyKleintop) March 18, 2015
Steve Liesman, Senior Economics Reporter for CNBC (@steveliesman)
Steve Liesman appears on CNBC's daily Squawk Box program, and won an Emmy for his coverage of the financial crisis. Liesman will also join the keynote panel discussion on the global economy.
As a journalist, my take on Hillary email controversy: public officials do not get to choose what goes into the public record

— Steve Liesman (@steveliesman) March 11, 2015
Bill Miller, Chief Investment Officer of LMM, LLC (@billmiller_lmm)
During the two decades that Bill Miller was the sole manager of the Legg Mason Capital Management Value Trust, the fund's performance exceeded its S&P benchmark index for 15 consecutive years. Miller will speak on a panel about domestic and international markets.
Apple has gone from being a no brainer to being a half brainer.

— Bill Miller (@billmiller_lmm) January 28, 2014
Stephanie Link, Managing Director, Equity Investments for TIAA-CREF (@Stephanie_Link)
With more than 23 years of investment experience, Stephanie Link recently transitioned from her role at TheStreet to a new one at TIAA-CREF. She'll join Bill Miller on the domestic & international markets panel.
Japan to raise its economic forecast – first time in 8 months - $EWJ $DXJ http://t.co/S1WJU2blBK

— Stephanie Link (@Stephanie_Link) March 20, 2015
Pete Najarian, Co-Founder of tradeMonster.com & CNBC Fast Money Contributor (@petenajarian)
A regular on CNBC's Fast Money Halftime Report, Pete Najarian is a co-founder of both tradeMONSTER.com and optionMONSTER.com. He'll be joining Fast Money for a special broadcast straight from Detroit's Cobo Hall.
S&P struggling near 2100, but... Early out performance: MRK- up .1.1% FB- up .75% TWTR- up 3.5% GOOG- up 1.7%

— petenajarian (@petenajarian) March 24, 2015
Mark Okada, Co-Founder and CIO of Highland Capital Management (@markokadadallas)
A pioneer in the development of the bank loan market, Mark Okada has more than 30 years of credit experience. Okada will join Steve Liesman and Jeff Kleintop on the keynote panel discussion about the global economy.
Looking forward to #ENGAGEdetroit with @CNBC and @engage_iies http://t.co/2wi4DAkPlU pic.twitter.com/8UxOMqRLKN

— Mark Okada (@markokadadallas) February 24, 2015
Tim Seymour, Founder of Emerging Money (@timseymour)
In addition to being a hedge fund manager and an Emerging Markets correspondent for CNBC, Tim Seymour founded EmergingMoney.com in 2009. Naturally, he'll be discussing domestic and international markets with Stephanie Link.
$EWP(Spain)long +9% in a week ; stay long here now relative to $EWG as #DAX hits +21% for the quarter, best since '03 @CNBCFastMoney

— Tim Seymour (@timseymour) March 24, 2015
Scott Wapner, Host of CNBC's Fast Money Halftime Report (@ScottWapnerCNBC)
Scott Wapner has reported live from the New York Stock Exchange floor, including during the flash crash of May 2010. But most have probably seen him during his daily CNBC Halftime Report, which Wapner will be hosting live from Detroit on Friday.
Great thanks to @FidelityAdvisor Will Danoff for coming on @HalftimeReport today. Hearing from so many of you who loved his analysis.

— Scott Wapner (@ScottWapnerCNBC) March 24, 2015
Stephen L. Weiss, Chief Investment Officer for Short Hills Capital Partners (@stephenLweiss)
Stephen L. Weiss has more than 25 years in the investment industry, including serving at Lehman Brothers, Salomon Brothers and SAC Capital. Weiss will be on the panel about the global economy.
$AAPL - I guess their designers are smarter than any others. great functionality on iwatch.

— Stephen L. Weiss (@stephenLweiss) September 9, 2014
View Comments and Join the Discussion!
Posted-In: David Kudla Detroit Pete Najarian Scott Liesman Scott Wapner Stephanie LinkCrowdsourcing General Best of Benzinga