These 4 Charts Highlight Twitter Sentiment For Today's Movers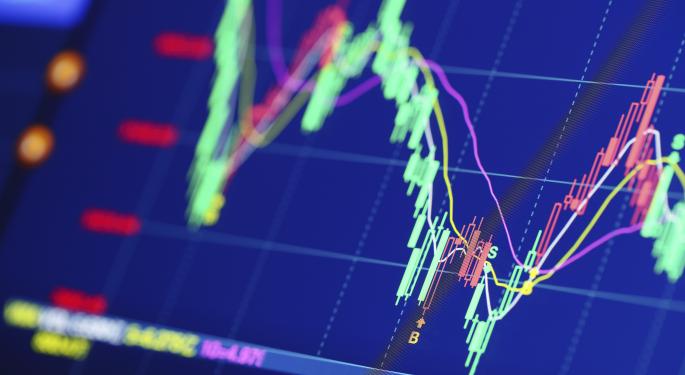 iSentium is a company that tracks sentiment on Twitter and enables users to sift through Tweets with ease. The application plots the sentiment over a price chart and helps to identify changes that may impact pricing trends. Each morning, the firm generates a Pre-Market report for end-users. Benzinga uses the application and is republishing their morning note with iSentium's blessing.
Merck (NYSE: MRK): Just as tweet volumes had begun to diminish after Merck announced its planned acquisition of Cubist for $9.5 billion a few days ago, a set of media stories this morning generated renewed interest in the pharmaceutical giant.
First, news emerged last night that Merck's HPV vaccine Gardasil had been approved by the FDA.
Second, the Ebola vaccine tests conducted jointly by Merck and NewLink Genetics have been suspended due to reports of joint pain among the trial patients.
The two stories combined produced mixed but predominantly negative sentiment and a bearish iSENSE alert at 8:04AM. Merck was unchanged before market open.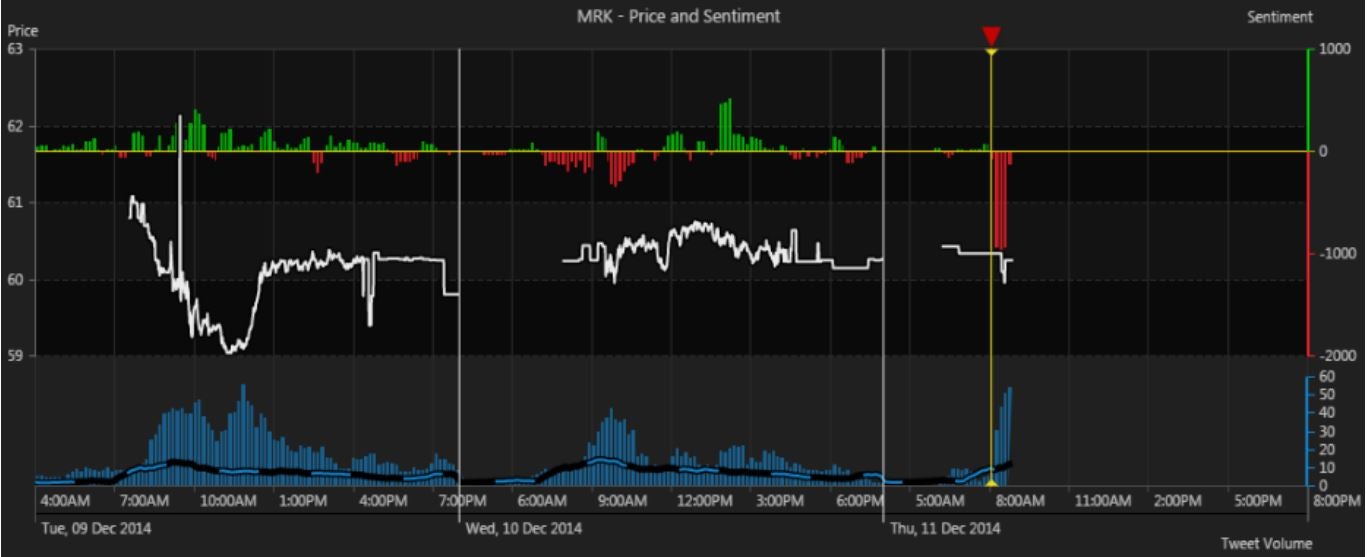 Staples (NASDAQ: SPLS) – Starboard Value announced this morning it had acquired a 6 percent stake in Staples. It also increased its existing holdings in Office Depot.
Commentary on Twitter focused on the possibility that the activist hedge fund would push the two firms to merge and thereby more effectively compete with larger retailers who have more successful e-commerce platforms.
The overwhelming positive sentiment on the news generated a bullish iSENSE alert at 8:03AM, and Staples was up over 10 percent in early hours trading.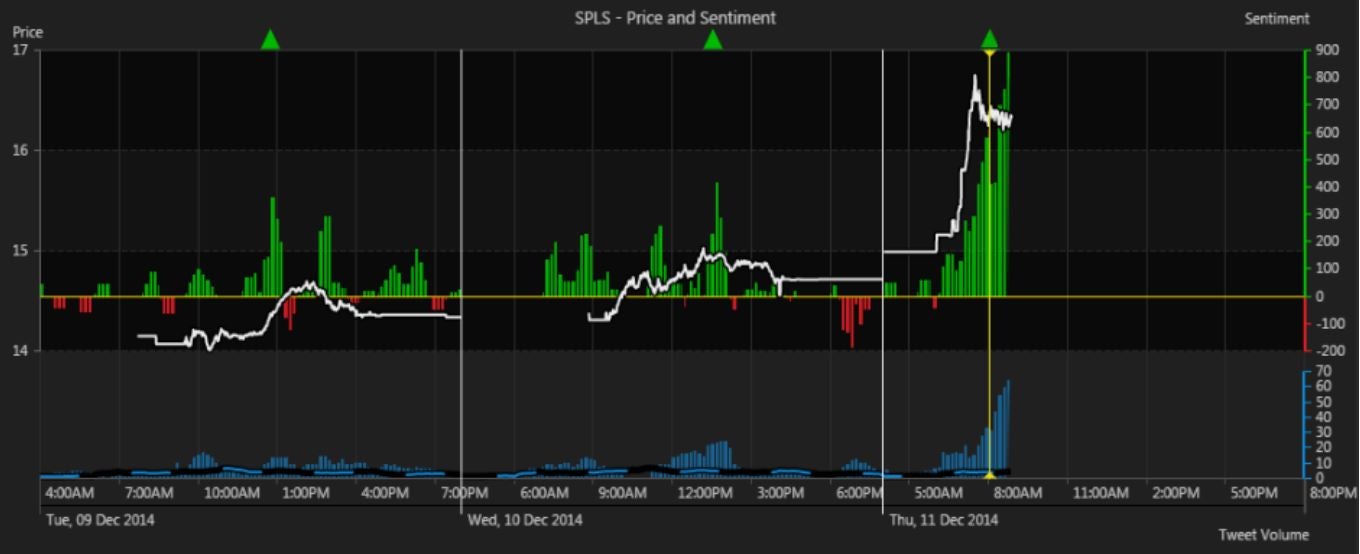 Lululemon Athletica inc. (NASDAQ: LULU) - Lululemon reported third quarter results this morning, with earnings coming in ahead of market consensus but with weaker total revenue. The specialty retailer cited strong growth in online sales and improved earnings due to a favorable tax rate, but commentators worried over the firm's consistently declining profit margins.
Although sentiment was mixed through the morning, a surge of primarily negative tweets generated a bearish iSENSE alert at 8:12AM. Lululemon was up 3 percent before market open.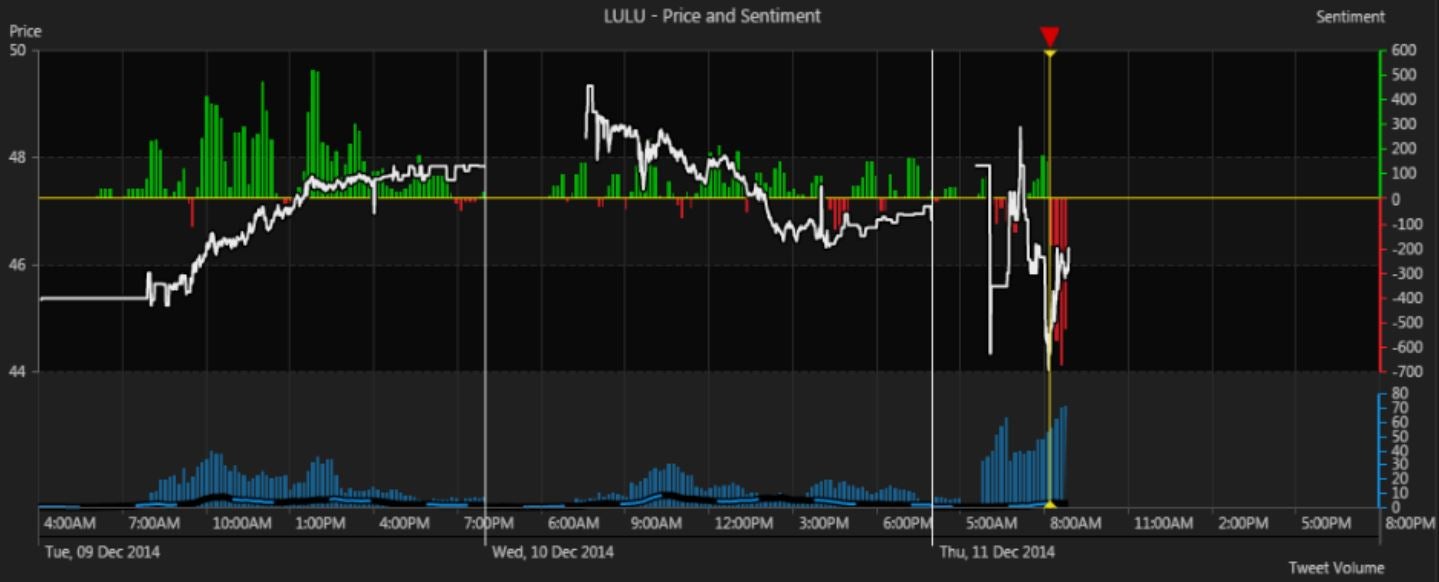 NewLink Genetics Corp (NASDAQ: NLNK) - NewLink Genetics tweet volumes exploded this morning on news that the trial of its experimental Ebola vaccine, conducted jointly with Merck, had been suspended on reports of joint pain among trial participants.
The $1 billion biotech firm had seen strong price appreciation in October as the disease flared in West Africa, but shares have stalled recently while investors wait for the demand and supply pictures to clarify.
This morning's news generated predominantly negative sentiment and a bearish iSENSE alert at 8:02AM, and NewLink was down 7 percent in pre-market trading.

Posted-In: Crowdsourcing Trading Ideas General Best of Benzinga
View Comments and Join the Discussion!