BlackBerry Ltd's New Smartphone: Some People Overjoyed, Others Not So Much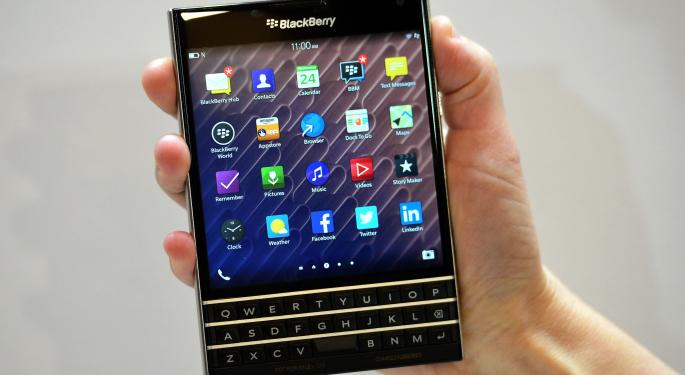 "BlackBerry launches unconventional Passport smartphone," one headline from The Guardian read.
"A powerful, cumbersome love letter to physical keyboard fans," CNET wrote.
It's obvious BlackBerry Ltd's (NASDAQ: BBRY) new Passport smartphone, unveiled Wednesday, has the media talking. But what are users on Twitter saying?
Many didn't buy into it:
"This thing looks weird" - @washingtonpost, on the Blackberry #passport http://t.co/8PR92qKVWT

— Carl Quintanilla (@carlquintanilla) September 25, 2014
The Blackberry Passport is deliriously Blackberryish. It is a demarcation line, & answer to deep questions like When are owls?, & How is 11?

— Paul Kedrosky (@pkedrosky) September 24, 2014
"If I had only known about the Blackberry Passport..." said no one I know.

— Ivan the K™ (@IvanTheK) September 24, 2014
BlackBerry just trolling us now http://t.co/wYo0GOrelF pic.twitter.com/ykYXRzh3m3

— Brian Rie$ (@moneyries) September 24, 2014
Others were more excited:
Quite the Blackberry! RT @preetbanerjee: The next most helpful size comparison: Blackberry Passport vs #iphone6 pic.twitter.com/x6owTjgegv

— Henry Blodget (@hblodget) September 22, 2014
Someone told me #BlackBerryPassport is trending! I know I love mine and hope you do too. Enjoy today #TeamBlackBerry as this is for you!

— Michael Clewley (@MichaelClewley) September 24, 2014
I'm so getting the new @BlackBerry #passport Why? because I typed this in 3 seconds (lol).

— Tegan and Sara (@teganandsara) September 25, 2014
I've been playing with the @BlackBerry #passport for the past three months -- it's AWESOME. especially for email/writing/spreadsheets

— jason (@Jason) September 25, 2014
At least BlackBerry has a segment of truly devoted fans:
My BlackBerry Passport review has a comment from a reader whose husband wants to be buried with his BlackBerry Curve. http://t.co/WxoVoinaWr

— Harry McCracken (@harrymccracken) September 24, 2014
Disclosure: At the time of this writing, the author had no position in the equities mentioned in this report.
Posted-In: Blackberry BlackBerry Passport BlackBerry stock social media curationTech Media Best of Benzinga
View Comments and Join the Discussion!