ADVAXIS MAKING BOLD STEPS IN NEW CANCER STUDIES AND AGREEMENT WITH COLUMBIA UNIVERSITY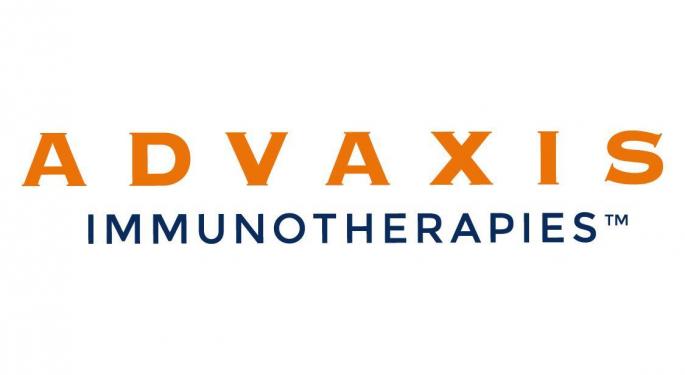 Advaxis, Inc. (NASDAQ: ADXS), CEO Ken Berlin presented at the Benzinga Biotech Small-Cap Conference on March 24, 2021.
Advaxis, Inc., a clinical-stage biotechnology company focused on the development and commercialization of immunotherapy products, is making new waves as it takes definitive steps to prove that the company is "no longer your grandfather's Advaxis," according to company CEO Ken Berlin.
Among Advaxis's new steps is an agreement with the Columbia University Irving Medical Center to fund a Phase 1 clinical study evaluating ADXS-504 in patients with biochemically recurrent prostate cancer. The company has also announced new data relating to developing a novel flow immunophenotyping assay to accurately evaluate total PD-1 expression as a pharmacodynamic marker during PD-1 blockade. It highlighted translational data demonstrating immune responses correlated to observed clinical benefit from Advaxis's ongoing Phase 1/2 study evaluating ADXS-503 in combination with KEYTRUDA®. The report was presented as a poster at this year's American Association for Cancer Research (AACR) annual meeting.
The Columbia study, expected to begin in Q2 this year, will be the first clinical evaluation of ADXS-504, Advaxis's off-the-shelf neoantigen immunotherapy drug candidate for early prostate cancer. Mark Stein, M.D., associate professor of medicine in the division of Hematology/Oncology at Columbia University Vagelos College of Physicians and Surgeons, will be the study's principal investigator.
The Phase 1 open-label study will evaluate the safety and tolerability of ADXS-504 monotherapy, administered via infusion, in 9-18 patients with biochemically recurrent prostate cancer, i.e., those with an elevation of prostate-specific antigen (PSA) in the blood after radical prostatectomy or radical radiotherapy (external beam or brachytherapy) and who are not currently receiving androgen ablation therapy. The study will also evaluate preliminary clinical and immune responses following treatment with ADXS-504 monotherapy.
ADXS-503 is the first drug construct from the ADXS-HOT off-the-shelf, cancer-type specific, immunotherapy program that leverages Advaxis's proprietary Lm technology platform to target hotspot mutations that commonly occur in specific cancer types as well as other proprietary, tumor-associated antigens.
"This presented data suggests our novel immunophenotyping assay has the potential to improve pharmacodynamic biomarkers in immunotherapy," said Berlin. "This assay enables the detection of both free and drug-bound PD-1 expression. It's independent of PD-1 receptor status or interference due to PD-1 blockade, enabling the accurate evaluation of PD-1 expression in patients undergoing treatment pembrolizumab."
Berlin added, "We believe this is another important step to further understand immune responses in patients treated with immunotherapy agents. It may provide important translational insights specific to PD-1 expression and immune modulation, which may help shape treatment strategies moving forward."
The Phase 1/2 clinical trial of ADXS-503 seeks to establish the recommended dose, safety, tolerability and clinical activity of ADXS-503 administered alone and in combination with KEYTRUDA® in approximately 50 patients with NSCLC, in at least 5 sites across the U.S. The 2 dose levels with monotherapy in Part A, (1 X108 and 5 X108 CFU) have been completed.
Part B with ADXS-503 (1 X108 CFU) in combination with KEYTRUDA® is currently enrolling its efficacy expansion for up to 15 patients at dose Level 1 (1 X108 CFU + KEYTRUDA) with the potential to proceed to dose Level 2 (5 X108 CFU + KEYTRUDA) at a later date.
Part C, which is evaluating ADXS-503 in combination with KEYTRUDA (1 X108 CFU + KEYTRUDA) as a first-line treatment for patients with NSCLC with PD-L1 expression ≥ 1% or who are unfit for chemotherapy is currently enrolling patients.
"We've made a lot of changes in the company over the past few years. Our prostate cancer study is a good example. Treating men who are not very far down the road with prostate cancer and giving them low doses, while trying to stave off later stages, is the goal," said Berlin. "This is a very exciting time for Advaxis."
Since presenting at the Benzinga conference, Advaxis has completed a $20 million financing that will allow further investment in its HOT program as well as enhance its ongoing efforts to acquire new technologies and products.
View Comments and Join the Discussion!
Posted-In: Biotech News Penny Stocks Emerging Markets Health Care Small Business Markets General