The Daily Biotech Pulse: Novavax Vaccine Data, Axovant Flags Delay In Parkinson's Study, 2 Biotechs Make Wall Street Debuts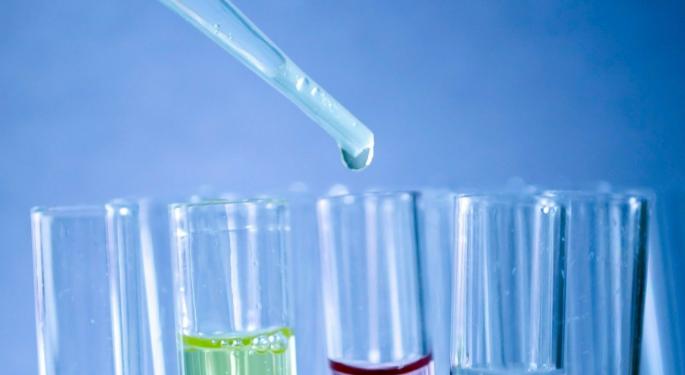 Here's a roundup of top developments in the biotech space over the last 24 hours:
Scaling The Peaks
(Biotech Stocks Hitting 52-week Highs Oct. 29)
Down In The Dumps
(Biotech Stocks Hitting 52-week Lows Oct. 29)
Akebia Therapeutics Inc (NASDAQ: AKBA)
Aziyo Biologics Inc (NASDAQ: AZYO)
Baudax Bio Inc (NASDAQ: BXRX)
BioCardia Inc (NASDAQ: BCDA)
Biodesix Inc (NASDAQ: BDSX) (listed on Nasdaq Wednesday)
Biogen Inc (NASDAQ: BIIB)
Catabasis Pharmaceuticals Inc (NASDAQ: CATB)
DBV Technologies ADR Representing 0.5 Ord Shs (NASDAQ: DBVT)
Entasis Therapeutics Holdings Inc (NASDAQ: ETTX)
Evolus Inc (NASDAQ: EOLS)
Galecto Inc (NASDAQ: GLTO) (listed on the Nasdaq Thursday)
Gilead Sciences, Inc. (NASDAQ: GILD) (reacted to third-quarter results)
Immunome Inc (NASDAQ: IMNM)
Invivo Therapeutics Holdings Corp (NASDAQ: NVIV)
Lexicon Pharmaceuticals, Inc. (NASDAQ: LXRX) (reacted to third-quarter results)
Neovasc Inc (NASDAQ: NVCN)
Neurobo Pharmaceuticals Inc (NASDAQ: NRBO)
Oncternal Therapeutics Inc (NASDAQ: ONCT)
Opiant Pharmaceuticals Inc (NASDAQ: OPNT) (announced a partnership with Aptar for nasal nalmefene opioid overdose treatment)
Opthea Limited (NASDAQ: OPT)
Orphazyme A S ADR (NASDAQ: ORPH)
Predictive Oncology Inc (NASDAQ: POAI)
Psychemedics Corp. (NASDAQ: PMD)
Recro Pharma Inc (NASDAQ: REPH)
Rockwell Medical Inc (NASDAQ: RMTI)
Royalty Pharma plc (NASDAQ: RPRX)
Sunesis Pharmaceuticals, Inc. (NASDAQ: SNSS)
Tricida Inc (NASDAQ: TCDA) (communicated a potential delay in approval of its metabolic acidosis investigational drug)
Stocks In Focus
Equillium Gets FDA's OK To Initiate Late-Stage COVID-19 Study
Equillium Inc (NASDAQ: EQ) sad it has received a study-may-proceed letter from the FDA to begin a Phase 3 clinical trial named EQUINOX that evaluates itolizumab in hospitalized COVID-19 patients suffering from acute respiratory distress syndrome.
The company said it plans to start enrolling patients during the fourth quarter, with initial clinical data expected midyear in 2021. The FDA has indicated that the trial — if it meets its primary and key secondary endpoints — may be sufficient to support regulatory filing of a BLA.
The stock was up 28.67% to $7.72 premarket Friday.
Axovant Sinks On Potential Delay In Parkinson's Gene Therapy Program
Axovant Gene Therapies Ltd (NASDAQ: AXGT) announced updates to be presented at its virtual Parkinson's disease R&D day, stating individual patient-level data from cohort 2 of the Phase 2 SUNRISE-PD study that is evaluating its AXO-Lenti-PD gene therapy for the treatment of Parkinson's disease showed favorable safety and tolerability profile, with no serious adverse events.
The company also said it is unlikely that its planned sham-controlled trial of AXO-Lenti-PD will begin to enroll patients by the end of calendar year 2021.
The potential delay is due to its manufacturing partner Oxford Biomedica informing delays in CMC data and third-party fill/finish issues. Therefore, the development of a suspension-based manufacturing process for AXO-Lenti-PD will take longer than expected, Axovant said.
The stock was down 31.51% premarket at $2.50.
Bausch Health Lands Orphan Drug Designation In Sickle Cell Disease
Bausch Health Companies Inc (NYSE: BHC) said the FDA has granted orphan drug designation to rifaximin for the treatment of sickle cell disease.
The stock was edging down 0.3% to $16.80 in premarket trading Friday.
Related Link: The Week Ahead In Biotech: Kala FDA Decision, Merck & Pfizer Earnings, Vaccine Updates And IPOs
Biogen Announces Acceptance Of European Regulatory Application For Aducanumab
Biogen and partner Eisai Co., Ltd (OTC: ESALY) said the European Medicines Agency has confirmed it has accepted for review, following a standard timetable, the marketing authorization application for aducanumab, an investigational treatment for Alzheimer's disease.
Bellicum's Drug Flunks Pancreatic Cancer Study
Bellicum Pharmaceuticals Inc (NASDAQ: BLCM) announced interim data from its BPX-601 dose-escalation clinical trial in patients with relapsed/refractory metastatic pancreatic cancer, showing the first four patients treated with BPX-601 followed by repeat rimiducid dosing showed evidence of rimiducid-mediated CAR-T cell activation.
Clinically meaningful efficacy as measured by RECIST criteria was not observed, Bellicum said.
After an extensive review of its organization and programs, the company said it has enacted a restructuring plan, including a reduction in staff, to focus its efforts on its clinical GoCAR-T product candidates.
In premarket trading Friday, the stock was plunging 33.05% to $3.95.
Earnings
Strongbridge Biopharma plc (NASDAQ: SBBP) reported third-quarter revenue of $8.07 million compared to $5.68 million in the year-ago quarter. The loss per share narrowed from 31 cents to 18 cents.
The stock was up 1.59% premarket at $1.92.
Opko Health Inc.'s (NASDAQ: OPK) third-quarter revenue jumped from $228.8 million in 2019 to $428.1 million in 2020, boosted by increased COVID-19 testing volume.
The company reversed from a loss of 11 cents per share to a profit of 4 cents per share.
While the revenues were ahead of expectations, the bottom-line performance trailed expectations.
The stock was down 7.86% premarket at $3.87.
ResMed Inc. (NYSE: RMD) said its fiscal-year 2021 first-quarter revenues climbed 10% year-over-year to $751.9 million. Non-GAAP EPS climbed from 93 cents to $1.27. The results exceeded expectations.
In premarket trading Friday, the stock was trading 10.3% higher at $198.
AxoGen, Inc's Common Stock (NASDAQ: AXGN) third-quarter revenues climbed 17% year-over-year to $28.6 million.
On an adjusted non-GAAP basis, the company reversed from a loss of 7 cents per share to a profit of 4 cents per share.
The stock was adding 2.12% to $13 premarket Friday.
On The Radar
Clinical Readouts
Novavax, Inc. (NASDAQ: NVAX) will present data from its ongoing Phase 1/2 COVID-19 clinical trial, including new Phase 2 reactogenicity data, during the CDC's Advisory Committee on Immunization Practices meeting.
Earnings
AbbVie Inc (NYSE: ABBV) (before the market open)
Ligand Pharmaceuticals Inc. (NASDAQ: LGND) (before the market open)
IPOs
Boston, Massachusetts-based Atea Pharma, a clinical-stage biopharma focused on developing antiviral therapeutics, priced its upsized initial public offering of 12.5 million shares at $24 each to raise gross proceeds of $300 million.
The company had earlier estimated a price range of $22-$24. Atea's common stock will begin trading on the Nasdaq under the ticker symbol "AVIR."
SQZ Biotechnologies Co., a Watertown, Massachusetts-based biopharma, priced its IPO of 4.412 million shares at $16 per share, at the lower end of the estimated price range of $16-$18. The shares will begin trading on the Nasdaq under the ticker symbol "SQZ."
Related Link: Attention Biotech Investors: Mark Your Calendar For October PDUFA Dates
View Comments and Join the Discussion!
Posted-In: Biotech Earnings News Penny Stocks FDA IPOs Best of Benzinga