The Daily Biotech Pulse: Patent Award For Theratechnologies, Enzo Biochem's Q4, Codiak Debuts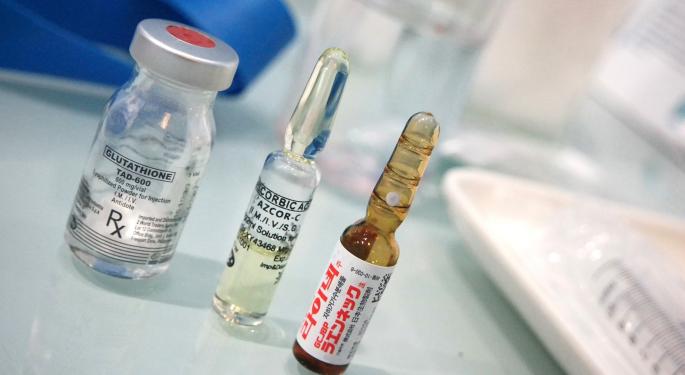 Here's a roundup of top developments in the biotech space over the last 24 hours.
Scaling The Peaks
(Biotech Stocks Hitting 52-week Highs Oct. 13)
Down In The Dumps
(Biotech Stocks Hitting 52-week Lows Oct. 13)
Stocks In Focus
Theratech Awarded U.S. Patent Related to NASH Drug Candidate
Theratechnologies Inc (NASDAQ: THTX) said the U.S. Patent and Trademark Office has issued U.S. Patent No. 10,799,562, which is directed to the treatment of nonalcoholic steatohepatitis and/or nonalcoholic fatty liver disease in patients using tesamorelin.
The company has an exclusive license to this patent from Massachusetts General Hospital, the original filer of the patent. The patent is scheduled to expire in 2040.
The stock climbed 14.91% to $2.62 in after-hours trading.
OpGen Responds to FDA's Second Additional Information Request For Diagnostics Panel, Expects Near-term Clearance
OpGen Inc (NASDAQ: OPGN) said it has issued its formal response to the second of the FDA's additional information, or AI, requests for the Acuitas AMR Gene Panel pre-market submission, addressing what it believes to be all of the FDA's questions and open items.
The company had submitted a 510(k) premarket notification for the Acuitas AMR Gene Panel for Isolates to the FDA in May 2019 and had subsequently received two formal AI requests from the agency - the first in July 2019 and the second in early 2020.
The Acuitas Gene Panel allows testing for a very comprehensive panel of more than 40 diagnostic targets, both pathogens and genetic AMR markers, in pure bacterial colonies. The company expects near term clearance for the panel, and once cleared, it expects to commercially launch the Acuitas AMR Gene Panel in the U.S. via its direct sales and marketing organization.
The stock was up 8.47% to $2.56 in after-hours trading.
Novan's Nitricil Tech Found Affective Against Coronavirus In Lab Testing
Novan Inc (NASDAQ: NOVN) announced positive in vitro results showing the potential efficacy of its NITRICIL platform technology as an antiviral against SARS-CoV-2, the virus that causes COVID-19.
"The results from the in vitro assessment of concentrations as low as 0.75 mg/mL demonstrated that berdazimer sodium reduced 90% of virus after repeat dosing, once daily," the company said.
The company also said plans to initiate chemistry, manufacturing, and controls and work with a global leader in developing an intranasal formulation of berdazimer sodium for use in the its COVID-19 program.
The shares were surging up 26.72% to 58 cents in pre-market trading Wednesday.
Taysha's Rett Syndrome Gene Therapy Candidate Gets Rare Pediatric Disease and Orphan Drug Designations
Taysha Gene Therapies Inc (NASDAQ: TSHA), which IPOed recently, said it has received rare pediatric disease designation and orphan drug designation from the FDA for TSHA-102, an AAV9-based gene therapy in development for the treatment of Rett syndrome. The company expects to submit an investigational new drug application for TSHA-102 to the FDA in 2021.
Enzo Q4 Revenues Trail Estimates
Molecular diagnostics company Enzo Biochem, Inc. (NYSE: ENZ) reported fourth-quarter revenues of $19.5 million, down 6.6% year-over-year, while on a GAAP basis, the net loss narrowed from 11 cents per share to 7 cents per share. The revenues missed the consensus estimate of $20.92 million.
In after-hours trading, the stock plunged 11.88% to $2.30.
Offerings
Ocular Therapeutix Inc (NASDAQ: OCUL) priced its underwritten public offering of 7.18 million of its shares at $9.75 per share to raise gross proceeds of about $70 million. All of the shares in the offering are to be sold by the company.
The stock declined 7.93% to $11.15 in after-hours trading.
Aridis Pharmaceuticals Inc (NASDAQ: ARDS) said it has entered into a securities purchase agreement with certain institutional investors for a registered direct offering 1.135 million shares of its common stock, priced at $7.4925 per share. In a concurrent private placement, the investors agreed to purchase two series of warrants for an aggregate 567,234 shares of common stock.
On The Radar
IPOs
Cambridge, Massachusetts-based Codiak BioSciences, which focuses on development of exosome-based therapeutics, priced its upsized initial public offering of 5.5 million shares of its common stock at $15 apiece, for raising gross proceeds of approximately $82.5 million. The company had earlier estimated a price range of $14-$16. All of the shares are being offered by Codiak.
The shares are scheduled to begin trading on the Nasdaq under the ticker symbol CDAK.
Related Link: Attention Biotech Investors: Mark Your Calendar For October PDUFA Dates
View Comments and Join the Discussion!
Posted-In: Biotech Earnings News Penny Stocks Offerings FDA IPOs Top Stories Best of Benzinga