The Daily Biotech Pulse: Mallinckrodt FDA Verdict, European Cheer For Bristol-Myers Squibb, Morphosys Clinches Licensing Deal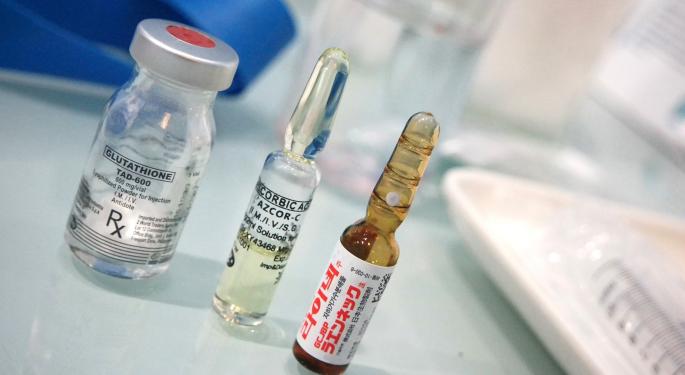 Here's a roundup of top developments in the biotech space over the last 24 hours.
Scaling The Peak
(Biotech stocks hitting 52-week highs on Nov. 15)
Vapotherm, Inc. (NYSE: VAPO)
Down In The Dumps
(Biotech stocks hitting 52-week lows on Nov. 15)
Stocks In Focus
Akebia, Keryx Name Chairman of Combined Company
Akebia Therapeutics Inc (NASDAQ: AKBA) and Keryx Biopharmaceuticals (NASDAQ: KERX), which have agreed to merge, named industry veteran Adrian Adams as the Chairman of the combined company, with the appointment effective upon completion of the proposed merger.
Shareholders of both companies are expected to vote on the merger proposal at separate special meetings scheduled for Dec. 11.
Akebia shares rose 1.01 percent to $8 in after-hours trading.
Bristol-Myers Squibb's Opdivo-Yervo Combo Drug Inches Closer to EU Approval For Kidney Cancer
Bristol-Myers Squibb Co (NYSE: BMY) said the European Medicines Agency's Committee for Medicinal Products for Human Use, or CHMP, offered a positive opinion on recommending approval for Opdivo in combination with low-dose Yervoy as a first-line treatment for patients with intermediate- and poor-risk advanced renal cell cancer.
The European Commission will now review the recommendation for deciding whether the combo drug can be approved in the EU.
See Also: The Week Ahead In Biotech: Earnings, Conferences, PDUFA Dates, Clinical Trial Results And IPOs
Morphosys Licenses Pre-clinical Antibody to I-Mab
MORPHOSYS AG/S ADR (NASDAQ: MOR) said it entered into an exclusive strategic collaboration and regional licensing agreement with I-Mab for MOR210, its pre-clinical state antibody directed against C5aR, which possesses the potential to be developed as an immuno-oncology agent.
The agreement provides I-Mab with exclusive rights to develop and commercialize MOR210 in China, Hong Kong, Macao, Taiwan and South Korea, while Morphosys retains the rights in the rest of the world.
Morphosys is to receive an upfront payment of $3.5 million from I-Mab and is also eligible for additional development and commercial milestone payments of up to $101.5 million.
On The Radar
PDUFA Dates
FDA is set to rule on Mallinckrodt PLC (NYSE: MNK)'s NDA for MNK-812, an abuse-deterrent formulation of immediate-release, single-entity oxycodone tablets. This is being evaluated for managing pain severe enough to require an opioid analgesic. A joint committee of the FDA, which met Wednesday, voted 10-7 in favor of approving the drug.
Clinical Trial Results
ArQule, Inc. (NASDAQ: ARQL) is due to present Phase 1 data for its solid tumor candidate ARQ 751 at 10 am CET at the 30th European Organisation for Research and Treatment of Cancer, or EORTC, the National Cancer Institute, or NCI, and the American Association for Cancer Research, or AACR symposium held in Dublin, Ireland.
Beigene Ltd (NASDAQ: BGNE) will present Phase 1/2 data for its glioblastoma treatment candidate Pamiparib at the Society for Neuro-Oncology, or SNO, 2018 annual meeting held in New Orleans, Louisiana.
ZIOPHARM Oncology Inc. (NASDAQ: ZIOP) is set to present updated Phase 1 data for the Ad-RTS-hIL-12 + veledimex combo being tested for Glioblastoma Multiforme at the SNO 2018 annual meeting.
VBI Vaccines Inc (NASDAQ: VBIV) is expected to present initial Phase 1/2a data for VBI-1901, its recurrent glioblastoma multiforme treatment candidate at 7:30 pm CDT at the SNO 2018 annual meeting.
REDHILL BIOPHAR/S ADR (NASDAQ: RDHL) will make a poster presentation for its Yeliva, being tested for refractory or relapsed myeloma, at the EORTC-NCI-AACR symposium.
View Comments and Join the Discussion!
Posted-In: Biotech News FDA Top Stories Trading Ideas Best of Benzinga