Attention Biotech Investors: Mark Your Calendar For These November PDUFA Dates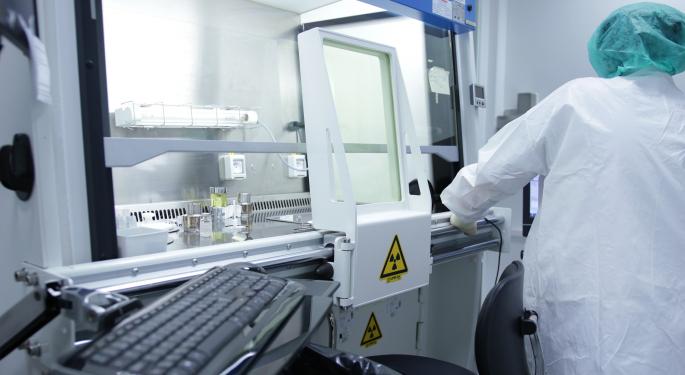 October was a volatile month for the markets, and biotech stocks were no exception. The iShares NASDAQ Biotechnology Index (NASDAQ: IBB) had slipped about 17 percent in the period. This compares to S&P 500's 7 percent retreat.
As we enter the last leg of the year, here are a few PDUFA catalysts in November that could help determine as to where biotech stocks are headed.
PDUFA dates are deadlines for the FDA to review new drugs. The FDA is normally given 10 months to review new drugs. If a drug is selected for priority review, the FDA is allotted six months to review the drug. These time frames begin on the date that an NDA is accepted by the FDA as complete.
Can FDA Spring In a Surprise And Offer A Reprieve to Trevena Shares?
FDA's Anesthetic and Analgesic Drug Products Advisory Committee, which met Oct. 11 to discuss the NDA, ruled against approving the drug by an 8-7 margin. Trevena's shares have plummeted about 70 percent since Oct. 8 in reaction the release of the FDA Committee's briefing document.
AcelRx Awaits Positive Verdict After FDA Panel Backed Its Pain Drug
The Anesthetic and Analgesic Drug Products Advisory Committee, which met Oct. 12, voted 10-3 in favor of recommending the approval of the pipeline candidate.
Will Theratechnologis Get Nod For A More Concentrated Fat-Fighting Regimen In HIV Patients?
Egrifta was initially approved by the FDA in Nov. 2010 to reduce visceral adipose tissue – deep belly fat surrounding the liver, stomach and other abdominal organs – in HIV patients, who have experienced lipodystrophy as a side effect of antiretroviral therapy.
The company is now seeking an expansion in label to include a single-vial formulation based on bioequivalence studies. The single-vial formulation is four times more concentrated than the currently commercialized formulation.
Coherus Seeks FDA Approval For Neulasta Biosimilar
Following the issue of a complete response letter in June 2017, Coherus made a resubmission, with the resubmitted application accepted for review in May.
Neulasta is Amgen, Inc. (NASDAQ: AMGN)'s white-cell boosting therapeutic used to decrease the incidence of neutropenia (abnormally low neutrophil count), which can lead to patients contracting potentially life threatening infections following chemotherapy.
Merck's Wonder Cancer Drug Now For Liver Cancer?
Merck is seeking FDA approval for Keytruda for a new indication, namely hepatocellular carcinoma - a form of liver cancer. The application is based on the Phase 2 KEYNOTE-224 study.
See Also: 11 Stocks That Moved From ESMO 2018
Novartis Generic Unit's Humira Biosimilar Up Before FDA
The BLA filed by Novartis' Sandoz generic unit was accepted Jan. 16, 2018. Given the 10-month standard review period, the PDUFA date is estimated to be Nov. 16. The rights to Humira, the original Adalimumab, are now owned by AbbVie Inc (NYSE: ABBV).
Mallinckrodt's Pain Medication Under FDA Scanner
An Adcom meeting for the candidate is scheduled for Nov. 14.
Loxo Seeks Approval For Novel Solid Tumor-Targeting Drug
The NDA was granted priority review status. This drug has a unique mechanism of attacking the tumor's genetics, rather than its site of origin in the body.
Catalyst Pharma Looks For A Catalyst In Rare Autoimmune Disorder Drug Approval
Following the original filing, the FDA issued a refuse-to-file letter in February 2016. Catalyst resubmitted the application, which was subsequently given priority review status. The PDUFA date is set for Nov. 28.
Firdapse, according to the company, is the first and only approved drug in Europe for symptomatic treatment in adults with LEMS, a rare autoimmune disorder.
FDA To Rule On Pfizer's Lung Cancer Drug
Lorlatinib is an anaplastic lymphoma kinase, or ALK, tyrosine kinase inhibitor, or TKI for the treatment of patients with ALK-positive metastatic NSCLC previously treated with one or more ALK TKIs.
Following FDA's decision to extend the review period by three months, the initial PDUFA date of August was pushed backward to October.
Adcom Review
A joint committee of Psychopharmacologic Drugs Advisory Committee and Drug Safety and Risk Management Advisory Committee will discuss Nov. 1 efficacy, safety and risk-benefit profile of Alkermes Plc (NASDAQ: ALKS)'s NDA for buprenorphine and samidorphan sublingual tablets, being evaluated as an adjunctive treatment of major depressive disorder.
The same joint committee will discuss Nov. 2 the efficacy, safety, and benefit-risk profile of SAGE Therapeutics Inc (NASDAQ: SAGE)'s brexanolone 5 mg/mL intravenous injection, tested for postpartum depression.
Mallinckrodt's generic SpecGx Inc's NDA for an immediate-release oral tablet formulation of oxycodone - MNK-812 - will be discussed by the same joint committee Nov. 14. This pipeline asset is intended to manage pain severe enough to require an opioid analgesic and for which alternative treatments are inadequate.
The joint committee will also determine whether the sponsor company demonstrated that the abuse-deterrent properties of the proposed product are sufficient to include this information in the product label, and whether the product should be approved.
View Comments and Join the Discussion!
Posted-In: Biotech News Health Care Previews FDA Top Stories Trading Ideas General Best of Benzinga