The Daily Biotech Pulse: Pfizer And Allergan Earnings, CFO Departures At Acadia And Assertio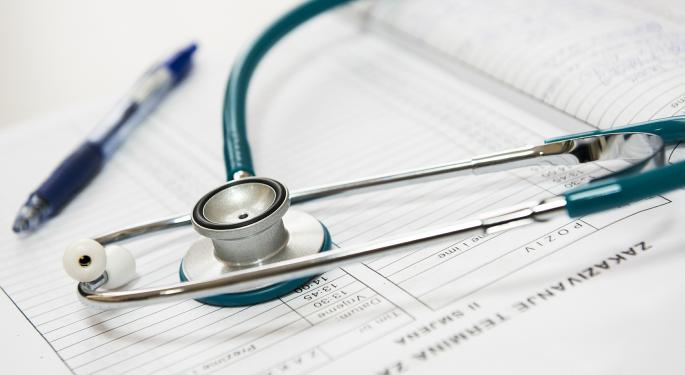 Here's a roundup of top developments in the biotech space over the last 24 hours.
Scaling The Peak
(Biotech stocks hitting 52-week highs on Oct. 29)
Down In The Dumps
(Biotech stocks hitting 52-week lows on Oct. 29)
Stocks In Focus
Acadia, Assertio Announce CFO Departures
ACADIA Pharmaceuticals Inc. (NASDAQ: ACAD) announced CFO Todd Young will leave the company, effective Oct. 31, to join another health care company. Acadia's SVP Investor Relations will serve as its interim CFO.
The stock slipped 2.75 percent to $20.52 in after-hours trading
Assertio Therapeutics Inc(NASDAQ: ASRT) said CFO Philip Donenberg will retire, effective Nov. 30, and company insider Daniel Peisert has been appointed as Donenberg's replacement.
The stock fell 5.63 percent to $5.03 in after-hours trading.
See Also: The Week Ahead In Biotech: Conferences, PDUFA Dates, Clinical Trial Results, Earnings And IPOs
vTv Therapeutics To Transfer Listing to the Nasdaq Capital Market
vTv Therapeutics Inc (NASDAQ: VTVT) announced the receipt of approval for the transfer of its securities from the Nasdaq Global Market to the Nasdaq Capital Market at the opening of business on Oct. 30, 2019. This follows Nasdaq's determination that the company's shares no longer satisfied the minimum market value of listed securities requirement. Pursuant to this, the company had applied for the transfer of listing to the Nasdaq Capital Market.
The shares will continue to trade under the ticker symbol VTVT.
The stock gained 4.82 percent to $3.04 in after-hours trading.
BioXcel Updates On Lead Neuroscience Program
BioXcel Therapeutics said it is advancing its lead neuroscience program BXCL501 into clinical trials, with the company planning to initiate an IND-opening Pharmacokinetic and safety study by the end of the year, following the approval of the IND application.
BXCL501 is a sublingual thin film formulation of dexmedetomidine hydrochloride being evaluated for acute treatment of agitation.
"We expect to report data from this study in the first half of 2019, laying the foundation for a registration trial that will follow," the company said.
Earnings
Medpace Holdings Inc (NASDAQ: MEDP) reported Q3 revenues of $179.3 million and adjusted net income of 67 cents per share, ahead of the 62 cents per share consensus estimate. For the full year, the company guided net service revenues of $474.0 million to $479.0 million and non-GAAP net income per share of $2.76-$2.82, while analyst estimate $2.43 for the year.
The stock rose 5.41 percent to $49.51 in after-hours trading.
On The Radar
Earnings
Allergan plc (NYSE: AGN) Q3 EPS $4.25 Beats $4.02 Estimate, Sales $3.91B Beat $3.86B Estimate
BIO-TECHNE Corp (NASDAQ: TECH) Q1 EPS $0.98 Beats $0.94 Estimate, Sales $162.97M Beat $161.67M Estimate
Blueprint Medicines Corp (NASDAQ: BPMC) Q3 EPS $(1.66) Misses $(1.51) Estimate, Sales $1.095M Miss $6.86M Estimate
Pfizer Inc. (NYSE: PFE) Q3 EPS $0.78 Beats $0.75 Estimate, Sales $13.298B Miss $13.55B Estimate
Incyte Corporation (NASDAQ: INCY) Q3 EPS $0.38 Misses $0.40 Estimate, Sales $429.683M Miss $450.38M Estimate
Insmed Incorporated (NASDAQ: INSM) Q3 EPS $(1.14) Misses $(1.06) Estimate
Amgen, Inc. (NASDAQ: AMGN) (after the market close)
Acceleron Pharma Inc (NASDAQ: XLRN) (after the market close)
EXACT Sciences Corporation (NASDAQ: EXAS) (after the market close)
Clovis Oncology (after the market close)
NeoGenomics
PDUFA Date
Merck & Co., Inc. (NYSE: MRK) awaits FDA approval for Keytruda along with carboplatin-paclitaxel or nab-paclitaxel for first-line treatment of metastatic squamous non-small cell lung cancer, regardless of PD-L1 expression. The PDUFA date is set for Tuesday, Oct. 30.
Histogenics Corp (NASDAQ: HSGX) has a meeting scheduled with the FDA regarding BLA filing for its NeoCart, being tested to treat cartilage defects in the knee.
View Comments and Join the Discussion!
Posted-In: Biotech Earnings News FDA Top Stories Trading Ideas Best of Benzinga