The Daily Biotech Pulse: AbbVie Takes Full Control Of Cystic Fibrosis Program, Amgen Slashes Cholesterol Drug Price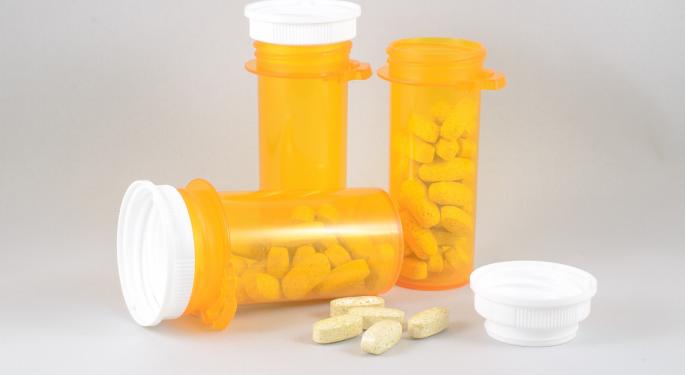 Here's a roundup of top developments in the biotech space over the last 24 hours.
None of the biotech stocks hit 52-week highs in Wednesday's session.
Down In The Dumps
(Biotech stocks hitting 52-week lows on Oct. 24)
Stocks In Focus
Axovant Doses First Patient In Parkinson's Drug Trial
Axovant Sciences Ltd (NASDAQ: AXON) said it dosed the first patient in a clinical trial of AXO-Lenti-PD, aka OXB-102, an investigational gene therapy for treating Parkinson's disease.
Endologix To Sell Shares to Pay off Debt
Endologix, Inc. (NASDAQ: ELGX) commenced a registered underwritten public offering of $20 million shares of its common stock. All the shares on offer are to be sold by the company. The net proceeds, according to the company, will be used to pay off part of its debt.
Amgen Lowers Cholesterol Medication Price
Amgen, Inc. (NASDAQ: AMGN) reduced the list price of its cholesterol drug Repatha by 60 percent to $5,850 per year.
"This 60 percent reduction from the medicine's original list price will improve affordability by lowering patient copays, especially for Medicare patients," the company said.
The stock rose 1.3 percent to $190 in after-hours trading.
AbbVie Assumes Full Control of Cystic Fibrosis Program From Partner Galapagos
AbbVie said it will assume full development and commercial responsibility for its cystic fibrosis drug development collaboration with GALAPAGOS NV/S ADR (NASDAQ: GLPG). Galapagos, though not pursuing further R&D in cystic fibrosis, is eligible for an upfront payment of $45 million from AbbVie and up to $200 million in future milestones payments as well as and royalties on commercialized programs.
Meanwhile, Galapagos will retain the right to the future development of GLPG-2737 in non-cystic fibrosis indications, for which it is liable to pay undisclosed future milestones and royalties.
See Also: Neovasc Broadcasts Surgery With Mitral Valve Device Live At Medical Conference
Earnings
Sarepta Therapeutics Inc (NASDAQ: SRPT) reported a non-GAAP loss of $1.27 for Q3, wider than the $1.15 loss per share reported a year ago and the 81 cent per share estimated by analysts. Revenues climbed from $46 million to $78.5 million.
Anika Therapeutics Inc (NASDAQ: ANIK) reported net income of 53 cents per share for Q3 compared to 46 cents per share reported a year ago. Revenues slipped from $27.2 million to $26.8 million. Looking ahead, the company expects full-year product revenues to be about 3 percent lower than a year ago.
La Jolla Pharmaceutical Company (NASDAQ: LJPC) reported Giapreza net product sales of $3.5 million for Q3 compared to no revenues in Q317. Giapreza is a vasoconstrictor to increase blood pressure in adults with septic or distributive shock approved by the FDA in Dec. 2017. However, the net loss widened from $1.19 per share to $1.93 per share. Analysts had estimated a loss of $2.01 per share.
Vertex Pharmaceuticals Incorporated (NASDAQ: VRTX) reported Q3 total revenues of $784.535 million compared to $578.165 million in the year-ago period. Total cystic fibrosis product revenues rose 42 percent year-over-year to $783 million. Non-GAAP net income per share rose from 53 cents to $1.09, ahead of the $1.02 consensus estimate.
The company reiterated its full-year total cystic fibrosis product revenue guidance of $2.9 billion to $3 billion.
On The Radar
Earnings
Bristol-Myers Squibb Co (NYSE: BMY) Q3 EPS $1.09 Beats $0.91 Estimate, Sales $5.691B Miss $5.72B Estimate
Merck & Co., Inc. (NYSE: MRK) Q3 EPS $1.19 Beats $1.14 Estimate, Sales $10.794B Miss $10.88B Estimate
Novocure Ltd (NASDAQ: NVCR) Q3 EPS $(0.13) Beats $(0.15) Estimate, Sales $64.756M Miss $65.38M Estimate
Celgene Corporation (NASDAQ: CELG) Q3 EPS $2.29 Beats $2.23 Estimate, Sales $3.892B Beat $3.84B Estimate; Raises Guidance
Clinical Trial Results
Dicerna Pharmaceuticals Inc (NASDAQ: DRNA) will present Phase 1 data for DCR-PHXC, its pipeline candidate for primary hyperoxaluria at the American Society of Nephrology, or ASN Annual Meeting.
FibroGen Inc (NASDAQ: FGEN) is due to present Phase 3 data for Roxadustat that is being evaluated for chronic kidney disease, at the ASN 2018 Annual Meeting.
Biogen Inc(NASDAQ: BIIB) is set to present updated Phase 2 data for its Alzheimer's disease candidate BAN2401 at the 11th annual Clinical Trials on Alzheimer's Disease.
FDA Tidbits
The FDA announced it has permitted the marketing of PicoAMH Elisa diagnostic test, an aid in determining the patient's menopausal stage. The PicoAMH Elisa test measures the anti-Mullerian hormone in the blood, helping to determine whether a woman is approaching or is likely to have reached her final menstrual period.
The FDA nod comes after it parsed through data from a study of 690 women, aged between 42 and 62.
"Diagnostic results about a woman's menopausal status may prompt discussions about preventative care for women experiencing menopausal symptoms," the agency said.
View Comments and Join the Discussion!
Posted-In: Biotech Earnings News Offerings FDA Top Stories Trading Ideas Best of Benzinga