The Daily Biotech Pulse: Illumina's Strong Q3, Celgene's Positive Cancer Drug Trial, Proteostasis Offering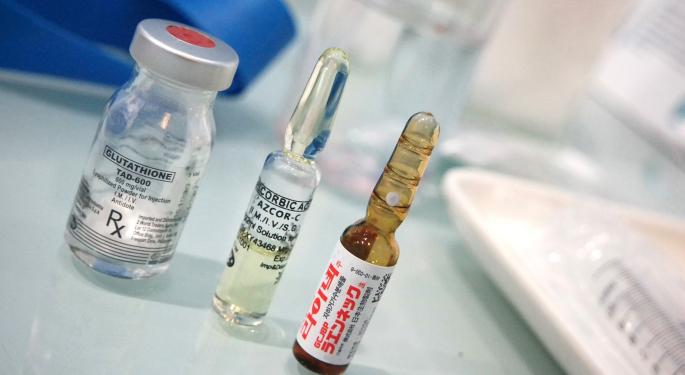 Here's a roundup of top developments in the biotech space over the last 24 hours.
Scaling the Peaks
(Biotech stocks hitting 52-week highs on Oct. 23)
Down In The Dumps
(Biotech stocks hitting 52-week lows on Oct. 23)
Stocks In Focus
Clementia to Submit NDA For Bone Disorder Drug Following Meeting With FDA
Following Clementia Pharmaceuticals Inc (NASDAQ: CMTA)'s interactions with the FDA, which includes a Type B meeting held Tuesday, the company said the FDA has deemed that the available data supports an NDA filing for palovarotene for the prevention of heterotopic ossification, or HO, associated with flare up symptoms in patients with fibrodysplasia ossifications progressiva, or FOP.
The company clarified that FDA's assessment was based on efficacy and safety data from the completed Phase 2 trial that showed a statistically significant reduction in new HO volume, or bone volume, associated with flare-ups of FOP at 12 weeks as compared to placebo or untreated flare ups.
Clementia said it plans to submit an NDA for palovarotene to the FDA.
The stock jumped 35.88 percent to $14.05 in after-hours trading.
Celgene's Cancer Drug Found Safe, Effective Against Asymptomatic Smoldering Multiple Myeloma
Celgene Corporation (NASDAQ: CELG) released results of a Phase 2/3 study dubbed ECOG E3A06, which evaluated the safety and efficacy of Revlimid monotherapy in patients with asymptomatic smoldering multiple myeloma, which showed that the drug achieved statistically significant improvement in the primary endpoint of progression-free survival compared to observation.
Varian Inks Deal to Supply Linear Accelerators and Treatment Planning Software
Varian Medical Systems, Inc. (NYSE: VAR) announced an agreement with cancer care treatment provider GenesisCare for providing 70 Varian linear accelerators and Varian Eclipse treatment planning software in a bid to increase access to cancer care in Australia, the U.K. and Spain. The agreement also provides for Varian supporting skin cancer clinical trials using Varian RapidArc tech and the development of software for the emerging field of theranostics.
Varian stock rose 4.48 percent to $109 in after-hours trading.
See Also: Neovasc Broadcasts Surgery With Mitral Valve Device Live At Medical Conference
Earnings
Edwards Lifesciences Corp (NYSE: EW) reported Q3 sales of $907 million, up 10 percent year-over-year, and adjusted EPS rose 27 percent to $1.07, ahead of the $1.02 consensus estimate. The company expects 2018 sales to come in at the high-end of its guidance range of $3.5 billion to $3.9 billion, while it continues to expect adjusted EPS of $4.60-$4.75. The guidance is in line with estimates.
The stock fell 2.9 percent to $144 in after-hours trading.
Illumina, Inc. (NASDAQ: ILMN) reported Q3 revenues of $853 million, up 20 percent, and non-GAAP EPS of $1.52 versus $1.11 a year-ago and the $1.26 consensus estimate. For 2018, the company expects revenue growth of 20 percent and non-GAAP EPS of $5.70-$5.75. The revenue guidance is in line, while the EPS guidance exceeded estimates.
The stock fell 0.57 percent to $312 in after-hours trading.
Pricing Of Offerings
Proteostasis Therapeutics Inc (NASDAQ: PTI) priced its previously announced underwritten public offering of 11 million shares at $6.75 per share. The offering is expected to generate gross proceeds of $74.3 million.
Krystal Biotech Inc (NASDAQ: KRYS) announced the closing of its previously announced underwritten public offering of 3 million shares at $20 per share. The gross proceeds from the public offering were $69 million.
On The Radar
Earnings
Clinical Trial Results
TrovaGene Inc (NASDAQ: TROV) will release Phase 1/2 data for its Onvansertib and Zytiga combo that is being evaluated for prostate cancer. The company will also release updated Phase 1/2 data for Onvansertib monotherapy in treating acute myeloid leukemia.
View Comments and Join the Discussion!
Posted-In: Biotech Earnings News Offerings Top Stories Trading Ideas Best of Benzinga