The Daily Biotech Pulse: FDA Nod For STAAR, Supernus Opens Wallet, Principia Biopharma To Debut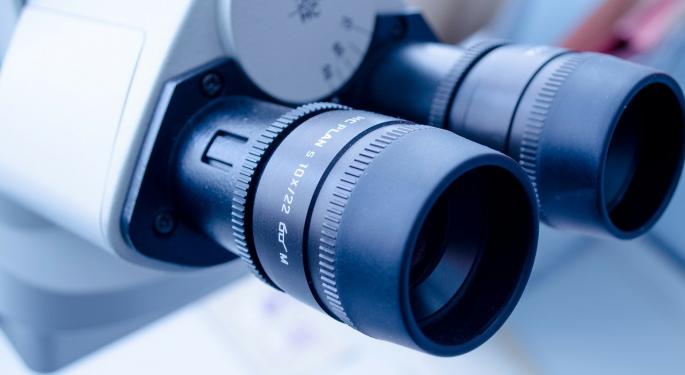 A roundup of top developments in the biotech space over the last 24 hours:
Scaling The Peaks
(Biotech stocks that hit 52-week highs on Sept. 13.)
Down In The Dumps
(Biotech stocks that hit 52-week lows on Sept. 13.)
Stocks In Focus
FDA Approves Expanded Uses For STAAR's Vision Correction Device
STAAR Surgical Company (NASDAQ: STAA) announced the FDA has approved its post-marketing approval supplement for the Visian Toric ICL for correcting myopia with astigmatism. The company said the approval meaningfully expands the Implantable Collamer Lens product line for the correction of refractive error in patients with both myopia and astigmatism.
STAAR said it would make the product available to U.S. surgeons for their patients Nov. 1.
After rising 4.11 percent in regular trading, Thursday, the stock jumped an incremental 10.56 percent to $56 in after-hours trading.
Champions Oncology Soars On Earnings
Champions Oncology Inc (NASDAQ: CSBR) reported fiscal first-quarter earnings that showed 23.7-percent year-over-year revenue growth to $6.2 million and non-GAAP EPS of 5 cents per share compared to a loss of 1 cent per share last year.
The stock jumped 18.51 percent to $10.05 in after-hours trading Thursday.
See also: New Class of Migraine Drug Creates Four-Way Pharma Development Race
Karyopharm Presents Encouraging Mid-Stage Multiple Myeloma Data
Karyopharm Therapeutics Inc (NASDAQ: KPTI) released updated data from the Phase 2b STORM study that evaluated selinexor, its lead oral selective inhibitor of nuclear export compound in heavily pretreated patients with penta-refractory multiple myeloma.
The additional Phase 2b data, presented at the Society of Hematologic Oncology 2018 Annual Meeting in Houston, showed that the overall response rate for patients treated with oral selinexor and dexamethasone was 26.2 percent, with a median duration of response of 4.4 months.
Supernus To Buy Epilepsy Drug Developer Biscayne
Supernus Pharmaceuticals Inc (NASDAQ: SUPN) announced an agreement to buy privately held Biscayne Neurotherapeutics, which is developing a novel treatment for epilepsy, for an upfront payment of $15 million and additional development and sales milestone payments up to $168 million.
Supernus said it will obtain worldwide rights to Biscayne's product candidate, which is in Phase 1 clinical development and has received orphan drug designation from the FDA for treating Dravet Syndrome, and also rights to all of its underlying and related IP.
The stock fell 0.72 percent to $48.50 in after-hours trading.
Galapagos, Morphosys Start Early-Stage Study For Skin Disease Candidate
GALAPAGOS NV/S ADR (NASDAQ: GLPG) and MORPHOSYS AG/S ADR (NASDAQ: MOR) said they have commenced a Phase 1 bridging study to test a subcutaneous formulation of MOR106, an investigational antibody directed against IL-17C.
The bridging study will be conducted in two parts and will assess safety and tolerability, pharmacokinetics and occurrence of antidrug antibodies following the administration of MOR106. Additionally, efficacy of the molecule will be assessed in subjects with moderate to severe atopic dermatitis, the company said.
On The Radar
Principia Biopharma, an immuno-oncology company, is set to debut on the Nasdaq following its upsized offering of 6.25 million shares, priced at $17, the higher end of the estimated price range of $15 to $17. The shares would begin trading under the ticker symbol PRNB.
Related Link: Attention Biotech Investors: Mark Your Calendar For These September PDUFA Dates
View Comments and Join the Discussion!
Posted-In: Biotech News General Best of Benzinga