The Daily Biotech Pulse: Progenics Posts Mixed Trial Results, Antitrust Nod For Galapagos-MorphoSys Collaboration, New CEO For Biopharmx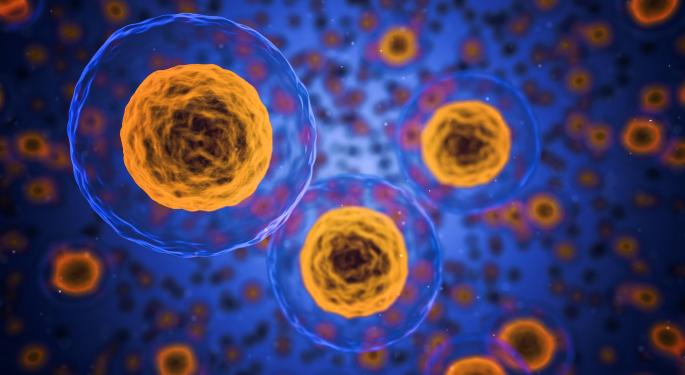 Here's a roundup of top developments in the biotech space over the last 24 hours:
Scaling The Peaks
(Biotech stocks that hit 52-week highs Sept. 12).
Inogen Inc (NASDAQ: INGN)
Kezar Life Sciences Inc (NASDAQ: KZR)
NuVasive, Inc. (NASDAQ: NUVA)
Pfizer Inc. (NYSE: PFE)
PRA Health Sciences Inc (NASDAQ: PRAH)
STRATA Skin Sciences Inc (NASDAQ: SSKN)
Tandem Diabetes Care Inc (NASDAQ: TNDM)
Xencor Inc (NASDAQ: XNCR)
Down In The Dumps
(Biotech stocks that hit 52-week lows Sept. 12.)
Advaxis, Inc. (NASDAQ: ADXS)
Atossa Genetics Inc (NASDAQ: ATOS)
Aytu Bioscience Inc (NASDAQ: AYTU)
Clovis Oncology Inc (NASDAQ: CLVS)
Dynavax Technologies Corporation (NASDAQ: DVAX)
Genocea Biosciences Inc (NASDAQ: GNCA)
Jaguar Health Inc (NASDAQ: JAGX) (filed a form S-1 registration statement with the SEC for common stock offering)
Molecular Templates Inc (NASDAQ: MTEM)
Neon Therapeutics Inc (NASDAQ: NTGN)
OvaScience Inc (NASDAQ: OVAS)
Vital Therapies Inc (NASDAQ: VTL) (announced halting of development of ELAD system, a cell-based therapy for treating acute forms of liver failure, following failed clinical trials)
Stocks In Focus
Progenics Prostate Cancer Detection Candidate Fails To Meet Co-Primary Endpoint
Progenics Pharmaceuticals, Inc. (NASDAQ: PGNX) released top-line data from its Phase 3 trial of 1404, a prostate-specific membrane antigen-targeted small molecule SPECT/CT imaging agent designed to visualize prostate cancer. The study showed that 1404 detected clinically meaningful prostate cancer with specificity ranging among the three readers from 71-75 percent. Yet the co-primary endpoint of sensitivity was not met and ranged among the three readers from 47-51 percent, while trial protocol mandated that the lower limit of the two-sided 95-percent confidence interval for both specificity and sensitivity exceed 60 percent.
The shares slumped 22.78 percent to $5.73 in after-hours trading Wednesday.
Verrica's Pediatric Skin Disease Candidate Meets Endpoint
Verrica Pharmaceuticals Inc (NASDAQ: VRCA) announced positive results for its Phase 2 Innovate clinical trial that evaluated its VP-102, a drug-device combo containing a novel topical solution of 0.7-percent cantharidin for treating molluscum contagiosum.
The company also said it has completed enrollment for the Phase 3 pivotal trials earlier than expected, with the top-line results expected in the first quarter of 2019.
The stock rallied 2.93 percent to $16.85 after-hours Wednesday.
See also: New Class of Migraine Drug Creates Four-Way Pharma Development Race
Biopharmx Announces CEO Appointment
Biopharmx Corp (NYSE: BPMX) said it has appointed pharma industry veteran David Tierney as its CEO.
The stock jumped 5.63 percent to 21 cents after-hours Wednesday.
MORPHOSYS, GALAPAGOS Get Antitrust Nod For Drug Collaboration
MORPHOSYS AG/S ADR (NASDAQ: MOR) and GALAPAGOS NV/S ADR (NASDAQ: GLPG) announced receipt of U.S. antitrust clearance for their collaboration agreement for developing and commercialization of their joint program MOR106, which they have exclusively licensed to Novartis AG (ADR) (NYSE: NVS).
The agreement became effective Sept. 10 following the antitrust clearance, and the 95-million euro upfront payment by Novartis to MorphoSys and Galapagos became payable.
MorphoSys shares rallied 0.95 percent to $27.77 after-hours Wednesday.
Offerings
Foamix Pharmaceuticals Ltd (NASDAQ: FOMX) announced a common stock offering of $70 million in shares, with all shares to be sold by the company. The stock fell 3.27 percent to $5.91 after-hours Wednesday.
Xenon Pharmaceuticals Inc (NASDAQ: XENE) said it commenced an underwritten public offering of its common shares pursuant to its existing shelf-registration statement, which was filed in December 2015 and declared effective by the SEC Jan. 5, 2016. The stock rose 1.4 percent to $14.45 after-hours Wednesday.
Galapagos said it has launched a follow-on offering of $300 million in shares in the form of ADSs in a U.S. public offering. The final price per ADS will be determined by the book-building process. The stock slipped 1.01 percent to $118.50.
On The Radar
Clinical Trials
Atossa Genetics Inc (NASDAQ: ATOS) is scheduled to release preliminary Phase 1 data for its Endoxifen for treating male breast cancer and gynecomastia.
Related Link: Attention Biotech Investors: Mark Your Calendar For These September PDUFA Dates
View Comments and Join the Discussion!
Posted-In: Biotech News Offerings Trading Ideas Best of Benzinga