RedHill BioPharma Patiently Awaits Market Recognition As It Achieves Consistent Trial Success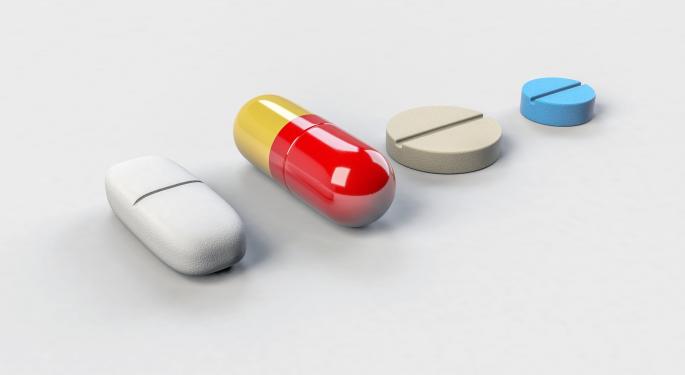 RedHill Biopharma Ltd (NASDAQ: RDHL) announced Thursday that it secured exclusive U.S. rights to co-promote with Napo Pharmaceuticals an anti-diarrheal drug for HIV and AIDS patients — yet another notch in a string of what a RedHill executive said are unrecognized successes.
"We have not failed a clinical study yet," Chief Business Officer Guy Goldberg told Benzinga. "In fact, we've had success in indications that are pretty substantial with pretty dramatic results."
An H. pylori study, IBD-D trial and gastroenteritis program have each recently delivered positive results. "All the things that we're doing execution-wise are positive," Goldberg said.
The company's stock has barely moved on pipeline progress reports, however, and the last year saw a major, long-term cavern in the charts that only began to show recovery in May.
Some attribute the Israeli firm's dissonant stock performance to its physical distance from the U.S. investors it aims to entice. RedHill said it's a consequence of light publicity. Goldberg isn't concerned either way.
"The good thing about biotech is that eventually the rubber hits the road," he said. "Eventually value will be recognized because eventually you get revenue. Eventually the products get approved and people can't ignore this. The results speak for themselves."
What's In The Pot
RedHill develops and commercializes clinical-stage drugs for gastrointestinal diseases and cancer. It's progressing three Phase 3 drugs, advancing five Phase 2 drugs and co-promoting or is licensed to sell four other drugs in the U.S.
RHB-104, the most advanced candidate, stands to address a market of more than 800,000 Crohn's patients in North America.
"It's a multibillion-dollar market, and despite that, there's a huge unmet medical need," Goldberg said. "There's no pharmaceutical or surgical cure for Crohn's diseases, and currently available drugs only really focus on symptomatic relief, which is temporary and accompanied by huge side effects."
Phase 3 data for RHB-104 will be released sometime around August, after which point Goldberg expects to pursue expanded indications. The microbiome-altering candidate attacks mycobacterium avium paratuberculosis, which has been found in other autoimmune diseases such as multiple sclerosis.
The fourth quarter will see Phase 3 results for Talicia in H. pylori infection, an incidence that by Goldberg's estimate affects 30 to 40 percent of the population. RedHill sees vast opportunity in the drug, as the cancer- and ulcer-causing bacteria has developed resistance to the standard of care to such a degree that the World Health Organization has ranked it a high-priority target.
Management is also working with the FDA to design a confirmatory Phase 3 study on gastroenteritis and a pivotal Phase 3 study in IBS-D for Bekinda.
The firm will initiate a pivotal Phase 3 trial for RHB-204 in NTM infections in the second half of the year.
Here's The Plan
The pipeline is RedHill's long-term priority, but its commercial infrastructure is more immediately in focus. The sale of licensed drugs helps push RedHill toward both short-term and sustainable profitability.
"The more strategic element of what we're doing with our commercial infrastructure is paving the way to be able to launch our own product, which is Talicia, and that's really the home run," Goldberg said.
RedHill is working out the kinks of the complicated launching process by nailing down compliance procedures, prepping the salesforce, procuring insurance and supplies and testing the model, the CBO said.
"All the trillion and one things that we're doing now and getting that behind us is all helping us pave the way for a successful launch."
In the short-term, RedHill continues to seek licensing and acquisition opportunities.
Financial Factors
The commercialization opportunity is part of RedHill's short-term financial play. With its broad pipeline, the company has a lot of shots on goal, but it also has a lot of projects to fund.
"Our first goal is to achieve profitability for the commercial infrastructure and then the second goal would be companywide profitability," Goldberg said.
As of the end of the first quarter, RedHill had a market cap around $153 million with a cash balance of about $36.4 million. In the preceding year, it posted 406-percent net revenue growth and 618-percent gross profit growth.
The firm has no debt, and Goldberg said it has been highly disciplined with spending to keep a "clean" balance sheet, but beyond that, it has no set financing plan.
RedHill is awaiting data on Crohn's and H. pylori before delineating a financial strategy. If the studies prove successful, the biopharma can weigh financing options or the possibility of licensing out ex-U.S. rights to boost funds.
"There's many options that start becoming available as soon as we have the data and if the data's positive," Goldberg said.
" ... We're just going to be seeing what happens and playing it by ear. We're not desperate for cash, but we try to be very healthy and wise about not letting the cash go too low."
Taylor Cox contributed to this report.
Related Links:
Array BioPharma Touts Approval Of Melanoma Drug
Global Blood Therapeutics Meets Primary Endpoints In Sickle Cell Study, Seeks Accelerated FDA Approval
Posted-In: Guy GoldbergBiotech Top Stories Exclusives Interview General Best of Benzinga
View Comments and Join the Discussion!