Benzinga's Daily Biotech Pulse: Biomarin Gets FDA Nod, Amarin Settles with Teva, Merck's Cancer Drug Review Extended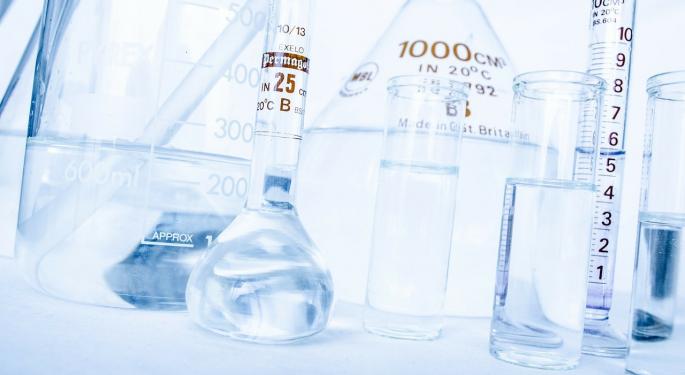 Here's a roundup of top developments in the biotech space over the last 24 hours:
Scaling The Peaks
Here are the biotech stocks that were hitting 52-week highs May 24:
ArQule, Inc. (NASDAQ: ARQL)
Baxter International Inc (NYSE: BAX)
BioLife Solutions Inc (NASDAQ: BLFS)
Evolus Inc (NASDAQ: EOLS)
Mersana Therapeutics Inc (NASDAQ: MRSN)
Novocure Ltd (NASDAQ: NVCR)
Qiagen NV (NYSE: QGEN)
Verastem Inc (NASDAQ: VSTM)
Xencor Inc (NASDAQ: XNCR)
Down In The Dumps
The biotech Stocks that hit 52-week lows May 24:
Aileron Therapeutics Inc (NASDAQ: ALRN)
Anthera Pharmaceuticals Inc (NASDAQ: ANTH)
Auris Medical Holding AG (NASDAQ: EARS)
Celldex Therapeutics, Inc. (NASDAQ: CLDX)
Cellectar Biosciences Inc (NASDAQ: CLRB)
Fortress Biotech (NASDAQ: FBIO)
Melinta Therapeutics, Inc. (NASDAQ: MLNT): The company announced the pricing of a common stock offering after the close Wednesday.
Nemaura Medical Inc (NASDAQ: NMRD)
Obalon Therapeutics Inc (NASDAQ: OBLN)
Recro Pharma Inc (NASDAQ: REPH): Recro received a complete response letter from the FDA for its NDA for IV meloxicam, a non-opioid pain reliever.
Alexion's Offer Accepted By Majority of Wilson Therapeutics Shareholders
Alexion Pharmaceuticals, Inc. (NASDAQ: ALXN) announced that shareholders, representing 97.7 percent of shares in Wilson Therapeutics, have accepted the agreement announced April 11 for Alexion to buy Wilson. The offer is now deemed unconditional following the shareholder vetting and fulfillment of all conditions of the offer. Settlement of the tendered shares will occur May 30.
FDA Extends Merck's Supplemental NDA for Cancer Drug By 3 Months
Merck & Co., Inc. (NYSE: MRK) and partner Eisai announced the FDA has extended the PDUFA date for the sNDA for lenvatinib in first-line unresectable heptacellular carcinoma from May 24 to Aug. 24. The agency said additional time is needed for reviewing the application.
See also: Cesca Therapeutics Snags Bullish HC Wainwright Initiation On CAR-T Opportunity
Biomarin Secures FDA Approval For Phenylketonuria Treatment
BioMarin Pharmaceutical Inc. (NASDAQ: BMRN) announced an FDA nod for its BLA for Pegvaliase to treat phenylketonuria. Phenylketonuria is disorder involving deficiency of phenylalanine hydroxylase, an enzyme needed for metabolism of an essential amino acid present in most protein containing food. An accumulation of this amino acid in the blood is toxic to the brain.
The shares rallied 3.14 percent to $91 after hours Thursday.
Amarin Settles Patent Litigation With Teva
Amarin Corporation plc (ADR) (NASDAQ: AMRN) said it has reached a settlement agreement with Teva Pharmaceutical Industries Ltd (ADR) ADR (NYSE: TEVA) to resolve patent litigation over vascepa. Under the agreement, Teva can now sell its generic version in the U.S. only in 2029, or earlier under certain customary circumstances.
Amarin rose 1.81 percent to $3.01 after hours Thursday.
Evofem Announces Closing of Common Stock Offering
Evofem Biosciences Inc (NASDAQ: EVFM) said it has closed its previously announced underwritten common stock offering of 8.5 million shares and accompanying common warrants that give the right to purchase an aggregate of 1.7 million shares. The company said net proceeds from the offering amounted to $36.4 million.
The shares rose 1.67 percent to $4.26 after hours Thursday.
On The Radar
Reata Pharmaceuticals Inc (NASDAQ: RETA) is scheduled to release interim Phase 2 data for Bardoxolone from the PHOENIX study that evaluated the treatment candidate for chronic kidney disease at the ERA-EDTA meeting on Friday, May 25.
Related Link:
View Comments and Join the Discussion!
Posted-In: Biotech News FDA Trading Ideas Best of Benzinga