8 Biotech Stocks With Clinical Trial Outcomes In April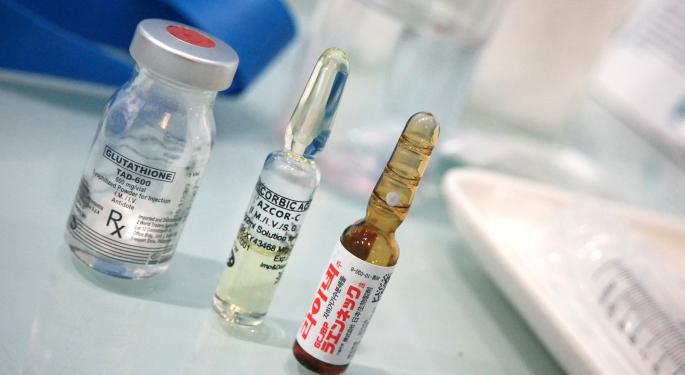 The market-moving nature of clinical trial results is due to the fact that only a small proportion of drugs that move from pre-clinical trials or animal testing stage advance successfully through the three phases of clinical trials. FDA estimates put the percentage of drugs that move out of the Phase 3 trials into the next stage at 25-30 percent of the total number of candidates entering Phase 1 trials.
Here are a few companies scheduled to release trial results in the first half of April.
1. Can Selecta's Select Cohort Data on Its Gout Candidate Get it Moving
Company: Selecta Biosciences Inc (NASDAQ: SELB)
Product Candidate: SEL-212
Indication: Tophaceous gout
Trial: Phase 2 data from cohorts receiving three monthly doses of SEL-212- pegsiticase combo followed by two monthly doses of pegsiticase alone
Date Expected: April 9 or 10 at the Panamerican League of Associations for Rheumatology Congress
Selecta's lead product candidate SEL-212, a therapeutic enzyme, is touted to be the first biologic treatment for gout, a condition in which defective metabolism of uric acid causes arthritis, especially in the smaller bones of the feet.
Related Link: Attention Biotech Investors: Mark Your Calendar For These April PDUFA Dates
2. Novartis to Present Abstract of Phase 3 Study On Psoriatic Arthritis Candidate
Company: Novartis AG (ADR) (NYSE: NVS)
Product Candidate: AIN457 (Cosentyx)
Indication: Psoriatic arthritis
Trial: Abstract of 52-week results from the Phase 3 study (NCT02294227 FUTURE 4) to be submitted to the PANLAR Congress scheduled between April 7-10
Date Expected: April 7-10
Novartis' Cosentyx is a fully human interlukin-17A inhibitor, which showed long-term efficacy in treating moderate-to-severe psoriasis, psoriatic arthritis and ankylosing arthritis. It was first approved in 2015 to treat moderate-to-severe plaque psoriasis.
3. Can Galectin Churn Out Better Tidings On its NASH Candidate
Company: Galectin Therapeutics Inc. Common Stock (NASDAQ: GALT)
Product Candidate: GR-MD-02
Indication: Non-alcoholic steatohepatitis (NASH) with cirrhosis
Trial: Phase 2b
Date Expected: April 14
Galectin's treatment candidate for NASH, which is an acute form of non-alcoholic fatty liver disease, suffered a setback in December, when top-line data from a Phase 2b study did not meet primary endpoint across all patients. However, the company noted improvement in subgroups.
The results of the Phase 2b study is to be presented as a late breaker at the EASL congress.
Data from a Phase 2a study released in September 2017 showed the study did not meet the primary and secondary endpoints.
4. OncoSec to Release Early-stage Results of Breast Cancer Treatment
Company: OncoSec Medical Inc (NASDAQ: ONCS)
Product Candidate: ImmunoPulse IL-12
Indication: Triple Negative Breast Cancer, or TNBC
Trial: Phase I data to be presented at the American Association For Cancer Research, or AACR
Date Expected: April 15
ImmunoPulse focuses on delivery of DNA-based interlukin-12, a naturally occurring protein with immune-stimulating functions. It is currently being tested for TNBC and metastatic melanoma.
5. ArQule To Present On Oncology Treatment Candidate
Company: ArQule, Inc. (NASDAQ: ARQL)
Product Candidate: Miransertib (ARQ 092)
Indication: Solid Tumors (to treat patients with lymphoma, endometrial cancer and AKT1 E17K mutations)
Trial: Phase 1b at the AACR
Date Expected: April 15
Miransertib is an orally available, selective, pan-AKT inhibitor that likely inhibits AKT1,2 and 3 isoforms.
6. Blueprint Looking to Print Solid Early Results
Company: Blueprint Medicines Corp (NASDAQ: BPMC)
Product Candidate: BLU-667
Indication: RET-altered solid tumors (to treat patients with advanced non-small cell lung cancer, advanced thyroid cancer and other advanced solid tumors)
Trial: Initial Phase 1 data
Date Expected: April 15
The Phase 1 study was started in March 2017.
Related Link: Mesoblast's Delayed Launches, Teva Split Turn Credit Suisse Bearish
7. Toca Would Let The Results Talk
Company: Tocagen Inc (NASDAQ: TOCA)
Product Candidate: Toca 511 - Toca 6
Indication: Metastatic solid tumors (colorectal cancer, renal cell carcinoma, melanoma, pancreatic cancer and lung & breast cancer)
Trial: Phase 1b
Date Expected: April 16
8. Tesaro Also to Release Results For Advanced Solid Tumor Candidate
Company: TESARO Inc (NASDAQ: TSRO)
Product Candidate: TSR-042
Indication: Advanced solid Tumors, including metastatic endometrial cancer
Trial: Phase 1 (study dubbed GARNET)
Date Expected: April 16
Posted-In: Biotech Previews Top Stories Trading Ideas Best of Benzinga
View Comments and Join the Discussion!