Tuesday's Biggest Stock Mover: Pain Therapeutics A Pleasure For Investors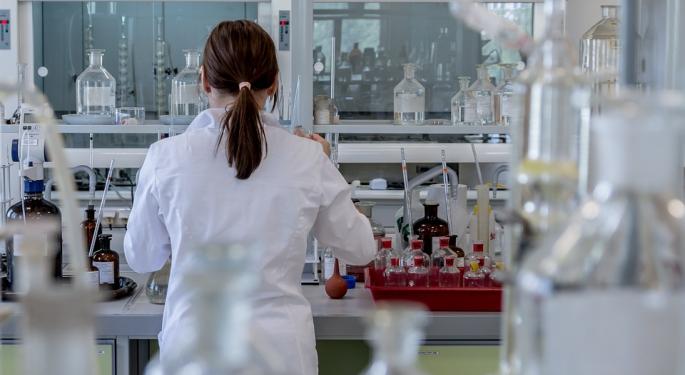 Pain Therapeutics, Inc. (NASDAQ: PTIE) shares took center stage Monday, offering pleasure rather than pain to those investing in the company.
The shares of the clinical-stage biopharma company gap-opened up at $4.20, adding over 12 percent from the previous session's close of $3.74. Subsequently, the stock rose sharply, hitting a high of $6.49, representing a staggering gain of about 74 percent.
The news that moved the stock was an announcement from the company that its experimental drug therapy code-named PTI-125 to treat Alzheimer's Disease was found to be well-tolerated in an early stage study.
PTI-125 is a small molecule drug, which significantly improved Alzheimer's Disease in mouse models. The mechanism of action is by binding with filamin A, a protein critical to beta-amyloid toxicity. Beta-amyloid exerts toxic effects, finally causing the tangles and plaques found in brains of people with Alzheimer's.
The phase I study tested PTI-125 in 24 healthy human volunteers in the U.S. for studying safety, tolerability and pharmacokinetics. The therapy was administered as a single dose, with the 50, 100 and 200 mg formulations tested in the trial.
See also: Boston Scientific May Now Have The Strongest Pipeline In Company History
The results of the trial revealed no-treatment related adverse effects and no dose-limiting findings. Pharmacokinetics measurement showed that PTI-125 was rapidly absorbed.
The company said it would present the full results of the study at the 10th Annual International Conference on Clinical Trials on Alzheimer's Disease in Boston, Massachusetts between Nov. 1 and 4.
"The clinical data are encouraging," said Remi Barbier, president and CEO of Pain Therapeutics.
"Given the absence of dose-limiting effects in healthy adults, an excellent non-clinical safety database, a strong scientific rationale, and multiple peer-reviewed publications and research grant awards, we are eager to move this drug program to the next level of development."
At time of writing, Pain Therapeutics shares were soaring 44.12 percent to $5.39.
Posted-In: Alzheimer's diseaseBiotech News Previews Events Movers Trading Ideas General Best of Benzinga
View Comments and Join the Discussion!