Exclusive: Clinical-Stage Specialty Pharma EyeGate CEO On Relationship With Valeant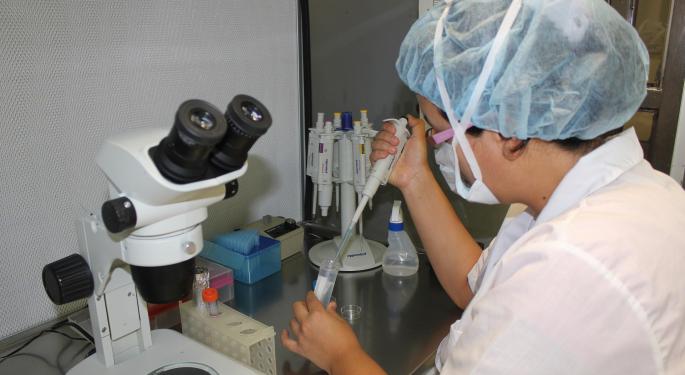 Eyegate Pharmaceuticals Inc (NASDAQ: EYEG) entered into a licensing agreement with Valeant Pharmaceuticals Intl Inc (NYSE: VRX) Tuesday regarding its EyeGate II Delivery System and EGP-437 corticosteroid combination for post-operative ocular patients. According to an 8-K filed with the Securities and Exchange Commission, the transaction involves $4 million upfront and an additional $99 million in milestones.
The deal was related to another made in 2015 for blindness-causing uveitis, an indication of EGP-437. At the time, EyeGate gave Valeant a right of first refusal for additional indications.
EyeGate then entered the market for cataract surgery palliatives, noting a particular need for dropless, post-surgery therapeutics, and the study's positive results caught the attention of Valeant, which initiated negotiations to secure exclusive commercial and manufacturing rights.
Related Link: Benzinga's Option Alert Recap From February 22
According to an EyeGate press release, the cataract eye drops target an older market of about three million patients, but Stephen From, EyeGate president and CEO, said other sources suggest a figure as high as 5 million.
Valeant: A Suitable Partner?
Despite Valeant's legal controversies, From told Benzinga he is confident in the partnership.
"I think they are a great partner to have, and I've got to tell you, they have been really good to us over the last year and a half," From said. "We have no doubt that will continue."
From is particularly impressed by Valeant's plan to building its brand in ophthalmology, which he called "their jewel." As of yet, Valeant is an "underdog" in the ophthalmological space, but the EyeGate CEO said its position bodes well for shareholders.
"That puts you in a position as an investor to ride a pretty nice wave if they are able to accomplish what they are setting up to accomplish," he said.
On EyeGate's Horizon
With EGP-437 secure in "a really good home right now," EyeGate will continue to develop its two indications while shifting emphasis toward its eyedrop. The company completed its first clinical study, anticipates filing for U.S. commercialization by the end of the year, and is exploring partnerships to commercialize in Europe in early 2018.
From said he was engaging a consultant in Europe this week to gain an understanding of the market potential and how best to position the EyeGate product.
"I have the right data to now go forward and find even who the right partner would be and so I know exactly what kind of terms to negotiate," he said.
Nick Donato contribute to this report.
View Comments and Join the Discussion!
Posted-In: Biotech News Health Care Contracts Exclusives Movers Interview General Best of Benzinga