Cannabis Industry's $1.2 Billion Investments: Viridian Looks Back On 2016's Marijuana Deals, M&A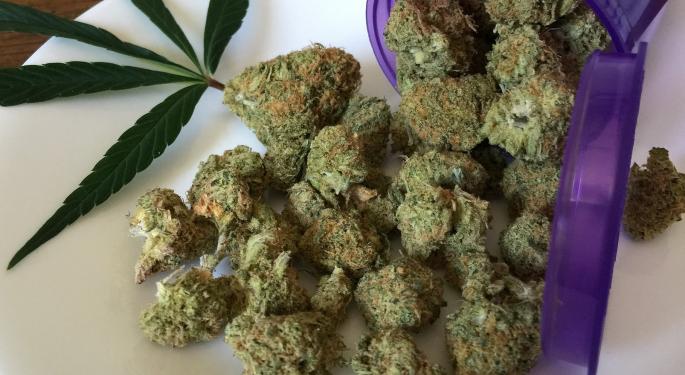 Viridian Capital Advisors, one of the world's leading financial and strategic advisory firms for the cannabis industry, publishes two reports every week. One tracks the performance of its Cannabis Stock Index and the other one traces the most recent investment and M&A activity in the marijuana space.
In a recent conversation with Benzinga, analyst Harrison Phillips shared a look at the final figures and data for 2016.
The Deals Of 2016
A few weeks ago, Benzinga had reported that Viridian had tracked investments in the marijuana industry of more than $1 billion in 2016. However, "due to a few large raises at the end of the year, we're actually over $1.2 billion deals tracked for 2016 now," Phillips explained. "There was a total of 315 raises [and] top sectors were cultivation and retail, which raised almost $500 million, and biotech and pharma, which raised almost $350 million."
"Equity was, by far, the preferred structure that we saw," the analyst continued. "Public markets also make that preferable as valuations rise— It's just easier to raise equity in a public company, because you can liquidate that and monetize your investment more easily than a private company. So, we only saw about 50 percent equity raises than debt, with 186 and 129 [raises, respectively], but, over $1 billion was raised using equity, and just over $200 million was raise using debt, from what we track. So, there's a clear, clear preference there."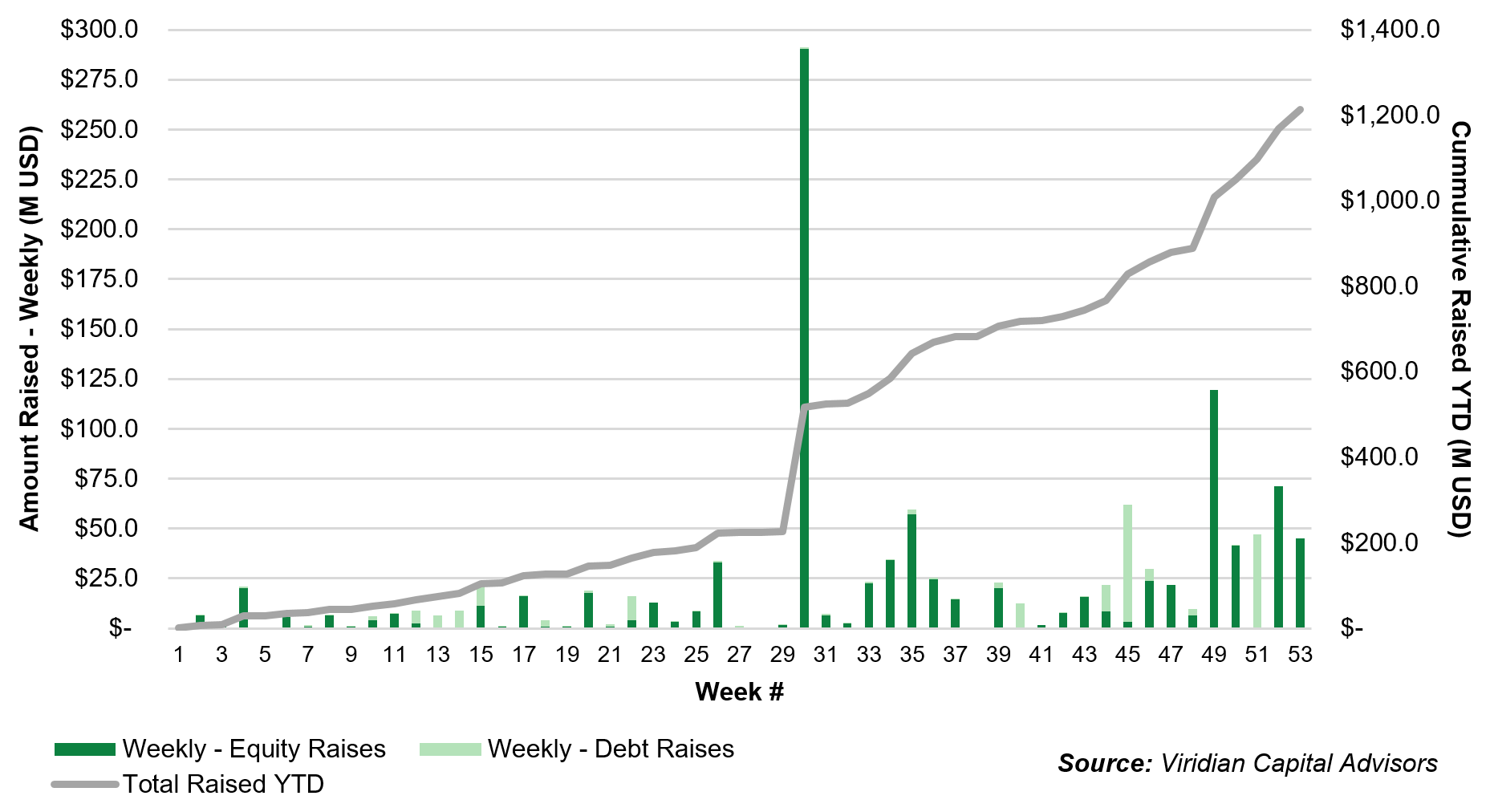 "If you look at the year-to-date capital raises by week, and M&A transactions by week— from week 40 to the end of the year, there was a surge of capital raising and M&A in the cannabis space," the expert went on. "We think that there are several factors that come into there: there's the anticipation leading up to the elections in the U.S.; there was the positive outcome of the elections in the U.S., even with Trump, with eight of the nine ballot initiatives [regarding marijuana legalization] passed; and then, in Canada, the government published a task force report supporting ways that they could set up a system to regulate recreational cannabis in the country."
In relation to this last point, Phillips explicated that, while activity was seen on both the U.S. and Canadian sides, "the fact that the Canadian capital markets in cannabis are more mature and they have more access to institutional capital, [allowed them to] generate much more in terms of capital raising in those final months."
The Winning Sectors
Moving on to sectors, Phillips noted that "One of the big surprises [of 2016] was how much M&A was being done on the cultivation/retail side."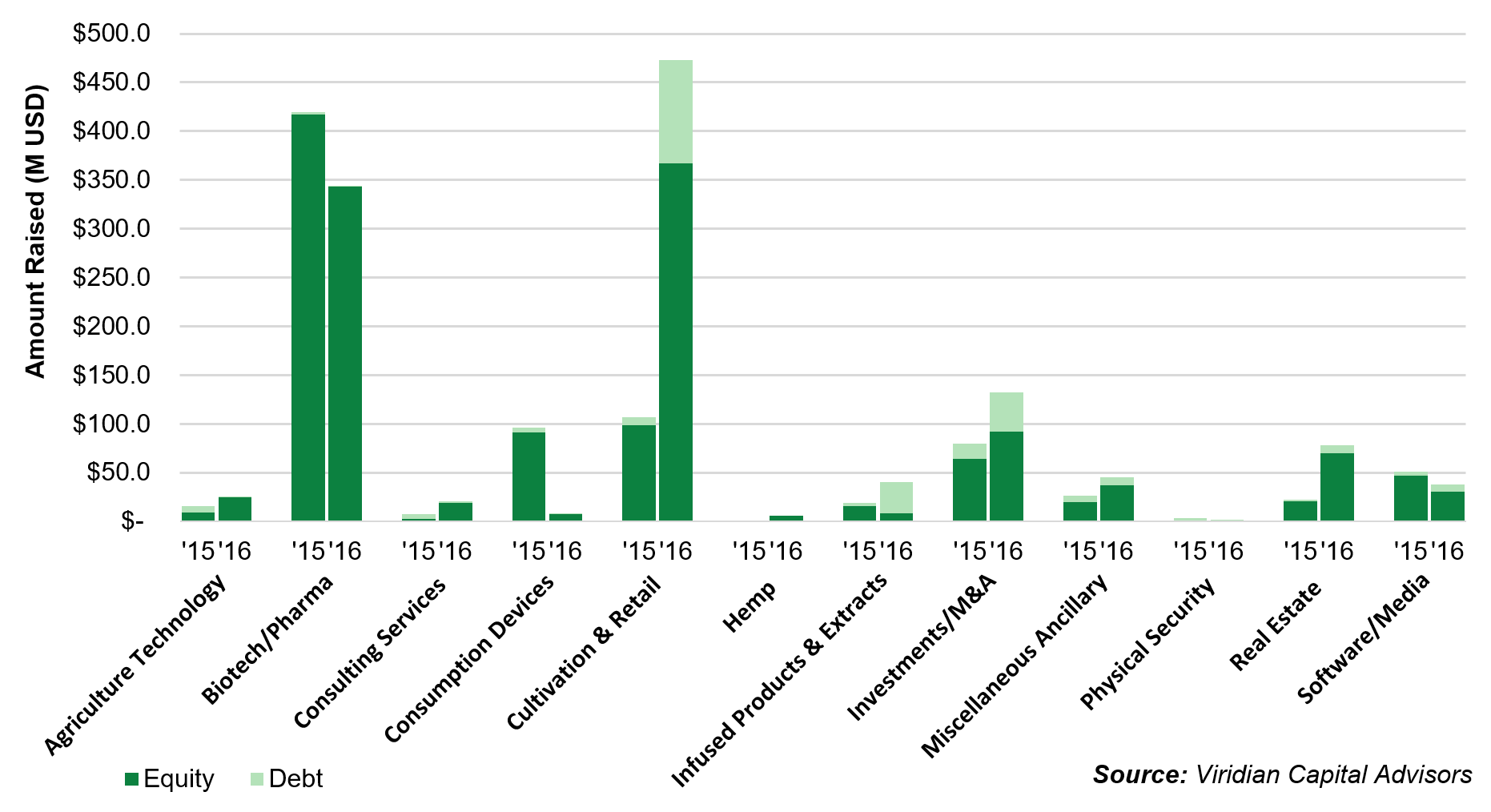 "It wasn't so much producers merging; the ones in Canada have the money to fund their own development right now, and the valuations of some of the smaller LPs that are publicly traded are just a little to high, so the ROI is better to invest internally [...] Overall, we saw a lot of M&A — cultivation and retail companies starting to acquire clinics or small agtech firms — firms that really provide synergies to their core operation," he explained. "These cultivation/retail firms are branching out to create a more holistic model where they get more outreach, more patient education— And it really helps support the coming recreational market, whenever that may be."
Big Deals
As per Viridian's end-of-the-year report, some of the largest deals of 2016 included:
GW Pharmaceuticals PLC- ADR (NASDAQ: GWPH)'s closure of a $289.8 million secondary offering of American Depository Shares on week 30.
Privateer Holdings' $40 million debt raise and AURORA CANNABIS IN COM NPV (OTC: ACBFF)'s C$25 million debt offering on week 45.
Innovative Industrial Properties Inc (NYSE: IIPR)'s $67 million IPO and APHRIA INC COM NPV (OTC: APHQF)'s C$40.3 million bought deal financing on week 49.
ORGANIGRAM HLDGS I COM NPV (OTC: OGRMF)'s C$40.3 million equity raise on week 50.
SUPREME PHARMACEUT COM NPV (OTC: SPRWF)'s completion of its a C$55 million debt offering on week 51.
CANOPY GROWTH CORP COM NPV (OTC: TWMJF)'s C$60 million bought deal.
CanniMed Therapeutics Inc (TSE: CMED)'s C$60 million IPO on the Toronto Stock Exchange and InvictusMD Str (CNSX: IMH)'s acquisitions of 33.33 percent of AB Laboratories, Inc. and 33.33 percent of AB Ventures, Inc. in the last week of the year.
Posted-In: Biotech Cannabis M&A News Small Cap Analysis Financing Offerings Politics Best of Benzinga
View Comments and Join the Discussion!