Viridian's President On Cannabis-Related Opportunities: AgTech And BioTech Offer Value To Investors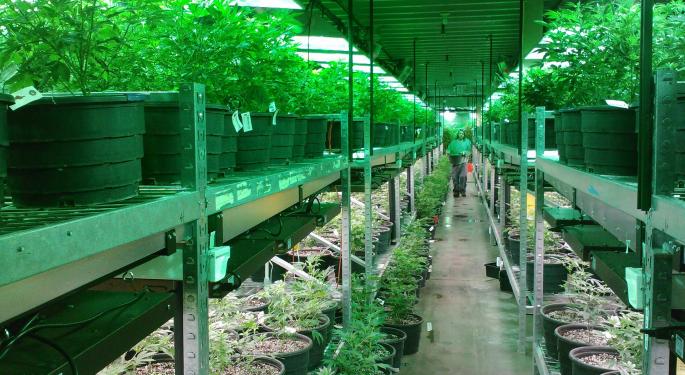 Viridian Capital Advisors is one of the world's leading financial and strategic advisory firms in the cannabis industry. Benzinga recently had the chance to chat with the company's founder and president Scott Greiper, and one of its analysts, Harrison Phillips, who shared some insight into the market.
The AgTech Revolution
For months, Viridian Capital Advisors has been bullish on the lighting sector. "The overall agricultural technology sector is very interesting in the cannabis marketplace. Lighting is a part of the agtech sector, for very simple reasons: The entire cannabis opportunity starts with the growing of the plant," Greiper explicated.
"As new states legalize and as states mature from initially legalizing medical marijuana and some states go on to legalize recreational or adult use, there's more consumers that are going to be moving from black market purchases to purchasing from legally licensed dispensaries. So, there's more of a demand for product."
The expert went on to explain that, as the agricultural side of the marijuana industry continues to evolve and mature, grow facilities are getting larger. Only three years ago, a large grow had 10,000 to 25,000 square feet, he explained. Nowadays, a large grow can have several hundred thousand square feet.
Cutting Costs
As cultivation sites continue to expand, a new challenge arises: getting costs down, while increasing economies of scale. "Like any commodity, whether its cannabis, or herbs, or tobacco, or wheat, you are competing on price," Greiper said. "The specific challenge within the cannabis marketplace is that the wholesale price has been in decline for the last three years."
"So, there's a need, as grows become larger, to bring in advanced technologies, the most important of which is lighting [since] plants grow through light, and there's been an evolution of outdoor grows, which use sunlight, to indoor grows, which use artificial light," he continued.
Artificial lighting has also evolved, from high intensity discharge lamps (similar to street lamps) to LEDs, which are substantially more cost and energy-efficient while producing less heat that needs to be removed using cooling systems.
In addition, the market is now seeing intelligent lighting and systems, he supplemented. "These LEDs are actually changing the different spectrum of light that they give off during the day, from green, to violet, to blue, based upon the plant's rate of growth."
So, he concluded, "the whole agtech sector in cannabis is being driven by the increasing size and sophistication of the grow facilities."
BioTech As The Highest Value Opportunity
Viridian's president then went into biotech, which, he believes, "is the highest value opportunity in the cannabis market [...] in terms of market cap [and] the medicinal side of giving people with certain disease states access to cannabis as medicine."
There's been anecdotal evidence that cannabis is useful for treating diseases like epilepsy or glaucoma for years now. However, because the substance has been federally illegal throughout the whole world, there hadn't been enough scientific research to empirically prove that cannabis is medicinal.
"Ultimately, as we're seeing in Israel, when cannabis is removed from Schedule 1 at the DEA [...] we'll finally see the U.S. and the rest of the world catch up in spending the money to do clinical trials and drug development to truly create a pharmaceutical product, [instead] of just selling medical marijuana patients different strains or combinations that don't have the empirical data [to justify treating a certain disease with them]," Greiper declared.
"Biotech has the greatest value in terms of giving people access to medicine and in terms of moving from an anecdotal benefit to an empirically proven benefit. So, that's why we continue to think that biotech has among the most significant upsides to investors and to the industry. However, the country that is leading in the space right now is Israel [...] it's not quite happening in the U.S. yet," he concluded.
Stocks To Watch
While Viridian does not recommend individual companies, its Cannabis Stock Index tracks a few biotech companies including GW Pharmaceuticals PLC- ADR (NASDAQ: GWPH) and Zynerba Pharmaceuticals Inc (NASDAQ: ZYNE). "Those are by far, not only the highest valued by market cap, but the ones that have the most evidence of clinical trial progress as they move along the FDA process," Greiper commented.
Liked this interview? Now check out our conversation with ArcView's CEO Troy Dayton, who shared his optimistic outlook for the marijuana industry under Trump.
Posted-In: Biotech Cannabis Long Ideas News Emerging Markets Politics Topics Management Best of Benzinga
View Comments and Join the Discussion!