Egalet Vs. Ophthotech: Battle Of The December Binary Trades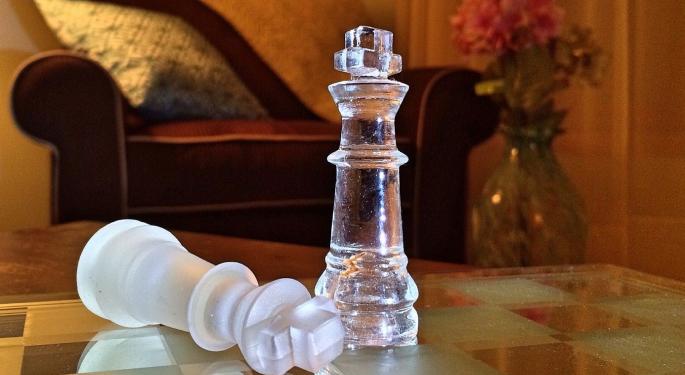 Egalet Corp (NASDAQ: EGLT) and Ophthotech Corp (NASDAQ: OPHT) have catalysts coming up before the end of the year that can bring glory or spell doom for these companies.
Upcoming Catalysts
The former is awaiting FDA decision on ARYMO ER, its lead drug candidate, which is an abuse-deterrent formulation of morphine meant for long-term pain management. Meanwhile, the latter intends to announce initial top-line data from two late-stage trials of Fovista in combination with Lucentis to treat wet age-related macular degeneration, or wet AMD.
ARMYO ER Status
In August, an FDA advisory committee voted 18–1 in favor of ARMYO ER, with the committee recommending using the label an abuse-deterrent product by the intravenous, nasal and oral routes of abuse.
The company also announced in mid-October that the FDA will not meet the previously announced PDUFA date of October 14, although it was clarified that the extension is according to the norm of longer lead times for abuse-deterrent opioid NDAs. The FDA has indicated that no additional scientific information or data is needed for the application, the company added.
The company told Benzinga at that time it did not have any idea of the timing related to the FDA decision of ARYMO ER.
Recent Financial Performance
Egalet, focused on developing innovative treatments for pain and other conditions, saw revenues rising to $4.7 million from $1.7 million, but its loss widened to $1.10 per share from $0.81 per share.
Ophthotech is a biopharma company developing therapies to treat back of the eye diseases. Fovista, according to the company, is it most advanced product candidate. In early November, the company released its third-quarter results, showing a 50 percent drop in collaboration revenues to $1.7 million. The company reported a wider loss of $1.71 per share.
On November 22, notable activity was seen for the December $90 call contract of Ophthotech on volume of about 500 at $2.25, suggesting 130 percent upside over the next few weeks.
Citi said in a note in late October that the selloff in the shares of the company this month was due to investor concerns about its upcoming Phase 3 data for Fovista, The firm said investors aren't sufficiently appreciating that there was a clear dose response in the Ph2b.
Citi believes this fact is repeatedly overlooked because Ophthotech didn't provide direct statistics of the comparison between low dose Fovista and high dose Fovista, choosing instead to focus on the overall positive results of high dose Fovista in combination with Lucentis versus Lucentis monotherapy.
While priming up for the key catalysts for the companies, investors can watch out for the binary events.
The average price target of sell-side analysts, as compiled in Yahoo database, for the shares of Egalet is $17.80 compared to $90.18 for Ophthotech.
Ophthotech has an upside potential of 132 percent compared to 139 percent for Egalet, with the marginal difference making the choice tough.
At Last Check
Egalet was down 7.04 percent at $6.93.
Ophthotech was down 13.06 percent at $33.87.
View Comments and Join the Discussion!
Posted-In: Biotech News Health Care Options Markets Movers Trading Ideas General Best of Benzinga