The Startup That Wants To Bring Expert Networks To Every Investor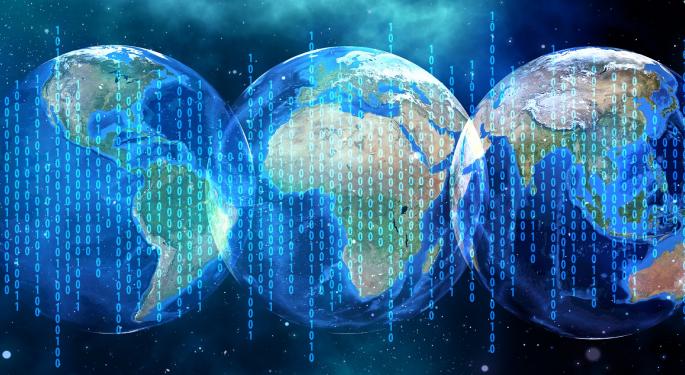 Professional investors spend over $600 million per year speaking with the most qualified experts before risking their capital. Until now, this information was unavailable to most investors.
But Slingshot Insights is trying to change that by offering every investor access to the same insiders who the largest institutions take for granted. Additionally, the company is using a crowdfunded model to make it affordable.
Benzinga caught up with Joe McCann and Colleen Tepe, co-founders of Slingshot Insights and former college classmates, to learn more about their business.
Benzinga: What are your goals for Slingshot Insights right now?
McCann: In the very near term we want to establish ourselves as a hub in healthcare for diligence, for expert calls, for management access. But really in the next three to five years we want to be viewed as the go-to resource for diligence work. We want investors to turn to us not for buy and sell ratings but for quality points of view that inform our customers' own decisions to buy, sell or pass on any opportunity.
Tepe: I think our goal is just to become the standard part of every investor's research process. We plan to start with healthcare, get the formula right and then expand sector by sector. Our goal is to create a transparent, compliant platform where all investors can get streamlined and affordable access to information.
BZ: You've set up a lot of interviews with biotech experts. Why that area of the market?
McCann: I think that healthcare is the first market that we are thinking about, but we plan to grow into every sector over time. Expert calls are used in nearly every sector currently by professionals, and there's no reason this model can't work in all of them.
Tepe: I think it was a very strategic decision to pick healthcare as the first sector. The experts are typically doctors with tremendous independent credibility, and the headlines in this sector require a deep understanding to separate out management's success from spin. We plan to create a passionate community in this sector and then grow into others.
BZ: You've partnered with well-known biotech reporter Adam Feuerstein of TheStreet. How did that come about?
McCann: That relationship came from us having a lot of similar philosophical viewpoints. One thing that has made this company possible to the degree of success we have had already is the strength of the biotech Twitter community and social media community. Adam is one of the leaders of that, if not the leader. He is someone who is engaged in getting the facts out, cutting through management's rosy viewpoints and clearly explaining nuanced points.
I think he is guided by trying to get to the truth. So, when we approached him with what our company is about, it aligned nicely with what he is working to do as a reporter. That is, to shine the truth on some of these smaller companies, both companies that are either doing great things or those trying to maybe pull a fast one on investors.
Also, he had experienced expert calls in his past jobs as well, so he knew as a sell side analyst that management teams need to be fact checked and that experts can do that in an effective, efficient way. So when he agreed to lead a call on our site, we were excited to work with him.
BZ: You're connecting traders with experts and industry insiders, which is something that has gotten people into trouble before. How are you making sure your conversations stay on the up and up?
McCann: Basically, the idea is that when you have multiple people on the call and it's being recorded and transcribed, the incentive to say something that's inappropriate or illegal is removed. Experts know they are being recorded, have been trained on what can and can't be said and promise at the start of the call to uphold any confidentiality agreements they are bound by.
So that structure alone, I think, makes a huge difference versus a one-on-one phone call that is not recorded. If you and I were just talking without your tape recorder on, what gets said, the temptation is pretty strong to maybe say something to get you to like me more. That's a dangerous place to be, and so we designed the entire system to address that.
We've also gone a step further by making them widely available, and this gets into the cost savings and how we achieve cost savings, but by bringing multiple people together on a call and splitting the cost of the expert, you are looking at fractions of the typical fees. So that structure creates a much more public media forum and a much less risky environment to have these conversations.
Tepe: But I think to tie that also into a benefit of our platform, the benefit of our platform is based on the unique compliant structure of recorded and transcribed calls that are publicly available. We don't give buy or sell recommendations. We give access to information so that users can do their own diligence.
We will have a series of calls on one company and we'll have three different experts and the user can take each call and dissect it and make their own assumptions from that data.
BZ: What are some of the biggest challenges you've seen in starting a company from scratch?
McCann: Getting the word out about the service can be challenging. You think it's going to work, you're getting excited, but it takes time for people to understand who you are and what you are offering. That's not unique to us, but it takes time and perseverance to stay with after going down those roads. It helps to hear such strong praise from the customers that have discovered us.
Tepe: I would say one thing we could work on, more towards the retail side, is just educating retail investors about the value of expert calls. Obviously Joe comes from the buy-side, having worked as a healthcare analyst at SAC, and that's a very common tool that investors use there. But when you get to the retail community, because this information was previously not accessible to these users due to cost or just the ability to even speak to the expert, I think just educating the individual investor about the value of expert calls is a hurdle that we have to work on a bit.
BZ: Why do you think Slingshot Insights will work?
McCann: I think the thing that I try to explain to retail people the most is that this isn't a groundbreaking idea. It's where the buy-side spends the majority of their money. It's talking to management teams and talking to experts. That's the nuts and bolts of being a professional investor that is doing qualitative work.
So I will talk to a retail person, I'll be asked, 'Oh wow, how did you think of this?' I explain to them the innovation wasn't the service, it was making the time-tested resource more affordable and streamlined. I always use the analogy of if you wanted to be a pro-athlete, you would expect that you would go to the gym and work out, and you would do significant training, and no one would be shocked by that. But if I told you that there is a whole group of people who thought they could be pro-athletes but had never thought about nutrition, or the gym, or any of that stuff, you wouldn't expect them to succeed. They aren't doing the basic work the people they are up against are doing. The same is true with investing. It's how you find alpha, how you get outsized returns.
So what we're doing is giving access to a gym for the first time and making it easier to go. We're making it cheaper, we're making it more transparent and compliant. Broadening access is huge, but expert calls are not a new idea. It's the way that people have gotten ahead in the stock market and how people have cut through the noise for a long time.
Posted-In: Biotech Fintech Entrepreneurship Crowdsourcing Success Stories Startups Interview General Best of Benzinga
View Comments and Join the Discussion!