Importance Of Phase 1 Trials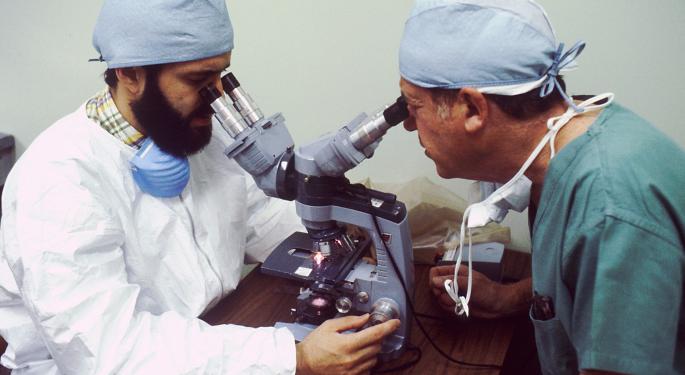 Pharmaceutical companies are naturally in the business of selling a drug or therapy to patients suffering from an illness in disease. The process is often lengthy, expensive and could result in companies declaring bankruptcies — or reaping hundreds of millions of dollars in profit.
For very obvious reasons, a pharmaceutical company cannot sell its products to the public without undergoing a series of rigorous steps in ensuring it is safe for human use.
Investors and traders pay close attention to pharmaceutical companies and follow their progress through a series of clinical trials.
Related Link: Rodman & Renshaw Reiterates Valeant Buy On Back Of 2 Straight FDA Wins
A Phase 1 trial is the first stage of testing a pharmaceutical's product in human subjects. Typically, a group of anywhere from 20 to 100 volunteers are recruited. The objective of a Phase 1 trial is asses the safety and tolerability of a drug.
It's Like A First Date
Chiara Russo is a stock analyst for Cantor Fitzgerald and is considered to be among the best pharmaceutical experts.
She drew parallels to a Phase 1 study to a first date. If done properly with no side effects, the company has an idea of tolerability, how quick and how long the drug gets in and stays in, etc.
Or, as the analyst stated, a Phase 1 study is designed to "make sure you aren't a serial killer, but have future potential."
Example: Cellectis Announces Start To Phase 1 Trial
Cellectis SA (ADR) (NASDAQ: CLLS) is a small-cap, France-based company that specializes in the research, development and commercialization of rational genome engineering technology.
The company announced in late June that the first patient has been treated in a Phase 1 study of its drug, UCART19, for the treatment of lymphoblastic leukemia.
As noted by Cellectis in its press release, the purpose of the Phase 1 study is to "evaluate the safety and ability of UCART19 to induce molecular remission in pediatric patients with relapsed or refractory CD19 positive B-cell acute lymphoblastic leukemia ahead of planned allogeneic haematopoeitic stem cell transplantation (allo-HSCT)."
Granted, the medical terminology is quite intimidating for many investors, especially those that don't have a medical background. Don't be afraid, as most, if not all, of the terms can be explained through basic Google searches.
Did you like this article? Could it have been improved? Please email feedback@benzinga.com with the story link to let us know!
Posted-In: Cantor Fitzgerald Chiara Russo clinical trials medical researchBiotech Education Health Care General Best of Benzinga
View Comments and Join the Discussion!